List
2021 Cape Cod League Recap: Top Pitchers
Some of the biggest standout arms this summer in the Cape Cod League are from schools you may not expect.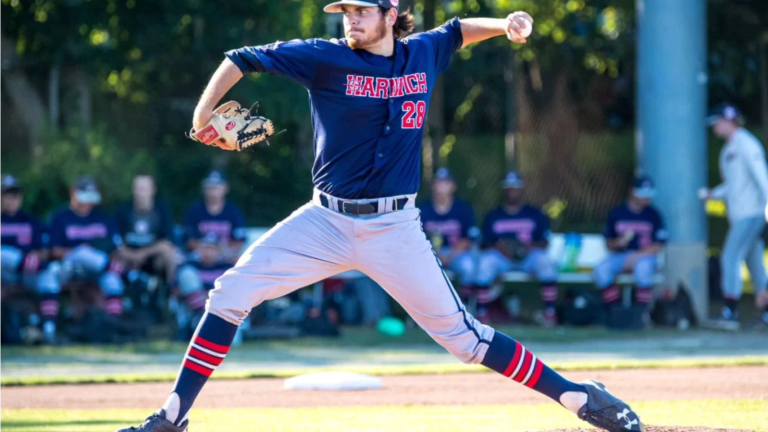 Pitching in the Cape Cod Baseball League can be a tough task. For these four pitchers, the elite competition did not phase them, each putting up huge summers for their respective clubs. Not all of the elite pitchers in the league attend big, well known schools, which is what adds to the allure of the fabled league. The Cape has formed a reputation for putting these lesser known schools "on the map". With the CCBL playoffs starting, let's look at some of the top pitchers on the Cape this season.
LHP Trey Dombroski – Harwich (Monmouth)
After a strong sophomore year at Monmouth, Dombroski dominated the Cape this summer. The 6-foot-5 lefty led the league in ERA, strikeouts (tied), and innings pitched, going 3-0 with a 0.85 ERA in 33.2 innings. Dombroski sits in the low 90s with his fastball, while his sweeping slider and downer curveball are regarded as his best pitches.
During his sophomore season, Dombroski developed a feel for a circle-changeup, which he uses often versus righties. The southpaw struck out 12.7 batters per nine innings and only walked two batters all summer. Many scouts and analysts believe Dombroski will be selected in the first two rounds of next year's draft. Through two seasons at Monmouth, Dombroski has pitched to a 6-3 record with a 3.27 ERA in 71.2 innings. The next step for Dombroski is to dominate the MAAC in 2022.
LHP Bryce Hubbart – Brewster (Florida State)
The closest performance to Harwich's Trey Dombroski was Brewster lefty Bryce Hubbart. He tied Dombroski in strikeouts, while sporting a 3-1 record with a 0.87 ERA in 31 innings. Through six starts, he struck out 45 batters. Hubbart uses a quick, deceptive delivery, which he repeats well. The lefty has shown four pitches, a low 90s fastball that has run up to 97 with ride, a curveball, slider, and changeup.
Last season at Florida State, Hubbart produced a 3.80 ERA in 71 innings, with 94 strikeouts. Fans and teammates will enjoy Hubbart's energy on the mound, along with his pitch-ability. Hubbart is being talked about as a first-round pick for the upcoming 2022 draft.
RHP Eric Adler – Bourne (Wake Forest)
Adler was the top relief pitcher on the Cape this summer. His high-spin fastball can reach 96 with late life, complimented by a vertical slider and a cutter. The 6-foot-3 righty struck out 29 batters over 15.2 innings, producing a league leading seven saves.
Adler produced the lowest ERA of Cape Cod relievers, at 1.14. Last season at Wake Forest, Adler took on the role of closer, producing a team-leading 2.00 ERA. His big season at Wake Forest got him Freshman All-American honors. While he will only be a sophomore next year, he will be draft eligible, with his name being thrown around as a second to third round pick. Added strength and a MLB throwing program could easily bump Adler's fastball up to the high 90s and maybe even 100. With a projectable frame and high upside, Adler could find himself to be a quick riser in the 2022 draft.
Adler throws a high-spin fastball up to 96 with arm-side run and significant carry at times. The slider is a heavy-vertical breaking ball with plus spin characteristics. He also shows a cutter in the high 80s. Adler has some of the better pure stuff at it's best in the class. -Prospects Live Staff

From Prospects Live 2022 Top 100 Draft Prospects
LHP Michael Sansone – Bourne (Fairfield)
Sansone might have gotten himself drafted after a breakout season on the Cape. The rising senior has pitched well at Fairfield, but it wasn't enough to get drafted last July. Through three seasons, Sansone pitched to a 3.64 ERA in 163.1 innings, striking out 149. During his freshman year, he was named to the MAAC All-Rookie Team, along with winning Rookie of the Week after a five strikeout performance versus Ohio State.
Sansone could turn out to be an under-slot senior sign in the middle rounds of next year's draft. This summer, he went 4-0 with a 2.07 ERA in 26 innings. Sansone is undersized, only standing 5-foot-8, while the ball jumps out of his hand in a low effort delivery. Sansone helped carry the Bourne Braves to the best record in the Cape, at 24-9.