Interview
Interview with Nick Bernard of Sports Card Art
Nick Bernard is a sports card artist who puts his own unique flare on our favorite trading cards through his one of one pieces.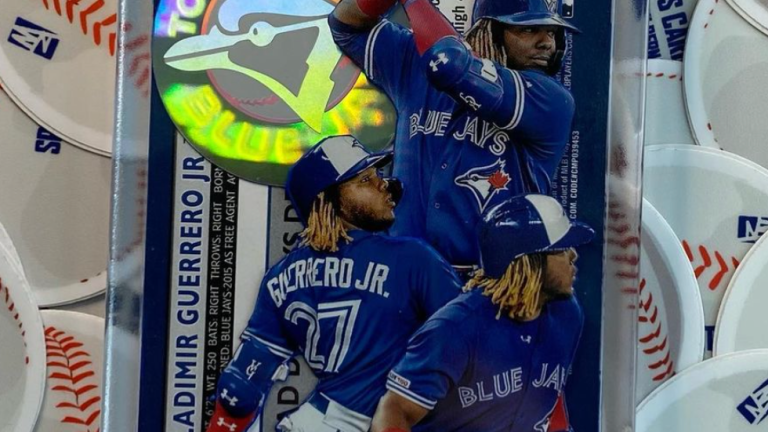 I had the incredible opportunity to meet some incredible sports cards advocates at the National in Chicago this year. We have written stories about the booths, deals, and crowds but I wanted to include an interview with one of the most interesting booths at the National. I got to meet Nick Bernard and see his impressive card art in person. Nick was one of the kindest people I met at the National and I got the chance to sit down with him for a fun conversation. Feel free to go check out his inventory or get a commissioned piece from him at his website or on Instagram/Twitter @1nbvisual.
Q: Good morning Nick, thank you for spending some time with us. Our fans are going to love your art and I can't wait to show them your work. My first question is walk me through how you got your start?
A: It was a combination of a lot of things most importantly Topps 2020 where Topps approached artists to make sports card art and it got my creative juices flowing. There are people that say you can do that and people that say "yeah but you didn't" and I didn't want to be the guy who didn't do it, So I went for it.
Q: Is this your full-time gig?
A: This is my full-time gig for me from 5-9. I work 9-5 in advertising, and this is my passion that I want to grow.
Q: Where did you get your inspiration for this?
A: The Inspiration is putting my creative thoughts to cards. Upcycling old sports cards into new sports card art. I want to show people they can do what they want to do. You can do these things if you want to make cards, do it, if you want to collage cards, do it if you want to collect cards, do it. If you want to do anything all you have to do is actually do it.
Q: So Nick, walk me through the process of making these cards from start to finish.
A: I first find a player that I want to create the art piece on, once I find that player, I find the right cards to really create an art piece out of that player. I like to question what came first the art or the card. If you think about it it started with a photographer using his art to create a new card and now I am taking the cards and making a new piece of art.
Q: Do you have these cards in your inventory at home? Or do you find them in local card shops/ eBay / card shows etc?
A: That's the best part. Some of these cards I have had since my childhood but a lot of these cards I don't have and that is when I go on the hunt to go find them whether that is online, local card shops, or others in the hobby. It's great to sometimes find those cards because that's the gold you need to really create the masterpiece.
Q: Do you have a local card shop in Arizona to work with?
A: There are local card shops back home in Pheonix that I work.
Q: Few more questions for you, and these questions are about your future. If everything went right, what would be your dream for this?
A: Wow great question, to be honest, many thoughts go into that answer. The dream mainly is for my art to be in the hands of the homes of the collectors. That is what I do this for. I do it because it's enjoyable, I do it because when I'm done making a card, I am wowed by how it looks but in the end, I want the cards to be in the hand of collectors. If I make a mike trout card, I want it to be in the hands of a mike trout collector. Long term, I would love to link up with these card companies by putting in inserts or one of the ones into sets because at the end of the day I am playing an interleague game with the hobby and the art world so anything that I can do to help push forward the hobby and art world then I want to keep this going. Up and to the right mentality.
Q: Is this your first National?
A: Yeah, first National. It is exciting. It is everything I have expected and more and leading up to it I felt like a talented rookie in the NFL the night before the super bowl, basically not knowing what to expect. But it has been everything I could have hoped for. To have people see the cards and have them in hand and to see the expression on people's faces; it's been a dream. It is a great experience, and I am thankful for the opportunity to create art and share it with people, I'm grateful to see their reactions good and bad, it's all very helpful.
Q: Do you do custom orders?
A: Yes. I do accept commissions. You can submit it on my website or on my Instagram through IG. I can do a commission piece of cards you'd like to be in a piece, or you can give me a player and let my creative juices flow but reach out through the website and through IG. Anything that challenges me is what I love. I love to be creative
Q: I have one last one, do you get nervous or sad when you cut these pieces up?
A: Yes! Actually, I had a fantastic lady reach out to me about making a Don Mattingly piece for her dad and Don Mattingly is my PC. In that process, I had to use some 1984 Topps Don Mattingly rookie cards. And when I had to put that blade to Donnie's face I had to say, "Donnie I'm sorry but you know I got to do this."
Q: My last question is about the NFT market, I know you have been asked this before but are you putting these digital?
A: I'd love to. I am a rookie to the NFT game, actually not even a rookie I am in the minor leagues, maybe AA to the NFT world, so I defiantly need some management and scouts to help me out with that but yes, absolutely. Anything that could increase exposure for my brand and card art I would be down for.
Please take some time to look at Nick's artwork. I got to come home with a piece of his from the National with one of my all-time favorites, Nolan Ryan. I would love for you to purchase a piece from him and support his cause or even make a custom piece! I think I may do a Brennen Davis custom order from him as well.