News
Quality Control Fiasco: George Brett Autograph Ends up on a Babe Ruth Baseball Card
In an unfortunate incident for one unlucky fan, a so-called Babe Ruth autographed baseball card featured George Brett's signature instead.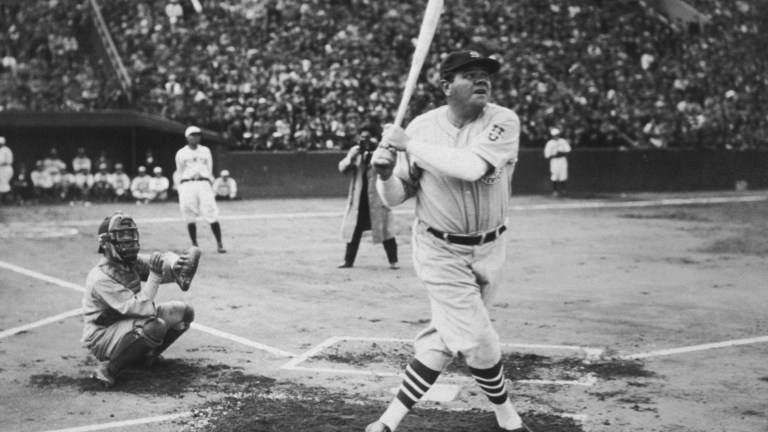 For those who collect baseball cards, pulling a Babe Ruth autograph is pretty much like hitting the lottery.
While certain products focus on prospects or current players, like Topps' Bowman line, Panini America's National Treasures Baseball offers fans and collectors alike the opportunity to find everything from autographs to jersey relics to even bat knobs from stars both past and present. The checklist for the 2022 release (which was actually just released on January 11th of this year) ranges anywhere from a Bobby Witt Jr. bat knob to cut autographs from Lou Gehrig – there's something for every baseball fan to collect.
One box contains 8 cards in total with each card featuring either a relic/memorabilia piece, an autograph, or potentially both, with booklets and cards featuring multiple players' autographs. Considering the wide range of names on the checklist, a box currently runs for about $559.95 USD.
While sometimes cards can get damaged on the production line or dropped by the person opening the box, that's nothing compared to the blunder Panini America made that could bring into question their quality control practices moving forward.
Panini Put a George Brett Autograph on a Babe Ruth Card
On Twitter, user @Bobssportscards pulled a Babe Ruth "Legendary Materials Signature Booklet" card, that claimed to feature an autograph from Ruth and jersey swatches from the New York outfielder's playing days. Considering Ruth is no longer alive and signing autographs, the signature inside was supposed to have been cut from an existing material such as a personal letter or a postcard and then carefully placed inside the card.
However, it appears that Panini America made an error, and instead of using an autograph from Ruth, they inserted a signature from Royals legend George Brett in its place. As of the writing of this article, the original tweet has over 53,000 views, with numerous collectors chiming in about the card error.
This a pretty big error from one of the biggest trading card companies in the world, especially since the current eBay listings for a Ruth autograph vary from $6K to $10K, with sold listings ranging from $3K to $5K depending on the autograph's condition.
So far, Panini has not said anything about the error, nor has @Bobssportscards said anything about them reaching out. One would like to think the trading card company will make things right and likely more, but we will have to wait and see how this plays out.
This also raises the question: is there a George Brett card out there with a Babe Ruth autograph in it?