Analysis
Advanced Metrics and Card Collecting: An Introduction
How to use baseball's endless data to make informed investments.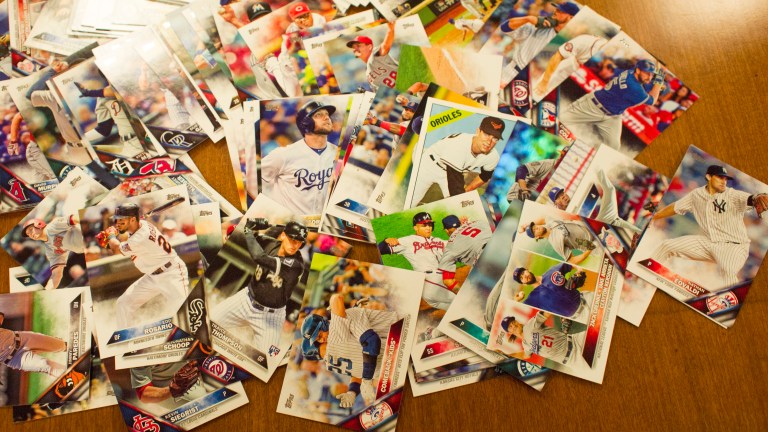 For many of us card collecting is more than just a hobby, it's an investment opportunity. If information exists that could give you a greater understanding of the market in general, or could potentially give you better data to work with when it comes to picking and choosing which players to buy, we tend to listen. Just as is the case with traditional investments, the more data you have command of, the more likely you are to succeed.
The game of baseball has no shortage of data points to collect and mull over, but not all are created equal when it comes to informing your decisions regarding card collecting. Just Baseball's lead analytics writer Colby Olson and I will begin to explore the overlap between advanced metrics and card collecting. Our hope is that you will walk away with, at the very least, an awareness of what advanced metrics are, where to find them, and an understanding of some of the ways to best use them to inform your card collecting decision-making in the near future.
Alright, Colby, let's start with a relatively easy question…talk to me about advanced metrics in general; how would you define an "advanced metric," how many are there, and what role do they play in the modern game?
I could write an entire book on this one question, but I will keep it short and sweet for now. Advanced metrics have changed greatly over the years. At one point in time, on-base percentage (OBP) was considered an advanced metric, but modern tracking tools have given us an enormous amount of data points that have forced us to evaluate hitters in a much different way.
We now have access to play-by-play data with velocity and movement of every pitch, and exit velocity, launch angle, and expected batting average on every hit. Every single outcome is being tracked and turned into a metric, and It's very easy to get lost in the noise of all the data. It's even harder sometimes to decipher what is useful and what isn't.
Something that I try to practice is keeping data and baseball analytics both simple and easy to digest. Even the most advanced concepts can be broken down for the average fan to understand. It's important for every baseball fan to understand the numbers and metrics behind baseball, so that they can properly evaluate player production.
If I'm brand new to advanced metrics, where am I going to find them and are there sources out there that are more trustworthy than others? Or, are there sources that interpret these metrics differently?
Fangraphs and Baseball Savant are the two go-to resources for finding advanced metrics and data. Fangraphs also has in-depth articles that explain each metric and their uses, which is great for beginners. It can be overwhelming to learn because there is so much information out there and it's hard to know which metrics to focus on at first. I've been studying baseball analytics for over seven years and am still learning new metrics and ways of interpreting data every single day.
I think the most important metrics and concepts for people who are just starting out in sabermetrics is learning the fundamentals behind the major hitting and pitching stats, and being able to contextualize what makes a good hitter or pitcher (the links to Fangraphs and Baseball Savant above will take you to their glossaries). Everyone knows that Vlad Jr or Trout or Soto are amazing hitters, but what makes them amazing hitters?
Let's narrow our focus, specifically when it comes to collecting cards, do you think advanced metrics can play a role in informing a buyer as to which player they should be collecting?
Advanced metrics can definitely play a big role in card investment, especially at the minor league level. Being able to use minor league data to predict major league performance for a prospect gives an investor huge leverage over the market and confidence that they will get a positive return on investment.
If so, which advanced metrics would you suggest investors look at when it comes to trying to make informed decisions on purchasing cards?
My strategy for card buying is identifying prospects that hit for power, walk at a high rate, and strikeout at a manageable rate; these are all stats that lead to the player having a high wRC+ and on-base percentage. To identify players that hit for power, I use a stat called Isolated Power or ISO, which is calculated by subtracting slugging percentage from batting average. ISO only takes into account extra base hits and the major league leaderboard for ISO closely mirrors the leaderboard for wRC+. There are few hitters that have over .200 ISO in the big leagues that are under 100 wRC+.
For pitchers, the main metrics to look for are strikeout percentage, walk percentage, FIP, and average against. Pitchers that excel at striking batters out while walking few batters translate well to the major leagues, so K-BB% is an easy way to identify star minor league pitchers. Shane Bieber is a great example. In AA and AAA in 2018, Bieber walked less than 5% of batters and struck out more than 25% of batters while also having stellar FIP and batting average against numbers.
If someone starts to use them to inform purchases, can a buyer put too much stock into advanced metrics? Or, to put it another way, how can we use them, but not abuse them?
It is definitely possible to put too much stock into the advanced metrics. Advanced metrics and data are merely tools to identify players that could be good investments. I always dig deeper when I identify a prospect whose numbers jump out to me. I don't always know much about a prospect's swing or scouting report. A simple search on twitter can yield great information on players and also give access to video for analysis. Analytics people sometimes get a bad reputation for only trusting the numbers, but you always have to cross reference the numbers with scouting reports and videos and vice versa. It's all part of doing the proper due diligence.
Talk to me about a few minor league players that you are currently tracking and what are their numbers telling you that makes you think these guys might be a good buy?
I have a big list of hitters that I'm watching, and I won't give away all of my secrets in one article, but I'll give away a few. This current class of catchers is absolutely filled with talent and, to answer this question, I want to focus on Francisco Alvarez of the New York Mets and MJ Melendez of the Kansas City Royals.
Francisco Alvarez is only 19-years-old and currently in High-A. In 67 plate appearances in Low-A before getting promoted, he had 1.213 OPS, .223 ISO and was only striking out 10.4% while walking 22.4%. Alvarez was hitting the ball hard 63.6% of the time in Low-A and clearly deserved the promotion.
Since his promotion to high-A, Alvarez is batting .277 with a .313 ISO and six home runs in only 99 PA. He's striking out 24.2%, which is higher than in low-A, which isn't a concern for me when mixed with high ISO and a high walk rate of 13.1%. Alvarez has a great feel for the strike zone and makes hard contact. At the young age of 19, he has a chance to make it to the majors sometime next year and be a force behind the dish for the Mets. I predict he will be inside a lot of top 20 lists by year's end.
MJ Melendez is a name that flies a bit more under the radar than Francisco Alvarez and will cost much less. Alvarez's Bowman Chrome autograph cards can go for near $1,000, but MJ Melendez autos can go for as little as $20–$30. Melendez isn't as gifted as Alvarez at the plate, but he shows potential to be a star player.
As a 22-year-old in AA this year, Melendez has a 138 wRC+, .292 ISO, is striking out 23.7%, and walking 13.2%. Strikeouts were an issue for Melendez before this season, but he has cleaned up his approach over quarantine and is making more contact. His isolated power of .292 ranks third among minor league catchers behind Shea Langliers and Keibert Ruiz, who are both top prospects. Melendez's ability to walk and hit for elite power gives me confidence in his approach, even if he strikes out close to 25% of the time. He's a bargain right now with the potential to be a star.
Similarly, talk to me about a few major league guys that you think might have a strong second half because of what the advanced metrics are telling you.
This probably goes without saying, but if you can find any Juan Soto cards at a discount, jump on that opportunity right this second. Soto has been "lacking" at the plate for his standards. He has a 130 wRC+ and only nine home runs, but he has one of the biggest differences in wOBA and xWOBA in the league. His xWOBA of .420 ranks sixth. Freddie Freeman is another player with a big difference between his wOBA(.359) and xWOBA(.412). I recommend betting on players that are playing below their track record of peak performance and that are still in their prime. Freeman and Soto both fit the bill.
The player I'm buying into most going into the second half is Kyle Tucker. Tucker is a player that's hard not to fawn over. He has a silky smooth swing and this season he is working everything up the middle. He is hitting 46.9% of batted balls to center. Tucker has a 122 wRC+ and has been between 122 and 126 wRC+ since 2019. His current wOBA is .344, but his xWOBA is a gaudy .409, which signals that Tucker has been unlucky thus far. It also signals that Tucker is currently playing to his floor. There is only room for break out from Tucker and I would be buying any and all Tucker shares as the season goes on.
If you had to buy one prospect's Bowman 1st and one pro's RC, who are you buying and why?
The prospect would have to be Adley Rutschman. He is the perfect player in my eyes. He has a perfect approach at the plate and he backs it up with elite defense behind the plate. He has a HOF trajectory and the pedigree for me to believe that his minor league performance is far from a fluke.
I'm buying a Juan Soto card, locking it away till I'm 60-years-old, and enjoying my retirement. He only swings at 16.2% of pitches out of the zone, which is lowest in baseball. Only four players this season are swinging below 20% of pitches out of the zone. He's the most technical hitter in the game. You can't teach the feeling of the zone that Soto has. I'm betting on him being in Cooperstown someday as one of the best hitters of our generation. Oh, and Juan Soto is still just 22-years-old.
Final Thoughts
There's no doubt that advanced metrics can make you a smarter card-collector and help improve your buying/selling strategy, but using them properly is key. If this is new to you, start slow, gain a firm grasp of the key metrics and start running test cases on some of the current minor league prospects. If you have questions, want us to explore the value of a certain metric, or take a deeper dive on a certain player, hit us up in the comment section below. Happy hunting.