Analysis
Update on 2023 MLB Futures; Over/Under Wins, Divisions, World Series, Player Awards, PrizePicks Entry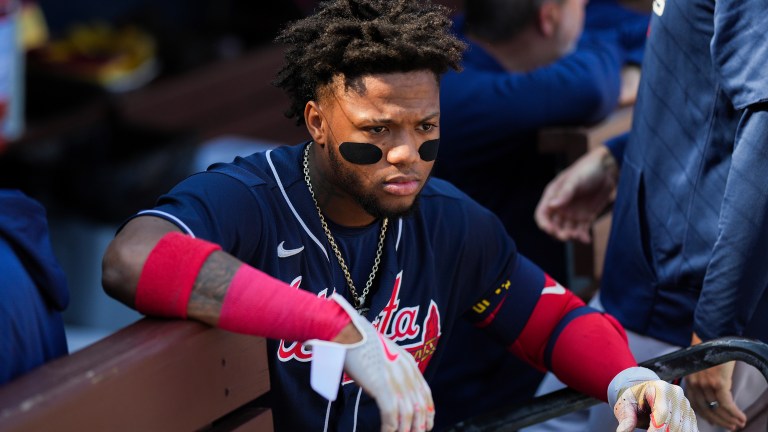 We have reached the midway point of the 2023 MLB Season, so it's time to take a look at all the pre-season MLB futures picks I sent out before the season began. Some great spots, some bad ones, and a couple will have us drenched in sweat.
I was planning on putting out some second-half bets, but every team I landed on has already been bet in the pre-season. I may end up buying stock in the Padres down the line, but I don't know if I fully believe in them enough to wager on them.
At the bottom of each writeup, I'll explain how I think they will go. Hopefully, the "Yes" grades come true, and I hope I'm wrong about the "No." There are a few "too-close-for-comfort" picks as well, so feel free to let me know how you feel about them on Twitter.
Team Win Total Futures
Arizona Diamondbacks Over 74.5 Wins (-110) 2.2 Units
My largest preseason bet is going well. Depending on the projection system one uses, they'll have the Diamondbacks anywhere from 86-89 wins when the season ends. They ended the first half with a 52-39 record, on pace to win 92 games. I do not think they'll finish that high, as a few key offensive pieces have overperformed. However, they should be buyers at the deadline to help bolster the rotation and bullpen, which is their big weakness. They would have to go 22-49 to end the season. If they somehow manage to do that, tip your cap.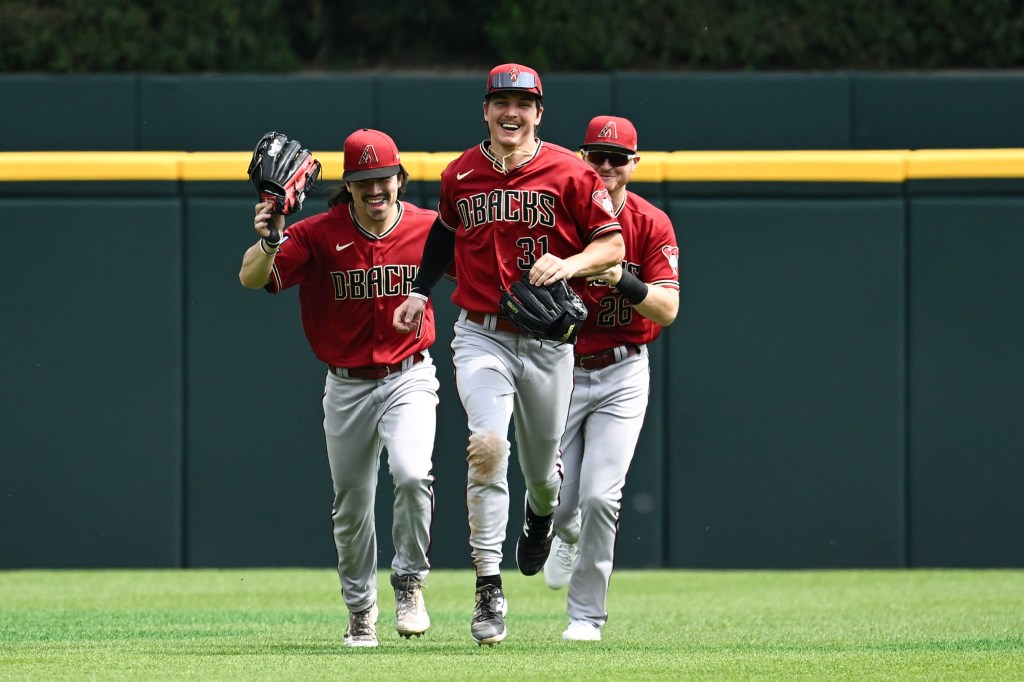 Projection: WIN
Seattle Mariners Over 87.5 Wins (-110) 2 Units
Ugh. This one felt so good in the pre-season. You'll see what I mean as you continue down this article. I bought so much stock in this team, and they have fallen below expectations. The Mariners sit with a 45-44 record which puts them on pace to go 82-80. Most projections have them between 83-85 wins. However, I am not giving up.
From a strength of schedule standpoint, Seattle's second half should get much easier. They had the sixth hardest schedule in the first half, and now they sit with the fourth easiest. They should luck into a couple of additional wins if everything stays the same. Those projections have presumably added that into the projections, so the question is, how do they win five more than expected?
Seattle's General Manager, Jerry Dipoto, is aggressive. We saw what he did last season by bringing in top-level relief pitchers and acquiring Luis Castillo. With the Angels falling out of the race and only a few teams on the way toward a Wild Card berth, Dipoto should be an aggressive buyer at the deadline to inject energy into this team.
We knew they could pitch, especially in the bullpen, but it truly is an elite staff. They have five legitimate arms in the rotation with the emergence of Bryce Miller and Bryan Woo, giving them a chance to win daily. They have the third-best FIP and xFIP as a staff, and the bullpen is also a top-five unit in most metrics.
The question here is can they hit enough? This has been one of baseball's unluckiest offenses. They rank 13th in xwOBA this season and 23rd in wOBA. Basically, they are hitting the ball hard, but the balls aren't bouncing their way. The Cardinals have said they are trading people, so get Brendon Donovan or Tommy Edman to replace Kolten Wong. Grab JD Davis, Brent Rookier, or Joey Meneses to ensure the DH spot. They make moves like that, and we are in business.
Prediction: Too Close to Guess
Cleveland Guardians Over 86.5 Wins (-115) 2 Units
I have more faith in the Mariners reaching their win total over the Guardians, but I'm not counting them out yet. The Guardians are 45-45, on pace to finish with an 81-81 record. That's where you'll find their projections, anywhere from 80-83 wins.
The Guardians sat in the middle with their strength of schedule, and they once again sit in 15th for the second half. The issue here is there is no clear picture of what they will do at the deadline. They could acquire some bats, but it's also been rumored that they could trade away Shane Bieber. However, now that McKenzie's timetable has been pushed back and Quantrill has his second stint on the IL if they trade away Bieber, I'm unsure if their plan is to turn around and get some hitters.
The Guardians' offense hasn't been unlucky; it simply isn't good. They rank 26th in wOBA and 27th in xwOBA. They don't hit the ball in the air. They don't hit the ball hard. Andrez Gimenez looks nothing like himself, and Steven Kwan isn't the player he was last year. It can't be all on Jose Ramirez and Josh Naylor. Josh Bell, can we be better?
The bullpen is great, but there are still question marks in the rotation with how young it is. Could they do it? Sure. Will they? I have my doubts.
Prediction: Loss
Division Futures
Atlanta Braves to win NL East (+105) 2 Units
They are -10000 on BetMGM to win the NL East. They are the best team in baseball who, has missed Kyle Wright and Max Fried for most of the season, and Strider hasn't been as dominant as he was last year. If they don't win the division, it will be one of the great collapses of the 21st century.
Projection: WIN
Cleveland Guardians to win NL Central (+125) 2 Units
It's funny. I have more confidence they win the division rather than going over their win total. However, I don't have enough of it to project a win here. The line hasn't changed much; they are +140 to win the division on BetMGM.
Both the Guardians and the Twins have underperformed, and the Guardians sit with a 0.5-game lead above the Twins. I think the Twins have a better roster, but they routinely find more ways to lose. The Twins have a better offense and starting pitching, while the Guardians have the superior bullpen and manager. Depending on your projection systems, the Twins are projected between 81-84 wins. A slight step above the Twins.
I expect the Twins to be relatively aggressive at the deadline, but I don't see them shelling out big-time prospects for big-time pieces. They need their current team to play better. What they do have working for them is the strength of schedule, sitting with the projected easiest road moving forward.
The Twins have a better roster and an easier schedule; they should win the division. As we sit here today, it's impossible even to guess what these teams will look like after the deadline.
Prediction: Too Close to Guess
Tampa Bay Rays To Win AL East (+350) 0.5 Units
The Rays sit with the second-best record in baseball at 58-35 with a +149 run differential. Depending on where you look, they are projected to win anywhere between 94-97 games. They are -275 to win the division on BetMGM. Most people assume they'll win the AL East, but something isn't sitting right.
First off, they sit with the third-highest difference in wOBA to xwOBA, the bad kind. The contact quality should not be producing these kinds of results. Shane McClanahan, the ace of the team, has a 3.97 xERA. Drew Rasmussen and Jeffrey Springs are done for the season, and Tyler Glasnow can't string together ten starts without some injury flaring up. The bullpen is overworked and underperforming.
I also am unsure how they will handle the deadline. I would be surprised to see them be major buyers, but regardless, they will add. While this one looks great as we sit here today, I would not be shocked to see either the Jays or Orioles overtake them in the end.
Based on projections and the odds, I'll predict this one as a win, but it's not a confident prediction.
Prediction: WIN, Bad Feeling
Houston Astros to Win the AL West (-145) 1.45 Units
This was an early season add when the Astros were 14-11 and tied with the Rangers for the lead in the AL West. Since then, the Rangers have won two more games than the Astros and now sit with a two-game lead in the division. The odds have not moved in our favor, as you can grab +105 on BetMGM right now with the Astros. The Astros did take three of four from the Rangers at the tail end of the break, proving they can hang with them the next time they meet.
All the projections I found have the Rangers either tying for the lead or winning by 1-3 games. We are not in the best spot, but I'm certainly not cashing out or hedging out of the position.
This one will be a race to the finish line. Yordan Alvarez being out this long has definitely put a thorn in Houston's side, as have key injuries to the rotation in Luis Garcia. This is not the same team I bet on, but I'm relatively confident they can pull out a win.
From a strength of schedule standpoint, the Astros have the fifth easiest while the Rangers have the eleventh easiest. If all things are created equal, the Astros have the advantage based on who they will play in the second half.
Offensively, the Rangers have a clear advantage. They have the third-highest xwOBA and lead the league in scored runs. Even with Yordan and Altuve fully healthy, the Rangers have the superior offense.
Houston owns the advantage, both in starting pitching and the bullpen. The rotation has the tenth-ranked SIERA, and the bullpen ranks second. Texas has the eleventh-ranked SIERA in the rotation and the 13th-ranked bullpen.
Defensively is where the Rangers regain an edge. The Rangers are an exceptional defensive unit, something most people don't factor into their success. They are tied for second in baseball with 15 OAA as a team. However, the Astros aren't far behind with 10 OAA of their own.
As stated earlier, this will be one of the best races we have in baseball. Both teams will add at the deadline, and both teams are fantastic. It's a cross-your-fingers type of bet. If I HAD to make a pick, I would go with the Astros. I believe the deciding factor was the Rangers losing deGrom for the rest of the season. That's an enormous blow. That said, the Rangers can definitely still win without him.
Prediction: Too Close to Guess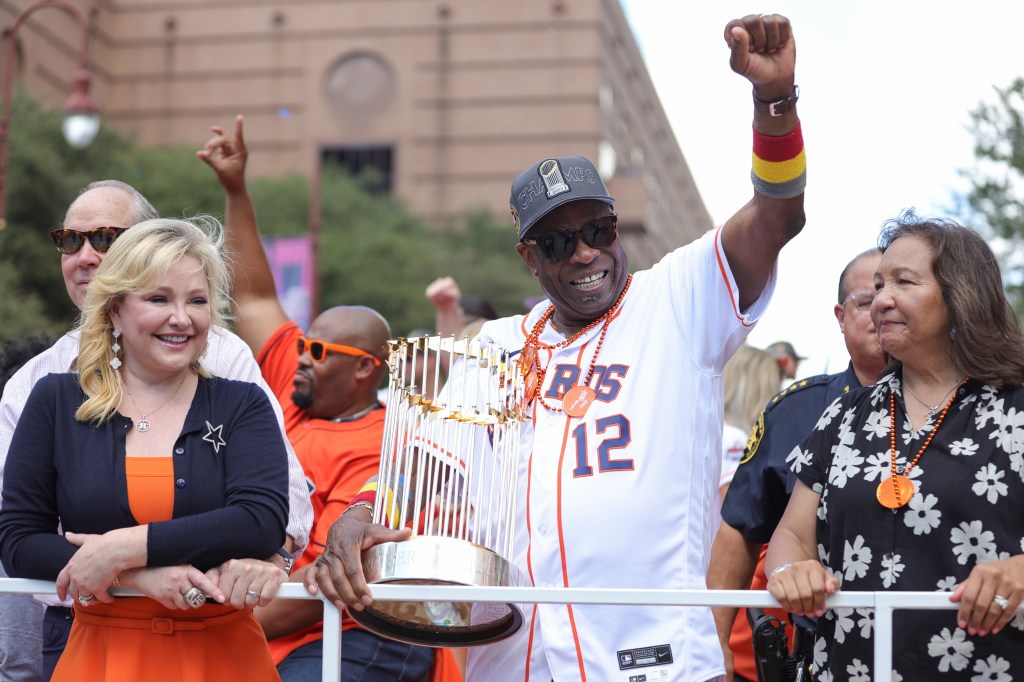 Pennant and World Series Picks
Atlanta Braves To Win National League (+400) 1 Unit
Atlanta Braves to Win World Series (+750) 1 Unit
We are still far from any accurate playoff predictions, but let's be real. It's the Braves league right now, and we are just living in it. I was obsessed with this team, which shows how I deployed my units. They are +145 to win the National League and +350 to win the World Series. Those are the best odds of any team.
I expect them to sure up the bullpen over the deadline and continue to roll through teams. They will get reinforcements back in the rotation, and the offense is a well-oiled machine.
That said, the playoffs are a crapshoot. Based on regular season records, the Braves, Dodgers, and Mets were the best teams in the National League last year, yet the NLCS included the Phillies and Padres. I'd love to predict a win because I think it will be the Braves, but it's too early to tell.
Seattle Mariners to Win American League (+1000) 1 Unit
Seattle Mariners to Win World Series (+2000) 1 Unit
I wrote about this at the beginning of the season. They only need to sneak into the playoffs for a realistic shot at the World Series. As stated earlier with the Braves, the MLB playoffs are random; anyone can win. Nobody in the American League has the pitching they do, but the questions around the offense are what could hold them out of the playoffs.
When we look at the teams fighting for the Wild Card, we must evaluate the Orioles, Blue Jays, Yankees, Twins, Astros, and Guardians. There could be a surprise team in there, but it's between those seven teams right now.
Among these seven teams, the Mariners have the best overall pitching staff. If we rank these seven teams, the Mariners starting rotation and bullpen are either second or third in SIERA. They have a large edge in the most important aspect of the game.
Offensively, they rank fourth in xwOBA among these seven teams and 13th overall. This offense is good enough to hang with those teams.
Among these seven teams, the Mariners are also the best defensive team by Outs Above Average (OAA). Not only are they number one among the teams mentioned, but they are also number six in all of baseball.
This very good baseball team was unlucky offensively in the first half. They gave the Astros the toughest battle in the American League last season, the defending World Series champions. If they can somehow get in the playoffs, they have as good of a shot as any team in the AL.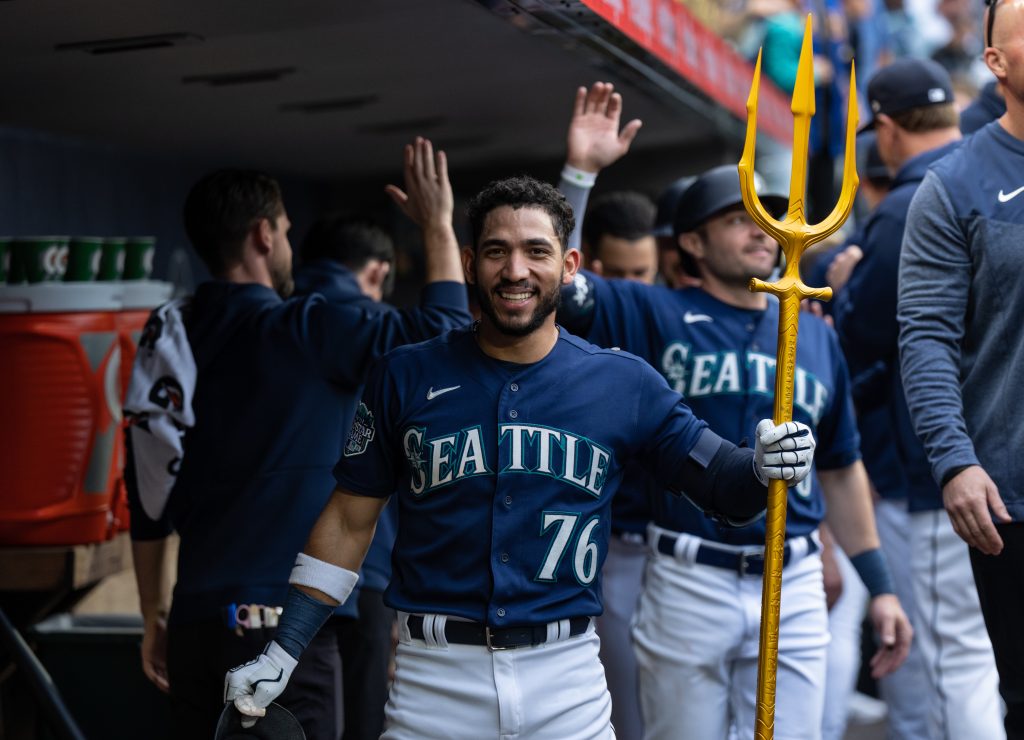 Player Awards
Corbin Carroll NL Rookie of the Year (+500) 1 Unit
As soon as the announcement came in that Jordan Walker would be on the Opening Day Roster for the Cardinals, he rocketed up the odds and became the favorite. I took the opportunity to load up on Corbin Carroll, and a few days later, Carroll was the favorite once again. Walker will be a great player, but his minor league numbers rivaled Carroll's major league numbers in his short stint last season.
Carroll is now -300 to win the NL Rookie of the Year. Only Shohei Ohtani has better odds of winning the AL MVP. Carroll has similar odds to win this award to Ronald Acuna Jr to win the NL MVP. Carroll has the fourth-best odds of winning the NL MVP. Outside of an injury, I don't see how Carroll does not run away with the Rookie of the Year. Elly De La Cruz is our big competition, but he has so much ground to make up to catch Carroll.
Prediction: WIN
Francisco Lindor NL MVP (+3000) 1 Unit
I'll save you the time; he isn't winning. No wonder he was +3000. He's 17th in fWAR in Major League Baseball, which is a good sign, but still, it would be a miracle for him to finish in the top three, let alone take home the award.
Never say never, I guess, but I'm pretty close to saying never.
Prediction: Loss, not even close.
Season Long PrizePicks Entry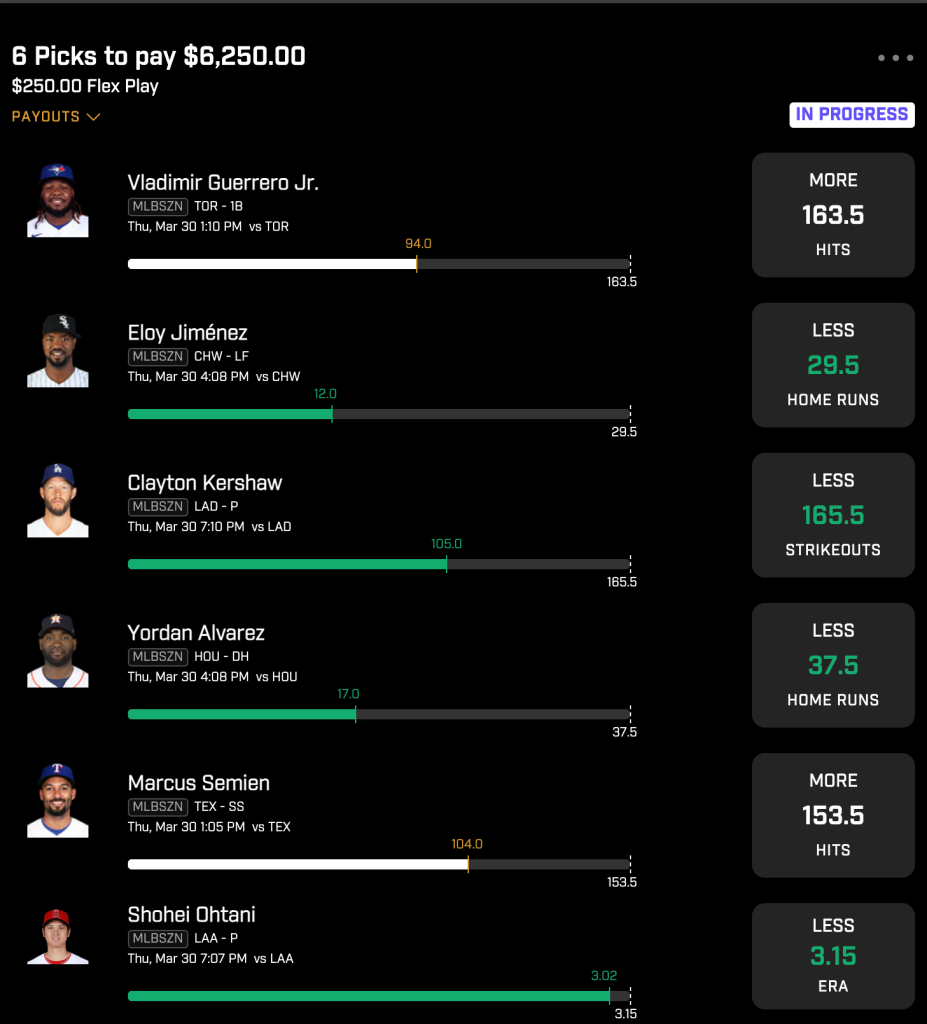 Vladimir Guerero Jr Over 163.5 Hits
Fangraphs Projection: 167 Hits
Barring injury, we are in a great spot here. I believe this projection is too low when we look at how unlucky Vladdy Jr has been this season. Among all qualified hitters, he ranks number four in the difference between his wOBA and xWOBA. He's rocking the highest hard-hit rate of his career, even higher than his monster 2021 season. He should see more balls fall when he consistently hits the ball this hard.
Prediction: WIN
Eloy Jimenez Under 29.5 Home Runs
Fangraphs Prediction: 22 Home Runs
This projection is based on him staying healthy for the remainder of the season. A large part of this bet was his inability to stay on the field, which has already happened multiple times this season. Unless he goes on some rampage and stays healthy the entire year, I don't see him hitting 30 home runs.
Prediction: WIN
Clayton Kershaw Under 165.5 Strikeouts
Fangraphs Prediction: 171 Strikeouts
Another pick is hellbent on health. Here's a quote about Kershaw's current timeline: he is on the IL with shoulder inflammation.
Dodgers manager Dave Roberts said Saturday he isn't sure if Kershaw (shoulder) will return during the team's series against the Mets immediately after the All-Star break, Mike DiGiovanna of the Los Angeles Times reports.
Kershaw has been throwing off flat ground and threw a brief five-pitch bullpen session Friday. He previously expressed optimism about pitching after the All-Star break, but it now seems possible he might have to wait a little while longer. Kershaw has been on the injured list since Sunday with left shoulder inflammation.
I would imagine the Dodgers will be extremely cautious with Kershaw. They already saw Dustin May go down, and they can't afford another injury to the rotation, especially to Kershaw, who is on the wrong side of 30, and shoulders are not something to mess with.
I think this truly comes down to how many starts he misses.
Prediction: Too Close to Guess
Yordan Alvarez Under 37.5 Home Runs
Fangraphs Prediction: 33 Home Runs
A hamate bone injury to Yordan in the off-season pointed me toward this bet. The hamate bone is important for power production, and we've seen plenty of big-time sluggers sustain this. To go over 37.5 home runs, he would have to stay healthy all season long and break his own personal record for home runs hit in a season.
Funny enough, the hamate injury did not hurt him in the early goings of this season; that's how good he is. However, he has been out since June 9th with an oblique injury that has lowered his overall projection for the season.
We should expect Yordan to return by the end of next week, putting his projection around 31 home runs. Based on the numbers, this should be a win. We are dealing with Yordan Alvarez, so I'm putting this in the "sweaty" category.
Prediction: Too Close to Guess
Marcus Semien Over 153.5 Hits
Fangraphs Projection: 178 Hits
The only overs I went with are for guys with a history of staying healthy. Marcus Semien has missed 11 games since 2018 and has played every game this season. He's tied for sixth in his at 104 and is well on his way to soaring over 153.5. He has to stay healthy, as he always does.
Projection: WIN
Shohei Ohtani Under 3.15 ERA
Fangraphs Projection: 3.30 ERA
This was one of my most confident predictions at the beginning of the season, and now it's making me the most nervous. Ohtani's command has been subpar this season, leading to a higher walk rate than ever before. His 3.32 ERA is right around our magic number, but his 3.54 SIERA and 3.81 xERA are concerning.
He may also be traded, which may hurt us if it takes him a bit to acclimate to his new team. Even if he isn't traded, things aren't looking great. However, it's still Shohei Ohtani. Like Yordan Alvarez, I have difficulty doubting what he can do. The numbers say Yordan is going under, and Shohei is going over, but it's a wait-and-see game right now.
Prediction: Too Close to Guess