Analysis
Phillies vs. Diamondbacks Game 2 Best Bets, Odds, Predictions for October 17, 2023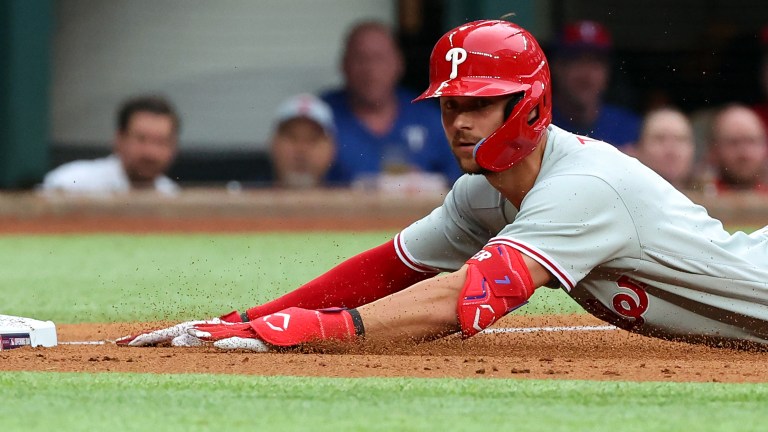 Come on Seranthony Dominguez! We took the under last night at 7.5, and it landed on eight. The reason it didn't go under was a costly error by Dominguez. A simple grounder right to the pitcher turned into a double play 99% of the time, and he threw the ball into center field. That's baseball for you, but whatever, I had a blast yesterday.
On the football side, we hit the Cowboys and the under in Monday Night Football. We also hit on Phillies ML, but that play won't be tracked as the line moved a lot, so I didn't think making it an official play was appropriate.
However, we went down 1.15 U on this column. Let's get it back in Game two.
2023 MLB Regular Season: 154-165 (-11.66 U)
2023 MLB Playoffs: 8-9 (-0.12 U)
Arizona Diamondbacks vs. Philadelphia Phillies @ 8:07 PM EST
Pitching Matchup:
Merrill Kelly: 3.29 ERA, 4.13 xERA, 3.85 FIP, 3.84 xFIP, 4.12 SIERA
Aaron Nola: 4.46 ERA, 3.77 xERA, 4.03 FIP, 3.63 xFIP, 3.75 SIERA
My first instinct was to play the Phillies. I will gladly pay to find out if they lose at Citizens Bank Park. How do we play the Phillies without spending a fortune on the money line? We could go with the run line, but betting on the home team when they aren't guaranteed nine innings of at-bats isn't what I'm looking for, and you all know I hate betting on run lines.
I could go with the first five innings, but even that has less value than our pick, and I want every inning soaked up from these bullpens. I came to this pick, combining my two favorites.
Aaron Nola isn't quite Zack Wheeler, but nobody is. However, Nola has been a stud at Citizens Bank Park in the regular season and his postseason career. His splits are vastly different on the road versus at the Bank. He's thrown 12.2 innings this postseason, pitching to a 1.42 ERA and a 2.07 FIP. He's thrown 38 innings to a 3.76 ERA and a 3.19 FIP in his postseason career. At home this season, he's pitched to a 3.29 ERA and 3.40 FIP, compared to a 5.43 ERA and 4.55 FIP on the road. This is, historically, the best version of Aaron Nola.
He also has some success against this Diamondbacks team. Through 58 PA against this current roster, he's rocking a .224 xBA, a .295 xSLG, and a .243 xwOBA. The Diamondbacks haven't seen him this year, which bodes well for Nola. Nola also shares similarities to Wheeler, where he's better against righties than lefties.
The Diamondbacks' key lefties are Carroll and Marte, but a shoutout to Geraldo Perdomo for the home run yesterday. The unfamiliarity could hurt Arizona early on, and the Phillies need one inning to grab the momentum.
Merrill Kelly will toe the rubber for the Diamondbacks. I like Kelly more than Gallen in this matchup against the Phillies offense. Gallen's fastball was getting crushed last night, and Kelly is more methodical with using his heater. Gallen is 50% fastballs while Kelly's usage is near 30%, implementing a cutter and a sinker to throw off hitters timing. I don't see Kelly having the same issues as Gallen, but I still don't think he dominates.
Kelly has similar issues on the road as Gallen does. At Chase Field, he rocked a 2.59 ERA and a 3.43 FIP. On the road, those numbers jump, sporting a 4.07 ERA and a 4.32 FIP. He also has similar issues against left-handed bats (4.26 FIP vs. LHB, 3.42 FIP vs RHB).
Kelly faced the Phillies this year, allowing three runs in six innings at Chase Field. The last time he was on the mound in Citizens Bank Park was back in 2019; unfamiliarity with this environment could hurt him. In 62 PA against this Phillies current roster, the xBA is .285, xwOBA is .365, and the xSLG is .475. One name rises above the rest when you dive deeper into who hurts Kelly.
Trea Turner. Captain America in the World Baseball Classic. Big Game, Trea. I will gladly sink on the Trea Turner ship if he doesn't arrive today. We've heard how the Dodgers always hit Kelly, and then he dominated them. They missed Turner in that lineup, who is hitting .429 with a .571 SLG against Kelly in 24 PA. He's 9-21 with three doubles, a .391 wxOBA, and a .356 xBA. He sees him well, and it makes sense. Turner is hitting .329 against fastballs under 93 MPH for his career; this type of pitcher is an excellent matchup for him. He likes hitting changeups and sinkers as well, posting positive run values.
Harper's getting all the attention deservedly, but Trea Turner is the hottest hitter in this lineup. Trea hit .339 in his last 200 PA before the playoffs. He's hitting .500 with a 282 wRC+ in 30 PA in the postseason. He came in scorching hot and has remained hot in the postseason. He. is -290 to get a hit; following best is Alec Bohm at -240 and Bryson Stott at -210.
Both bullpens are a full go. Nobody exceeded 16 pitches last night, and they have an off-day tomorrow. Rob Thompson will use everyone at his disposal to get a win here, as he knows the Phillies' significant advantage is playing at home.
I can understand the allure of the Diamondbacks tonight. They are a pesky, exciting team. The sportsbook lines indicate the Diamondbacks will keep this game close, so don't expect a blowout. If the Phillies lose this game at home, so be it. I have no reason not to back the Phillies other than "the lines are a bit weird."
This is the best value to play the Phillies without laying juice, in my opinion.
SGP on BetMGM: Trea Turner To Get a Hit and Phillies ML (+105) Risk 1 U