Analysis
NLCS Game 7 Best Bet, Diamondbacks vs. Phillies, Odds, Predictions, October 24, 2023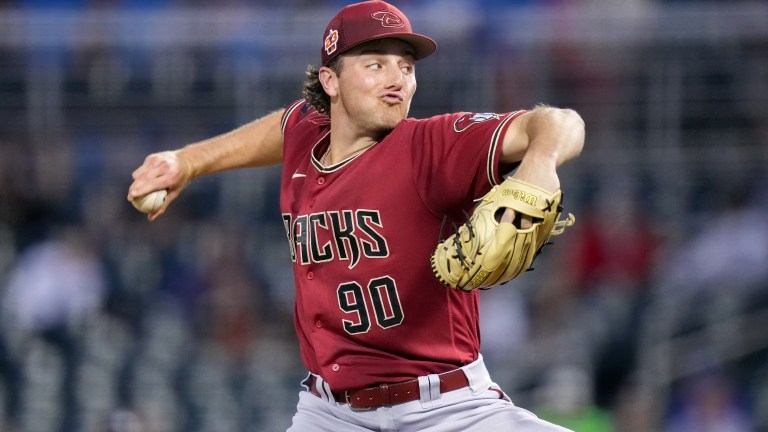 We got beat up yesterday. We dropped 1.85 units, the worst of the postseason so far. We took the Phillies, and they laid an egg. We took the Astros, and they got eliminated. We even lost our PrizePicks entry.
We were on such a roll. We had won six of our last seven before yesterday's picks, so let's get back on track with a winner today.
2023 MLB Regular Season: 154-165 (-11.66 U)
2023 MLB Playoffs: 14-16 (+2.37 U)
Arizona Diamondbacks vs. Philadelphia Phillies @ 8:07 PM EST
Pitching Matchup:
Brandon Pfaadt: 5.72 ERA, 4.61 xERA, 5.18 FIP, 4.46 xFIP, 4.28 SIERA
Ranger Suarez: 4.18 ERA, 4.39 xERA, 3.90 FIP, 4.05 xFIP, 4.38 SIERA
If you've been reading my articles all year, you know I've always believed in Brandon Pfaadt. He led the minor leagues in strikeouts in the PCL, notoriously known as the most challenging place to pitch in due to the high altitude of all the minor league parks. He had great stuff and command in the minor leagues, so I tailed him when he got called up. It didn't work out well in the regular season, but I knew something was in there.
We saw it come to life in a must-win game for Arizona, and he delivered. He dominated through 5+ innings while striking out nine batters. He's now thrown 12.2 innings in the postseason to a 2.13 ERA and 2.15 FIP with 15 strikeouts and one walk. He has the stuff to strike you out and isn't walking anyone when he's on. Will the bright lights be too much for him? There's always a chance, but his last start had plenty of pressure; why can't he do it again?
It's another case of the Phillies offense looking lifeless. Kelly was surgical, preying on an aggressive Phillies lineup hunting fastballs. Pfaadt uses his fastball at a higher rate than Kelly, but we saw him implement a similar, successful formula for both.
They both lowered the usage of their fastballs against this lineup and utilized the secondaries more. He threw more sweepers and sinkers than we are used to seeing while sprinkling in a curveball and changeup. He should efficiently work through this lineup if he can keep the Phillies off his four-seamer. You get a first-pitch strike on this lineup right now; they start chasing offspeed outside the zone. That's what Pfaadt did last time, and I have no reason to believe he can't do it again after watching this Phillies lineup operate.
However, Pfaadt has a ceiling on how far he'll go. Manager Torey Lovullo has proven he doesn't want his starters facing the top of the lineup three times. He gave Kelly five innings when he looked great, and he pulled Pfaadt when he was dominating not to face Schwarber, Turner, and Harper again. When I projected him out for this game, I had him completing four innings of two runs.
Ranger Suarez is on the other side. I got burned buying into playoff wizards like Cristian Javier yesterday, but overall, trusting the guys who have proven they can pitch in these spots has been profitable. That's why we are in the green these playoffs. That's what Ranger Suarez does; he delivers in big moments.
He's thrown 14 innings this postseason, posting a 0.64 ERA and 2.76 FIP. That includes a five-inning shutout of Arizona. He's now thrown 28 innings at a 0.94 ERA and 3.22 FIP. He's been phenomenal, and I have no reason not to trust him in this spot.
He has excellent numbers against this current Diamondbacks roster. They have failed to hit him hard in 106 PA, posting a .391 xSLG, a .324 xwOBA, and a .247 opponent batting average. He struck out seven in his last start against Arizona, and there is a formula here that has me believing he'll be close to that number again.
While Ranger Suarez is more effective against lefties, he racks up strikeouts against righties. He posted a 9.0 K/9 against righties this season compared to a 6.84 K/9 against lefties. He posted a 2.62 FIP against lefties compared to a 4.23 FIP against righties. He should be able to work through the two lefties (Carroll, Thomas), and if he's striking out the righties, he'll dominate.
The only player that has any success against him is Ketel Marte. After he shows this series, they will be cautious with him. I feel confident in any matchup that comes after. I put his line at four innings of one-run ball.
Every bullpen arm is a full go in this one. The Phillies' best arms, Jeff Hoffman, Seranthony Dominguez, Jose Alvarado, and Matt Straham, all have two rest days so that we could see them for multiple innings here. The Diamondbacks used their best four yesterday, which isn't ideal, but they did have a rest day, and none of them threw more than 15 pitches. They'll have Joe Mantiply, Ryan Thompson, Andrew Saalfrank, Kevin Ginkel, and Paul Sewald. Lefties and righties to put in big spots.
In a game seven format, the under seems to be the play. I'm still not impressed by either offense, and I think both starters have fantastic upside. Factor in both managers playing the best matchups possible on a cold night in Philadephia; I like the under a lot.
Andy Fletcher will be behind home plate, which is very profitable to the under as the umpire. He is 278-223 to the under (55.5%), suitable for +18.78 units.
I thought this total would be at 8, so when I saw 8.5, I jumped over it. I've seen it move since writing down to 8, which is okay to take. You lose some value, but I don't think this game exceeds eight runs. If it does, we both lose.
Regarding game sevens, I always cut my unit in half. Variance in these games is extreme, so they are the best. Anything can happen, but this is my best bet.
The Pick: Under 8.5 (-105) Risk 0.525 U to win 0.5 U
PrizePicks Entry $25 Max
Ranger Suarez Over 3 Strikeouts
He's -215 to over 2.5 strikeouts and +140 to over 3.5 strikeouts. The books have told us he's landing on three, but I feel the market is too low. I know why; it's game seven, and an early exit is well within the cards, but he has a good matchup for strikeouts.
His strikeout rate is 24.7% at home versus 19% on the road. He has a 22.4% strikeout rate against righties compared to 20% against lefties. He's going to face seven righties at home. His outs line is so low, so three strikeouts is a lot for a 10.5 outs line.
It's tough to know what the leash is for Ranger. If he's pitching well, I don't see them pulling him to pull him. Thompson has allowed Ranger to go at least five innings if he's performing. If he goes that long, we should have no trouble. He can still get to four strikeouts if he only goes four innings. He went 3.2 IP with four strikeouts against the Braves. I'm putting my faith in Ranger to get four strikeouts; the model has him at 4.7.
Steph Curry Over 0.5 Points
I'm not much of an NBA guy, but I'm pretty sure this is hitting. If you want to take advantage of this free square and are new to PrizePicks, use code "JUSTBASEBALL" for a 100% deposit match to get started.