Analysis
NL Cy Young Race: Who is the Best Bet Down the Stretch?
The NL Cy Young Award is still up in the air with just a handful of games to go. Which pitcher offers the best value via BetMGM?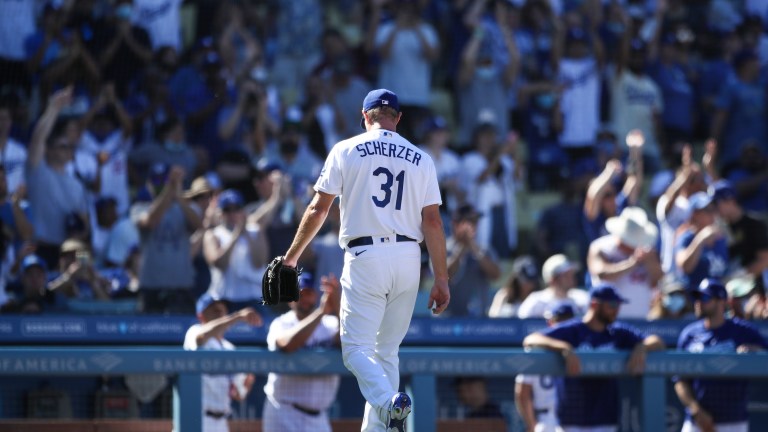 In most years, when we enter the final week of the regular season, we generally have a pretty good idea of who is going to win some of the awards. Aside from the Shohei Ohtani Award in the AL, many of the league's most notable accolades are still undecided, and the NL Cy Young is as up in the air as any. Let's take a pulse on the NL Cy Young race with a week to go in the season.
Max Scherzer – Dodgers – Odds: -170 (BetMGM)
While it is not entirely surprising that the future Hall of Famer has been this year's best deadline acquisition, Max Scherzer has been even better in Dodger Blue than Andrew Friedman could have anticipated.
Since being sent from the East Coast to the West Coast, Scherzer has gone 7-0 with a 1.43 ERA, 1.56 FIP, and 12 K/9. Scherzer's dominance as a Dodger has helped him lead baseball in ERA (2.28), WHIP (0.83), H/9 (5.4) as well as rank in the top-five in baseball for virtually every other category.
What Scherzer has done is largely reminiscent of the role C.C. Sabathia played for the Brewers back in 2008. The Brewers were perhaps a bit more in need of an ace, but you will be hard pressed to find many other instances of a starting pitcher stepping in and anchoring a playoff rotation overnight.
The surface level stats and the narrative are there for Scherzer, who at 37 years old could join Roger Clemens, Randy Johnson, Steve Carlton and Greg Maddux as the only pitchers to win four or more Cy Young Awards.
The advanced stats are strong for Scherzer too, but don't quite stack up to Corbin Burnes or Zack Wheeler. I will get more into the advanced numbers in the Corbin Burnes section of this article, because he is pacing the game by a good margin in many of those barometers.
Scherzer is a unique case when it comes to advanced metrics like FIP, which heavily penalizes pitches for homers, because he has weirdly given up a decent amount of them (21). The thing is, he also leads all of baseball by only surrendering 5.4 H/9. Basically, he is not giving up much contact, but when he does, it tends to be pretty loud; 19% of the hits Scherzer has given up this year have left the yard.
At the end of the day, it doesn't matter too much because Scherzer is leading all of baseball in ERA, but the weird contrast between the low number of total hits and relatively high number of homers makes the advanced metrics a little wonky.
While I agree that wins are largely a useless stat for pitchers in today's game, going 7-0 matters. It just does. This isn't a Rick Porcello situation, Scherzer is carving teams up so badly as a Dodger that he has earned seven wins to his record in the era of no-decisions. Full disclosure, I'd love to see Mad Max join the exclusive club of 4+ Cy Young Award winners.
For my money, Burnes is the best bet and the Blake Snell 2018 Cy Young precedent I wrote about a few weeks back.
I mean, what a story Corbin Burnes has been. A fourth-round pick after a rather pedestrian career at St. Mary's, Burnes had a 5+ ERA as recently as 2018 in Triple-A. Burnes has turned into a combination of pure stuff and command that is must-see television.
Burnes' cutter has become one of the most dynamic pitches in baseball. The offering has the second best run value in baseball (-24), and Burnes goes to it more than half of the time. Burnes' curveball is a downright unhittable secondary offering, with opponents hitting just (.071) off of the pitch while whiffing 51% of the time.
The surface level numbers on Burnes are fantastic, he leads all of baseball in K/9 (12.5), HR/9 (0.3), and trails Max Scherzer for the best ERA in baseball by a hundredth of a point. Burnes has impressively only allowed six long balls all year, despite playing in one of baseball's most hitter-friendly environments.
While Burnes may give up more base hits than the current Cy Young favorite, he has limited the damage all year long. For that reason, Burnes' FIP is off the charts at 1.56. For context, the next lowest FIP in Major League Baseball is more than a full point higher with Zack Wheeler at 2.61.
When it comes to many other advanced measures of success, saying that Burnes is pacing baseball would put it lightly. Burnes leads all Major Leaguers in fWAR, at 7.6; the next closest is Wheeler again, who has four more starts on the season than the Brewers ace. When looking at Baseball Savant's percentile rankings, Burnes is truly the pitching version of Juan Soto. Dominant in almost every facet.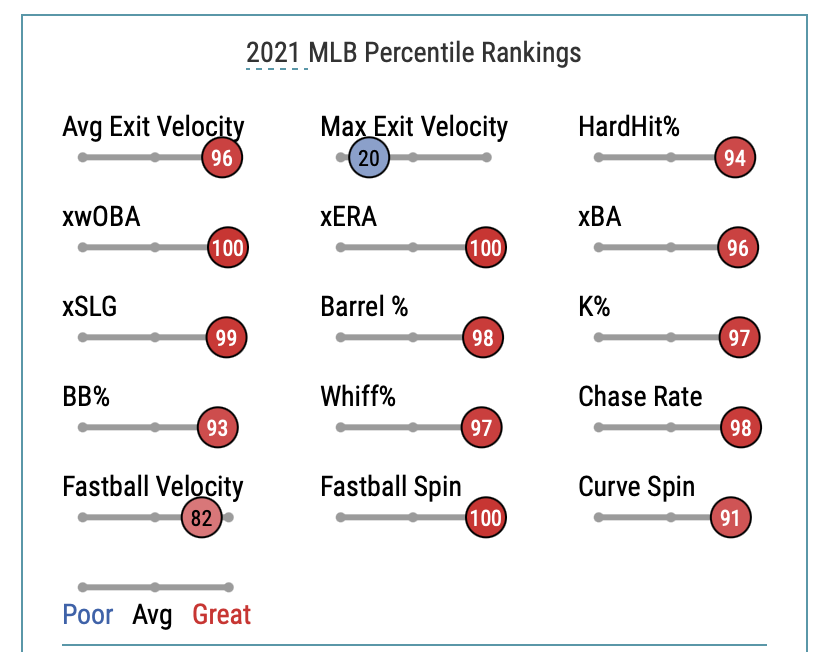 What Burnes has done this year is so remarkable, that I find it incredibly difficult to not give him the Cy Young Award. This is absolutely one of those instances where I am somewhat happy I am not voting. No matter who I would have to pick between Burnes and Scherzer, I would be upset that I couldn't pick both.
Diving into what a pitcher can control, Burnes is probably having the more impressive season, but it isn't always the most impressive individual season that wins the award. The race between Scherzer and Burnes will really come down to what the writers value as both provide excellent, but very different resumes.
Walker Buehler – Dodgers – Odds: +1400 (BetMGM)
I can't lie, I was surprised to see Walker Buehler ahead of Wheeler (+2200) for the distant third-best odds. Not as an indictment to Buehler, but more so because of how great Wheeler has been. Wheeler has amassed the most innings in baseball (206.1 IP), but Buehler has been a workhorse too at 195.2 IP. For context, Burnes and Scherzer have only thrown 165 and 174 innings respectively.
The fact that Burnes has accrued a much larger fWAR than Wheeler and Buehler despite throwing roughly 40 less innings is a testament to how dominant he has been. Still, Wheeler's fWAR is the second-best in baseball at 6.9, while Buehler trails at 4.9. When attempting to explain the odds, it could be a fair hypothesis that the sports books place a lot of stock into ERA, given Buehler's 2.58 mark and Wheeler's 2.79. The reality is, neither of these two impressive arms will win the award because Burnes and Scherzer have been so special.
Regardless, this season has been a special one for Wheeler, who is proving the Phillies right for giving him a five-year, $118 million deal two offseasons ago. The 31-year-old is set to post the best numbers of his career in virtually every category and should be a threat to win a Cy Young annually moving forward.
As for Buehler, he has answered the questions around whether he can go deep into games by sitting second in baseball behind only Adam Wainwright in innings per start (6.1). At just 27 years old, I would be shocked if Buehler does not win at least one Cy Young award in the next few years.
All that said, this is an award to be won between Max Scherzer and Corbin Burnes. Both pitchers will have one last shot to boost their resume before the postseason and a dominant start from either could be enough to put them over the top; the race is truly that close. Everyone is entitled to have their personal Cy Young pick, and if it is Burnes or Scherzer, I'd say there is no wrong answer. As someone who one day dreams of being able to cast a vote on these awards, I am happy I don't have to do so yet because I have no idea who I would go with here.