Analysis
MLB Picks Today, Best Bets, Odds, Predictions for September 13, 2023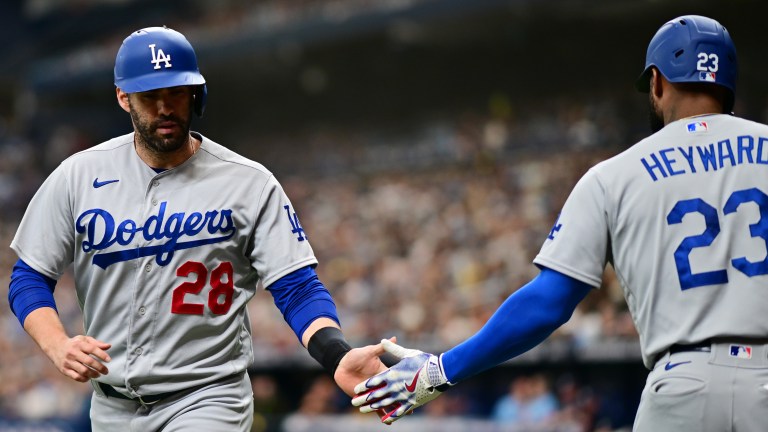 Chicago Cubs vs. Colorado Rockies @ 3:10 PM EST
Pitching Matchup: Jameson Taillon vs. Ty Blach
One of those plays we have to take. Both games in this series have gone under the total, and if we know anything about Coors Field, it's only a matter of time before the offenses go ballistic.
Jameson Taillon will toe the rubber for Chicago. This will be his second career start at Coors Field, his first since 2018. He's not used to pitching at altitude, and his matchup isn't exactly ideal against the Rockies.
Taillon has a lefties problem. They have posted a .863 OPS against him this season, compared to righties at .672. The difference in OPS is mostly based on slugging, as lefties have hit for a ton of power against him. Charlie Blackmon, Nolan Jones, and Ryan McMahon all should have nice days. Those three will take up the first five hitters in the lineup. The Rockies lineup is right-handed outside those three, but I don't expect them to have issues.
Taillon is in the eighth percentile in barrel rate and 53rd percentile in Hard-Hit rate. That's not a good recipe against a Rockies offense that ranks seventh in Hard-Hit rate against right-handed pitching in the last 30 days. Horizontal movement is the most affected at Coors Field and almost everything Taillon throws breaks horizontally (cutter, curveball, sweeper). Taillon deserves his 5.26 ERA, as his xERA sits at 5.15.
Ty Blach is in for a rough day. His ER prop is juiced towards the over 3.5 with only 13.5 pitching outs. It makes sense, as he's due for a ton of regression. His 6.67 xERA puts him in the second percentile, making him one of baseball's worst pitchers moving forward. He allows a lot of hard contact, and his ground-ball rate is six percent below the league average. His contact allowed is hard, and it's in the air.
He doesn't have the problem of a split; he allows both righties and lefties to hit him. Both sides of the plate have a .840 OPS or higher against Blach. He's facing a Cubs lineup with a 111 wRC+ against lefties in the past three weeks. However you queue is up; the Cubs are an above-average offense against left-handed pitching.
The Rockies won't have their two best bullpen arms, Justin Lawrence and Jake Bird. Those two have soaked up the majority of innings for this bullpen. Both of them threw 24+ pitches yesterday, so if they throw, it won't be at 100%.
The Cubs bullpen is still without their closer Adbert Alzolay. They still have solid options in Mark Leiter Jr, Michael Fulmer, and Brad Boxberger. Leiter Jr. is the only one of those three with an xERA below 4.30. They are fine options, but nothing is scaring me off here.
We have great daytime weather at Coors Field, which should boost the offenses. It's the lone game with a 30% projected to add to the run-scoring, according to Ballparkpal. I expect the offenses to finally kick it in gear and soar over 11.5 runs.
The Pick: Cubs vs. Rockies Over 11.5 (-110) 1.1 U to win 1 U
San Diego Padres vs. Los Angeles Dodgers @ 10:10 PM EST
Pitching Matchup: Blake Snell vs. Ryan Pepiot
The Padres won game one of this series, and the Dodgers won game two. This is the rubber match between two rivals headed in completely different directions. Maybe I'm being a simpleton, but give me the Dodgers to win the series.
They don't have an easy matchup. Blake Snell will toe the rubber for the Padres. This is his fourth time facing the Dodgers, and he's logged 245 PA against this Dodgers current roster. His .450 xSLG and .351 xwOBA against this team don't exactly scream dominant, as both of those numbers are below average.
You need to be patient against Blake Snell. That's why the Dodgers have found success against him in the past. The Dodgers have the highest walk rate in baseball this season against left-handed pitching at 10.8%. The next highest is the Rangers at 10%, and no other team is in double digits. That's why Blake Snell has a 3.71 ERA against them this season. They stay patient and wait for a mistake. We know how good the Dodgers are against lefties in general.
Ryan Pepiot will start for the Dodgers today. He's been incredible since returning from the minor leagues. He always had it in him; it's just his command was so bad. In 21 innings this season, he only has two walks. The Padres offense would have matched up very well against him if he was walking people again. They have the highest walk rate against righties in the league. That's how they manufacture runs, being patient. Pepiot pounds the strike zone and doesn't allow any hard contact, sitting with an absurdly low 22.7% HH rate.
The Dodgers have everyone in their bullpen available, and they have a sizeable advantage late in games. If Josh Hader were available, that advantage wouldn't be as wide, but he threw 43 pitches two days ago. Hader is notorious for struggling if he's not fully rested, so I hope he pitches today. If he doesn't, the Dodgers can hit any of those arms.
Blake Snell being an underdog to a rookie is pretty telling to me. Give me the better team at home to win the series by edging out a victory today.
The Pick: Dodgers ML (-125) 1 U to win 0.8 U