Analysis
MLB Picks Today, Best Bets, Odds, Predictions for May 21, 2023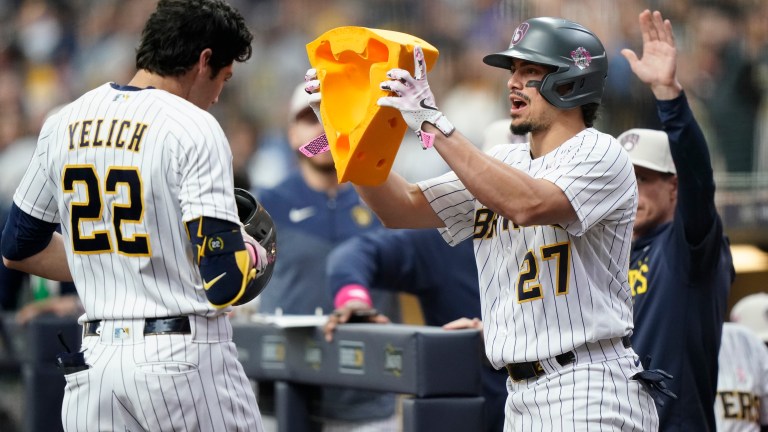 Nice sweep of game picks yesterday. Both totals cashed for us by the sixth inning, and we moved to over ten units made on the season.
I have four picks today, but two are in the same game. Seeing some very solid value today, not quite as strong as yesterday, but I have to attack these angles. Let's keep up the momentum!
2023 Straight Plays Record: 66-51 (+10.16 U)
I'm using BetMGM lines only this year. Here's a link to get started with a risk-free $1000 bet. You can also use code "JBFANS" if you're betting on MLB. Wager $10 on any MLB moneyline and receive $100 once the bet is settled.
All prop entries will be on PrizePicks: Here's a link to get a 100% deposit match.
Seattle Mariners vs. Atlanta Braves @ 1:35 PM EST
Pitching Matchup: George Kirby vs. Jared Shuster
Before we begin, I got the worst of the number as I'm writing. I bet this on the opener when the Mariners were sitting at -120. What happened overnight was a lot of Braves money came in and moved the line down to the -110 range. I don't love to see that, but it's still worth a play.
The Mariners took the loss in the first game but battled back in the second. Today will be the deciding game, but the starting pitching matchup heavily favors the Mariners. George Kirby will toe the rubber for Seattle, who is the far better pitcher than Jared Shuster.
George Kirby is approaching ace status, but he isn't being priced like that. I haven't been betting on him because every line seems like a trap. He was a -155 favorite to Andrew Heaney. He was a -120 favorite against Tanner Houck and the Red Sox. Those are just his last two starts, and he comes out and dominates every time. I will bet this continues, as Kirby's underlying metrics are phenomenal.
Kirby is in the 80th percentile in Hard-Hit rate and is in the 99th percentile in walk rate. If his strikeout rate were a bit higher than 20%, his xERA would be one of baseball's best. It's still 2.96, and he's facing a Braves team in their worst split. The last time he faced the Braves was last season, when he threw six innings and allowed one unearned run.
The Braves and Rays reign supreme against left-handed pitching, but the Braves drop off against right-handed pitching. The Braves rank 16th in wRC+ (99) and 13th in OPS (.732). In May, the wRC+ drops to 93 and the OPS to .705, sitting at 19th. These are still fine numbers, but not nearly as strong as from the left side. Kirby has also been better against right-handed bats this season, and it's not out of nowhere. He's throwing his sinker much more to right-handed bats, and now righties only have a .525 OPS against him.
Jared Shuster will throw for the Braves, who has not been impressive. He has more walks than strikeouts, and his xERA is 6.47. He looked a bit better in his last start, but he still allowed three runs in five innings. He's facing a right-handed dominant lineup when allowing a .890 OPS to right-handed bats this season. The Mariners have a 105 wRC+ and a .721 OPS against left-handers in May, both better marks than the Braves right now.
One thing I've noticed about the Braves is that they don't seem to show up for day games. I was on the losing end of this last year, and I received plenty of DM's from Braves fans telling me not to take them during the day. In day games last season, they rocked a .724 OPS versus a .778 OPS during night games. This season, they have a .697 OPS during the day and a .846 OPS at night. Normally I wouldn't pay much attention to that, but those are vastly different numbers.
While I don't love the line move, it's not a reverse line move. Plenty of money is pouring in on the Braves, so it makes sense the line would move a bit with them. This is one of those plays where I trust the better starter to finish the job.
The Pick: Mariners First 5 Innings ML (-120) 1.2 U to win 1 U
Milwaukee Brewers vs. Tampa Bay Rays @ 4:10 PM EST
Pitching Matchup: Freddy Peralta vs. Jalen Beeks
This is the same pick as yesterday, and I have no reason not to return to it.
Freddy Peralta has been a bit disappointing this year. He's throwing harder than he did last year, but he's seeing his worst results since 2019. His ERA sits at 4.11, xERA at 4.02, FIP at 3.91, and xFIP at 4.12. That's not the Freddy Peralta we are used to, who normally sits in the high 2s.
Freddy does not have a fun matchup today. The Rays are baseball's best against right-handed pitching this season sitting with a 133 wRC+. In May, they rank third in baseball; this offense doesn't stop. Peralta relies heavily on his fastball, and the Rays are the best team in baseball against the four-seamer. I can't see him having a lot of success today.
The Rays are going with a bullpen game and going with Jalen Beeks to start. He's a left-hander, so don't expect much from the Brewers in his 1-2 inning spurt. Following him will be Yonny Chirinos, who hasn't looked great in 29 innings this season. He has a 2.79 ERA, but a 5.03 xERA. He has 11 walks and 11 strikeouts in those innings, heavily relying on his sinker and slider to get ground-ball outs. Remember when we spoke about Zach Efflin yesterday? The Brewers are solid against sinker/slider-dominant right-handers, but Efflin is far better than Chirinos.
7.5 is just too low for how good these two offenses are. The Brewers can't hit a lefty, but after Beeks is where the offense should come. I have full faith in the Rays getting to Peralta, but the Brewers' offense should continue to come alive.
The model absolutely loves this play, even more than yesterday. It has the total at nine runs, so we are seeing plenty of value.
The Pick: Brewers vs. Rays Over 7.5 (-120) 1.2 U to win 1 U
Miami Marlins vs. San Francisco Giants @ 4:10 PM EST
Pitching Matchup: Jesus Luzardo vs. Alex Wood
Playing this spot a bit differently than I normally do. I see value in two different spots, both through the first five innings and the full game. I'll be rocking with half-unit bets on both sides.
The first side is the Marlins through the first five innings. While Alex Wood has had the better season from an ERA standpoint, Jesus Luzardo is the better pitcher. Luzardo has the better xERA, FIP, and xFIP with better stuff. I understand the price, but the Giants are overvalued. The Giants have been favored this entire series, so I don't find the price to be some trap.
Jesus Luzardo faced the Giants this season and it didn't go so well. He allowed three runs in under five innings, but the Marlins still came away with the 4-3 win.
There is no real debate about who has been the better team against left-handed pitching this season. Over the entire year, the Marlins rank 10th in baseball in wRC+ at 113, while the Giants sit at 82. Regarding OPS, the Marlins rank 9th at .777, while the Giants rank 28th at .653. In May, the Marlins posted a 108 wRC+ with a .775 OPS. The Giants sit with a 92 wRC+ and a .695 OPS.
Alex Wood has faced the Marlins a few times with moderate success. His quality of contact numbers is solid, rocking a .316 xwOBA and a .387 xSLG over 72 PA. Compare that to Luzardo, who sits with a .276 xwOBA and a .286 xSLG against the Giants' current roster.
The second part of this bet is for the Marlins to win the game. I do think it'll be close through five, but I'm relying on the Marlins' superior bullpen arms to get it done. The Marlins bullpen has the edge in ERA, FIP, and SIERA, and everyone should be available on both sides. It's not a large margin, but I have slightly more faith in the Marlins bullpen, so as an underdog, the price is there.
The Giants have been favored plenty of times in what seems like the sharp spot this year. They are 6-14 as favorites this season, continually falling short of expectations. They were -170 yesterday and lost. They aren't a good team and are in the worse split. The model has the Marlins as -109 favorites in this game, giving them a 2.4-2.2 prediction through five innings. Plenty of value here. If the Marlins are tied after five innings, we win. If they are tied after five innings, I have confidence they'll pull it out.
The Pick: Marlins First 5 Innings +0.5 (-135) 0.6 U to win 0.44 U. Marlins Full Game ML (+115) 0.5 U to win 0.58 U