Analysis
MLB Picks Today, Best Bets, Odds, Predictions for May 20, 2023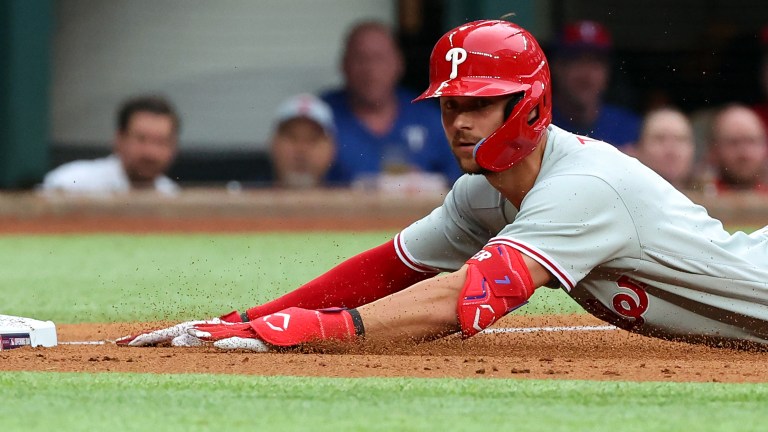 Yesterday was not fun. The final score of the Nationals vs. Tigers game was much worse than it appeared. We got two early bad bounces, a missed strike call followed up by a leadoff home run. We had an inning-ending muffed double play before an additional three-run home run, and it was basically over at that point. The Royals got dominated by Michael Kopech. At least the Rangers easily covered through five, moving the rookie system to 5-1-1. That was the first time we lost more than a unit since the previous Saturday.
Today, I have two totals for you and a PrizePicks entry to write the wrongs. Let's get back on the saddle and win back yesterday's losses.
2023 Straight Plays Record: 64-51 (+8.16 U)
I'm using BetMGM lines only this year. Here's a link to get started with a risk-free $1000 bet. You can also use code "JBFANS" if you're betting on MLB. Wager $10 on any MLB moneyline and receive $100 once the bet is settled.
All prop entries will be on PrizePicks: Here's a link to get a 100% deposit match.
Chicago Cubs vs. Philadelphia Phillies @ 4:05 PM EST
Pitching Matchup: Jameson Taillon vs. Aaron Nola
The Phillies are in a rut at the moment. They've lost five straight games, including the series finale against the Rockies, swept by the Giants, then blown out yesterday by the Cubs. The pitching hasn't been there, and the offense stopped yesterday. Can they write the wrongs against Jameson Taillon? I think they can, but it won't be easy because the Cubs should provide plenty of run support for Taillon.
We have some very good weather conditions at Citizens Bank Park. Yesterday, Ballparkpal projected the run environment to be 4% below average. Today, that number is +4%, with the home run projection up 22%. Both Nola and Taillon have a ground-ball rate under 38%, so we should see plenty of balls in the air today on both sides.
The Cubs' better split is against left-handed pitching, but they still are around league-average against right-handed pitching in May. They rank 14th in OPS and wRC+, and Nico Hoerner returning to the lineup is a well-needed boost.
Ian Happ is coming off a bad day yesterday, but there are few hitters in baseball better against righties this season; he's slashing .348/.469/.548 against right-handers, but he's 0-9 against Nola. I think he finally beats up on Nola with the way he's hitting now. Hoerner and Swanson both see Nola well; expect the top of the Cubs lineup to do some damage against Nola.
It's difficult to take Nola's numbers against the current roster because it's rare that he's actually thrown against them. He started once against them last season, allowing four runs in six innings. This isn't just a fade on Nola; this is also a fade on the Phillies bullpen. Not only do they rank 20th in ERA and 25th in WHIP, they had to shoulder seven innings yesterday, and Jose Alvarado is still on the IL.
On the flip side, Jameson Tailllon shouldn't bode well against an angry Phillies offense. Taillon has really struggled against left-handed bats this season, and the Phillies' main producers are mostly left-handed. Bryson Stott, Bryce Harper, Kyle Schwarber, and Brandon Marsh.
Trea Turner has really struggled against fastballs this year, but he's facing a pitcher with a .560 xwOBA against his fastball. Nick Castellanos and JT Realmuto have been better against right-handed pitching. I can't see Taillon having a good day when he's allowing such a high flyball rate with favorable offensive conditions.
I want to believe in the Cubs' bullpen, but they continue to let me down. They now rank 22nd in bullpen ERA. Both bullpens have solid peripherals, but they keep letting people down.
The team totals for each team are interesting. The Cubs line is at 3.5, which is -130 towards the over. The Phillies team total is at 4.5, -130 towards the over. That implies a 5-4 win by the Phillies, albeit it's definitely not the end-all-be-all, just something to note.
The model has this game closer to 10 runs due to the park environment. I think this game ends closer to that total; I would play this up to 9 at -105.
The Pick: Cubs vs. Phillies Over 8.5 (-122) 1.22 U to win 1 U
Milwaukee Brewers vs. Tampa Bay Rays @ 4:10 PM EST
Pitching Matchup: Eric Lauer vs. Zach Efflin
The Rays might be able to get this over by themselves, but the Brewers' bats against Eflin should help us get there.
Eric Lauer is becoming one of my favorite pitchers to fade. His xERA is 5.89 compared to his 4.54 ERA. He's allowing the hardest contact of his career, coupled with the lowest strikeout rate and highest walk rate since 2020. He's rocking a 24.8% ground-ball rate, one of the lowest in the league. Everything is in the air, and everything is being his hard. That's a really bad recipe against the best offense against left-handers in baseball.
The Rays' numbers against left-handed pitching are incredible. They have a .301/.359/.552 slash line with a 153 wRC+ this season. Only the Braves can compare, as no other offense even comes close.
Yandy Diaz is a key bat here, he's been out four games with a groin injury, but the Rays think he can avoid the IL. Playing today would be a good sign if he is to avoid the IL. We've seen some line movement on this total, which either tells me other groups are hammering this or Diaz is back in the lineup. It could be a bit of both.
I don't blame the Brewers for struggling mightily against Shane McClanahan. They are the worst offense in major league baseball against left-handers. What they love is sinker-throwing right-handed pitchers, which is what Zach Efflin will give them today.
Sinkers and sliders from right-handers. It's a common equation for this Brewers offense to rise to the occasion. They better rise to the occasion today, considering they've only scored four runs in the past four games. They have been shutout back-to-back games, and I don't see that continuing for much longer.
The Brewers bullpen has the sixth-worst SIERA and used two of their better arms yesterday. The Rays bullpen is weaker at the bottom but strong at the top. They did use Jason Adam and Pete Fairbanks yesterday, the two best arms.
The Brewers haven't been hitting, but they should finally break through today. The Rays have been destroying baseballs and have an excellent matchup against Lauer. 7.5 is too low, and considering the model has the implied over at 8.5 (-126), there is still some value at 8.5. If you can find 8, that's definitely playable. Would lower unit size at 8.5.
The Pick: Brewers vs. Rays Over 7.5 (-115) 1.15 U to win 1 U
PrizePicks Entry 0.2 U (+200)
First Leg: Matt Mervis Over 0.5 Bases
Spoke about the weather conditions favoring bats today, and Mervis is someone who plays mostly against right-handed pitchers. He hasn't gotten a hit in his last seven at-bats which makes me like it even more. Nola is mostly fastball/changeup/curveball to left-handed hitters, and Mervis's favorite pitches to hit this year have been the changeup. He's a much better hitter than he's shown thus far; all we need is one hit against Nola or a depleted bullpen.
Second Leg: Randy Arozarena Over 0.5 Runs
Randy is one of the best overall hitters in baseball against lefties, and the lineup surrounding him is the best in baseball against lefties. Against left-handed pitching, he's slashing .367/.387/.867. The power Randy has shown is incredible; he could get this by himself. He's also been better hitting at home this season. He's going to see a lot of four-seamers today, and he's baseball's best against left-handed fastballs. Expect Randy to have a great day at the plate after going hitless yesterday.