Analysis
MLB Picks Today, Best Bets, Odds, Predictions for May 2, 2023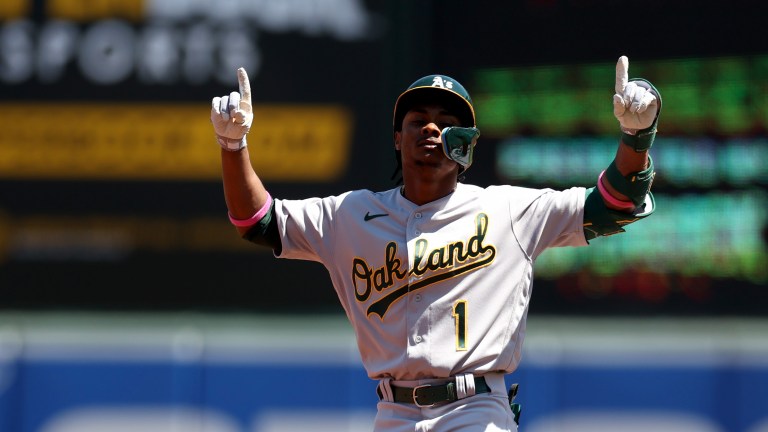 What's left to say other than I'm back to give out winners the best way I know how. It's been a terrible stretch; we are down close to six units in the past five days. It's been a constant stream of pain and misery, but that's baseball. We pick ourselves up, dust ourselves off, and return to the box. Yeah, it's corny, but maybe we need some good old-fashioned baseball corniness to get us back on track.
Mentally, I'm actually excited. I've never been this low on units up to this point in my career, betting on baseball. I can't wait for the heater; you can't keep me down for long. I'm here to deliver my two favorite MLB Best Bets.
2023 Straight Plays Record: 45-39 (+2.69 U)
2023 PrizePicks Entries: 4-12 (-1.4 U)
I will track both records separately so you can track how I'm doing on game picks and PrizePick entries!
Chicago Cubs vs. Washington Nationals @ 7:05 PM EST
Pitching Matchup: Hayden Wesneski vs. Trevor Williams
Nationals Park is interesting. It's a park I dipped my toes into last season and hit four out of six plays when betting on a total. It doesn't happen all that often, but when the wind is blowing from left to right above 10 MPH, unders tend to cash at Nationals Park. It's one thing for the wind to be blowing and another thing for me to like the starting pitching matchup. Both were the case today, so I'm playing this under.
Hayden Wesneski is a fascinating pitcher. He burst onto the scene last season and became a dark-horse rookie-of-the-year candidate. I'm unsure if he exhausted his rookie status, but you get the picture. He's a young arm with loads of potential and an incredible slider. The problem this season has been his four-seam fastball, which he throws 37% of the time. Opponents are hitting .400 against it. Even with these struggles, in his last three starts, he's thrown 16 innings and allowed five earned runs against the Athletics, Dodgers, and Padres.
He'll face a Nationals offense that's 28th in wRC+ against right-handers with the sport's lowest ISO (Isolated Power) today. This Nationals team has refused to hit right-handed pitchers all season long. Wesneski has allowed much more fly-balls this season, which shouldn't hurt him much today with the wind.
Trevor Williams will go up against the Cubs, which could be the issue. However, while I don't see him dominating, I don't see him allowing enough runs for this total to go over. Throughout Trevor Williams's career, he's always had difficulties getting left-handed hitters out. Right-handed hitters on the other hand, posted a .617 OPS last season and a .679 OPS this season. He also threw seven innings of one-run ball against the Cubs last season. Through 94 PA, he's posted a .336 xwOBA with an average exit velocity under 90 MPH. I think he can be moderately effective today.
Another reason why I like this under is both bullpens have their best arms available. The Nationals' bullpen has a trio of solid arms. Mason Thompson, Hunter Harvey, and Carl Edwards Jr all have an ERA below 2.40. After that, it gets a bit tired. Luckily for them, all three are ready to go. The Cubs have had a rock-solid bullpen all season, and everyone will be available today.
With the wind blowing from left to right above 10 MPH, my confidence in the bullpens, solid starting pitching, and a Nationals offense that can't hit righties, we are looking at an under. It also should be noted that on sharper books, this line has already filled to 8.5. Very confident playing at 9; if it gets to 8.5, a lower unit size.
The Pick: Cubs vs. Nationals Under 9 (-120) 1.2 U to win 1 U
Seattle Mariners vs. Oakland A's @ 9:40 PM EST
Pitching Matchup: Bryce Miller vs. Mason Miller
System play! You might be tired of hearing that now, considering our systems have not started well. I will say that the "fading the rookie making his first start on the road" system has treated us well so far, and it was phenomenal last season.
Here's the problem with the Oakland A's. They have, by far, the worst bullpen in the sport. They have, by far, the worst starting pitching staff in the sport. The problem isn't offense, they have a 91 wRC+ against righties this season, sitting right in between the Mariners, Astros, and Yankees. I'm not calling them a good offense, but what I am saying is that is the strongest part of their team.
They also have Mason Miller on the mound, who has some of the best stuff in the game today. This is reflected in Stuff+, ranking fourth in all of baseball. He's right behind Spencer Strider and right in front of Graham Ashcraft. He sits 99 MPH with his fastball with upwards of 18 inches of induced vertical break. That's as elite as it gets, and he mixes in some disgusting breaking balls.
He only has two walks and eight strikeouts but got hit around by the Angels in his last start. He pitched relatively well in his first outing against the Cubs, allowing four hits and two earned runs through 4.1 innings. He's a special talent, and with Julio Rodriguez and Ty France being day-to-day, I think he'll dominate. Those two may play, but it's doubtful they'll be 100%.
Bryce Miller shares a similar characteristic to Mason Miller. Both have elite fastballs. Miller normally sits anywhere from 95-99 MPH with upwards of 18 inches of induced vertical break. That's awesome and points toward future success. The reality of this current situation is he doesn't look ready. In Double-A last season, he was good but not great. He allowed too many walks and posted a 3.20 ERA. He stayed in double-A in 2023 and has pitched to a 6.41 ERA in 19.2 innings. It's not just the ERA; his strikeout rate has fallen from 29.9% to 21.2%.
The Oakland A's have a major league lineup. They are facing a rookie pitcher making his debut on the road who has struggled in double-A so far. Mason Miller is also a stud, and the Mariners lineup has actually been worse than the A's against righties over the past two weeks (90 wRC+ vs. 88 wRC+).
We are also seeing the public hammer the Mariners. It's a cheap price against an Oakland A's pitcher they've never heard of. Why isn't the line moving in their direction? I'll tell you why the A's are winning this game. Considering the first five is the biggest edge, and it's plus money, and we have a push potential, I had to jump on those lowly Oakland A's.
The Pick: Oakland A's First 5 ML (+105) 1 U to win 1.05 U