Analysis
MLB Picks Today, Best Bets, Odds, Predictions for June 26, 2023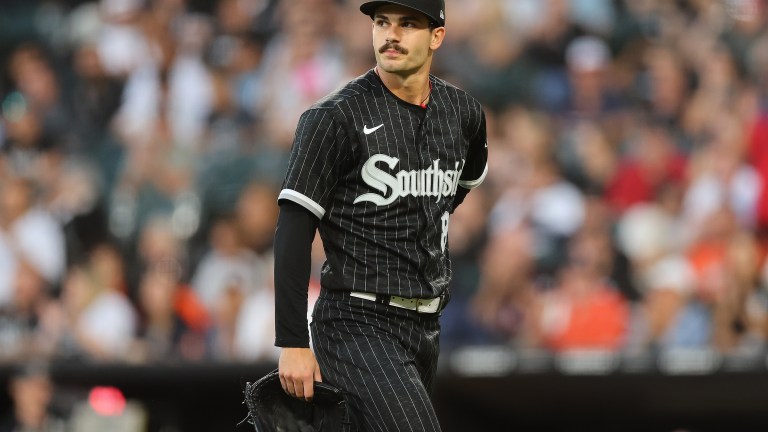 3-17 in my last 20 picks. So horrific that I had to take the weekend to recalibrate. We were having such a good year up to this point that we are somehow still in the green with our MLB picks, but we have a lot of work to do to get where we want to be by the end of the season.
I'm up for the challenge. My mind feels good, and I'm really excited about these picks today. Let's start a heater. Why. Not. Us.
2023 Straight Plays Record: 92-89 (+0.95 U)
I'm using BetMGM lines only this year. Here's a link to get started with a risk-free $1000 bet.
All prop entries will be on PrizePicks: Here's a link to get a 100% deposit match.
All Bullpen Screenshots are courtesy of Rotowire.
Cincinnati Reds vs. Baltimore Orioles @ 7:05 PM EST
Pitching Matchup: Brandon Williamson vs. Cole Irvin
I bet the over in both halves when I dove into the starting pitching matchup before I even saw how crazy the weather is supposed to be in Baltimore.
Camden Yards has turned into a pitchers' park after the Orioles decided to move the left field fence back. It's pretty annoying for Orioles hitters, but it has given some breathing room to the pitchers. I'm not sure how much it will matter today, as we now have projected 15 MPH winds blowing straight out to the center field. I've seen these types of projections last season for this ballpark, but it's the first time this season as it's really starting to warm up in Baltimore.
I bet this last night, where the weather projection was +10% compared to normal. The line set on the model was at 9.5 (-115). The new projection now sits at 10.5 (-116), with the park factor reading +23%. With how the wind is acting and temperatures hovering in the low 80s, it should be the best park to hit in today by a wide margin.
We have two starting pitchers with troubling ERA's with even worse peripherals.
Brandon Williamson has a 6.72 xERA with a 5.13 SIERA. He's doing everything you don't want to see from a starter. He has below-average stuff (92 Stuff+), is in the 15th percentile in strikeout rate, and isn't commanding the ball within the zone. His walk rate is average, but he isn't hitting his spots when he does throw strikes.
The only starts in which he pitched fine (three runs or less) were against the Brewers and Rockies, two of the three worst teams in baseball against left-handed pitching. Williamson also has a 33.1% ground-ball rate, well below average among starting pitchers. In a stadium where balls in the air will be flying, it's difficult to find a way in where he has any success.
Since the beginning of May, the Orioles have a 106 wRC+ against lefties, making them an above-average offense. Over the entire season, left-handers have proven to be their better split by OPS and wRC+. The Orioles just called up Jordan Westburg, which adds another right-handed bat to the fold. Williamson's biggest issues are right-handed bats (.863 OPS) versus left-handed bats (.676).
Cole Irvin is getting another chance in the rotation after a successful start against the Royals on June 10. He then got beat up by the Cubs in four innings, and his last appearance was a one-inning outing where he allowed a run against the Rays. Irvin's stuff is one of the worst in baseball (77 Stuff+), and his 8.87 xERA and 4.60 SIERA aren't very good either. Irvin is also rocking the lowest ground-ball rate of his career at 30%, a bad recipe for today's park conditions.
The Reds offense has a 121 wRC+ since June 6th when Elly De La Cruz was called up, ranking them fourth in baseball. The offense has not been nearly as good against southpaws since his promotion, putting up a 92 wRC+. However, it's not a large sample.
They crushed the likes of Daniel Lynch, Jared Shuster, and Austin Gomber but were dominated by Clayton Kershaw, Jordan Montgomery, and various bullpen arms. Irvin sits in the same bucket as the first three I mentioned; they shouldn't have an issue with him.

I decided to bet both halves due to the drained bullpens, especially the Reds. The Orioles will most likely be without Felix Bautista, which is big in this spot. The worst arms in this game are the starters, so that's the biggest edge. But just in case one of these starters turns in a weirdly fine start, I have faith in the offenses picking it up late.
The Pick: First 5 Over 5.5 (-115) – 0.575 U to win 0.5 U, Full Game Over 9.5 (-115) – 0.575 U to win 0.5 U
Chicago White Sox vs. Los Angeles Angels @ 9:38 PM EST
Pitching Matchup: Dylan Cease vs. Reid Detmers
This pick doesn't show any value on the model; it's more based on what I've seen from both starting pitchers and the Angels coming off a series at Coors Field. The model has also consistently hated Dylan Cease all year without change, so the fact this is showing no value on the over makes me like this under a lot.
Before we go any further, I'd be a crazy person to rely on Chicago's bullpen. Will it do the job? Maybe. Do I have the mental fortitude to withstand it? Absolutely not. The Angels bullpen has looked better lately, but again, I won't put my hard-earned money on anything that includes the White Sox bullpen.
Dylan Cease appears to be settling in. This month, he's working with a 2.38 ERA with 32 strikeouts in 22.2 innings. It's also been against some extremely good competition. The Tigers were easy, but the Marlins have been an above-average offense this season. He then rattled off 11.1 innings while allowing four runs with 19 strikeouts against the Rangers and Dodgers. When Cease is feeling it, there isn't a lineup that could really scare me off him.
The Angels' stats in the last 30 days are now a bit skewed after scoring 25 runs in one game in Coors Field with 32 runs in the series over three games. What we do know is they are loaded with right-handed bats. The lefties in the lineup are Shohei Ohtani, Matt Thiass, Mickey Moniak, and Eduardo Escobar. Moniak and Ohtani are great hitters, but I'm not too scared of Thaiss or Escobar. I bring these names up because Cease has been extremely challenging against righties his entire career. Even in a down year so far, he's still holding righties to a .665 OPS.
The White Sox will face Reid Detmers, who is now on fire. He consistently averaged 95 MPH on his fastball, a full tick above last year. His slider has a 39% whiff rate with a .297 xwOBA, making it one of the league's better sliders by a left-hander. His curveball is also generating a ton of whiffs with a .240 xwOBA. I don't think the market has fully adjusted to how good he is because he struggled to start the year and holds a 4.02 ERA.
The "White Sox hit lefties" narrative is rather tired now. That's when they had an MVP, Jose Abreu, with Tim Anderson hitting .330. Since May began, the White Sox have a 99 wRC+ against Southpaws. In the last 30 days, that's fallen to a 77 wRC+. They have the second-lowest walk rate at just 4.8% in that span, which is the only way to beat Detmers. His main issue is his 9.1% walk rate, but the White Sox are an aggressive team that loves to chase. Detmers should be licking his chops at these White Sox hitters.
Both teams are also on travel days. The White Sox had to go from Chicago to Los Angeles, while the Angels are coming off a high-scoring series at Coors Field and won't have an off-day to adjust. Bats should be slower than usual early against anyone, but I love the way these two starters are pitching right now.
The Pick: White Sox vs. Angels First 5 Under 4.5 (-115) 1 U to win 0.87 U
PrizePicks Entry: 0.2 U to win 0.4 U
Mike Trout Under 8 Fantasy Score
He's -135 on DraftKings to get one hit in this game. Are you kidding me? Just out of principle, I have to fade this, but Trout is 1-6 with three strikeouts against Cease. Cease is also settling in quite nicely lately and can attack trout with the high fastball and slider low and away, which Trout has problems with. Trout has a .295 xwOBA against sliders and a .412 xwOBA against fastballs. He's clearly very good, but this has proven to be a matchup he doesn't often have success in. Cease has always been tough on right-handed bats, and the Angels coming off a series at Coors Field. He's at 0.5 bases on PrizePicks with a 1.5 strikeout line. He's not the same Trout that's running at will; he only has one stolen base this year. I'm taking the under.
Spencer Strider Over 9 Strikeouts
He's been hurting people lately with these high strikeout lines. He hasn't had a 10-strikeout game since May 23 against the Dodgers, but here is the most favorable strikeout matchup he's had all season. No matter how you slice it, full season, since May, since June, whatever, the Twins rank number one in strikeout rate against righties. I've seen plenty of times how bad the Twins look versus pitchers like these; it's pitiful. We also got burned when we took the Phillies against him due to his lack of velocity, which fully returned in that start. We should see a masterclass. The model also has him at 10.1 strikeouts, the highest I've seen.