Analysis
MLB Picks Today, Best Bets, Odds, Predictions for July 6, 2023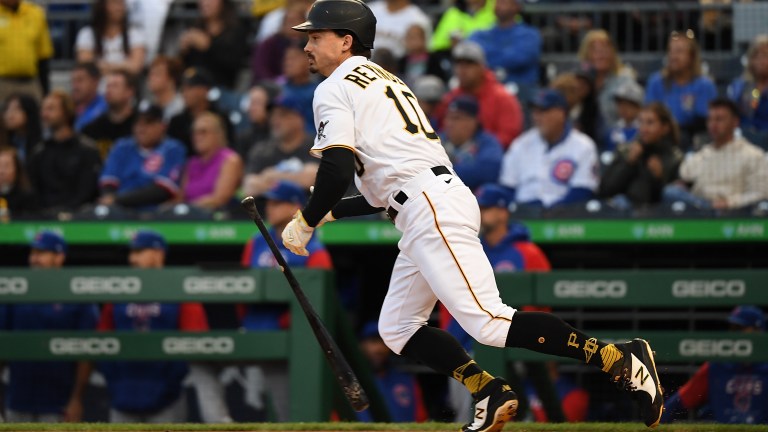 I must have pissed off some higher power. We bet the under 9.5 in Rockies vs. Astros, and it landed on ten. We bet the Guardians vs. Braves Over 9.5, and not only did it land on nine, but every "bad-beat" stat was loaded in there. We bet the Diamondbacks to win, and they blew a lead with two outs and two strikes in the top of the ninth.
Baseball, am I right? This sport can drive you insane, and I was definitely tearing my hair out last night. However, as cliche as it sounds, there is always tomorrow. Today's pick stinks, but it will be fun if you feel nasty enough.
2023 Straight Plays Record: 106-104 (+1.31 U)
I'm using BetMGM lines only this year. Here's a link to get started with a risk-free $1000 bet.
All prop entries will be on PrizePicks: Here's a link to get a 100% deposit match.
All Bullpen Screenshots are courtesy of Rotowire.
Pittsburgh Pirates vs. Los Angeles Dodgers @ 10:10 PM EST
Pitching Matchup: Johan Oviedo vs. Julio Urias
In my opinion, the line is the way that it is due to Julio Urias' name value and its being the Dodgers. In no way, shape, or form do they deserve to be anywhere close to -240 or -250.
Julio Urias has not looked like himself all year, and then he hit the IL with a hamstring injury. He made one rehab start in A ball, throwing four innings and allowing one earned run while striking out eight batters. Then in his first start, he got bombed over three innings on July 1st. Eduardo Rodriguez had a similar path yesterday and was blown up by the Oakland A's. Betting against pitchers returning from the IL can be profitable, but even if Julio Urias were completely healthy, I'd still see value in the Pirates.
Johan Oviedo and Julio Urias have not been all that different this season by ERA estimators. Urias sits at a 4.40 xERA, while Oviedo sits at a 4.49. Urias takes the lead in SIERA, sitting at 4.08 compared to Oviedo at 4.74. Urias has posted a 5.30 FIP and 4.23 xFIP, while Oviedo sits with a 4.05 FIP and 4.66 xFIP.
Urias doesn't throw hard, but he creates well above-average spin, which gives his pitches more life than the radar gun will show. This season, the spin rates on all three of his pitches are down, leading to him being hit harder than he has in his entire career. Coming off an injury where the Dodgers will be sure to limit his pitch count, I don't see him being incredibly effective today.
The Pirates have also seen him plenty of times. They already beat the brakes off him back on April 27. He threw 5.2 innings and allowed six runs on seven hits. This wasn't some unlucky driven start; he posted a 7.15 FIP in that start. Over 70 PA against this Pirates' current roster, which extends farther than that one start, Urias has allowed a .524 xSLG and a .378 xwOBA. To put that in perspective, Bo Bichette has a .375 xwOBA and a .523 xSLG this season. The only player without elite production against Urias in the lineup is Austin Hedges, which is usually the case against any pitcher (with respect to Austin Hedges, an incredible defender).
The Dodgers have seen Oviedo before and jumped on him as well. He allowed four earned runs in 5.1 innings back on April 25. However, he posted a 2.92 FIP at that start, so luck was definitely not on his side. In 33 PA, which is a small sample, Oviedo has allowed a .305 xwOBA and a .411 xSLG. Michael Massey of the Royals has a .313 xwOBA and a .410 xSLG this season.
We are also putting the Dodgers in their lesser split this year and the Pirates in their better split. Over the entire season, the Dodgers have a 111 wRC+ against right-handed pitching, and the Pirates sit at 102 against lefties. In the last 30 days, the Pirates have a 101 wRC+ against lefties, and the Dodgers sit at 107.
I'm not seeing this big gap that makes the Dodgers priced correctly at -240. We haven't even spoken about the bullpens yet.

The Pirates USE their bullpen. What I mean by that is they will use their best arms if they are close, regardless of rest. It won't matter much if it's not close anyway because we most likely lost the bet. If it is close, expect to see David Bednar (1.36 ERA), Colin Holderman (3.67 ERA), De Los Santos (0.90 ERA), and a few more of these relievers with ERA's in the threes.

I'm not sure who the Dodgers plan to pair with Julio Urias. Dodgers starters' have averaged about 4-5 innings in this series, and the bullpens have been completely used up. The Dodgers haven't had an off day since June 26th, and the bullpen has felt the brunt of it. The three best arms, Evan Phillips, Daniel Hudson, and Caleb Ferguson, have also been used the most out of all the relievers.
Another caveat, the Pirates weirdly play well against the Dodgers? Remember last season when they swept them; every game has been competitive in this series. I'll take the bait on them.
The model has this game priced at +144 for the Pirates, but I think it should be closer to +140. I think this game has nearly a 42% of hitting, so +200 is outlandish.
The Pick: Pirates ML (+200) 1 U to win 2 U
PrizePicks Entry 0.2 U to win 0.4 U
First Leg: Julio Urias Under 16.5 Pitching Outs
This is either at 17.5 at -170 towards the under or 16. and -120 towards the under. Urias rarely goes long in games anyway, but in his first start back, I think it's doubtful they push him very far, especially if he runs into trouble.
Second Leg: Nolan Gorman Over 1.5 Strikeouts
These squares on PrizePicks have been printing. Gorman is rocking a 30.2% strikeout rate; this month, his strikeout rate sits at 36.8%. The pitch he whiffs on the most is sliders, but his four worst pitches by whiff rate are fastballs, curveballs, sliders, and changeups. That's Eury Perez's entire arsenal. Perez is also rocking a 28.7% strikeout rate, putting him in the 79th percentile in baseball. He might strike out in every at-bat against Perez.