Analysis
MLB Picks Today, Best Bets, Odds, Predictions for July 5, 2023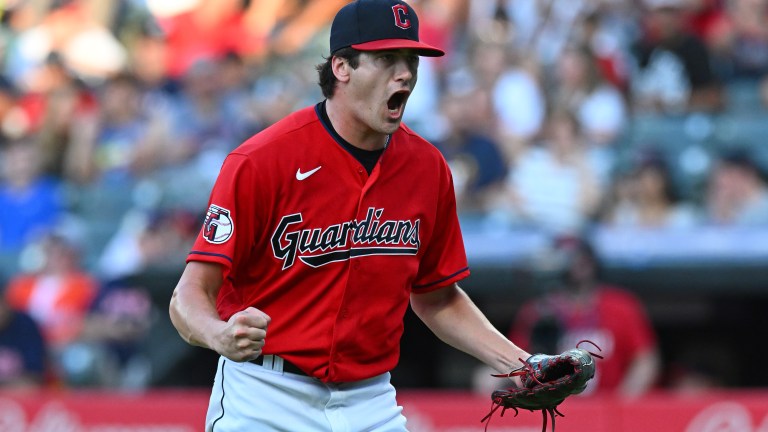 Slow and steady wins the race! There wasn't much I loved on the board the past few days, but we have won both game picks on back-to-back days. Today's bets will feature my biggest bet of the season, a regular-sized bet, a couple of half-unit plays, and a sprinkle. Big fan of this board today.
2023 Straight Plays Record: 106-100 (+4.31 U)
I'm using BetMGM lines only this year. Here's a link to get started with a risk-free $1000 bet.
All prop entries will be on PrizePicks: Here's a link to get a 100% deposit match.
All Bullpen Screenshots are courtesy of Rotowire.
Houston Astros vs. Colorado Rockies @ 2:10 PM EST
Pitching Matchup: Chase Anderson vs. JP France
Just warning you now, this pick is going to make you sweat. The total is a touch too high, and I'm willing to bet it goes under.
Chase Anderson is on a stretch of horrific starts. He made his first appearance on May 3, and over five starts, he worked to a 1.31 ERA in 20.2 innings. He rattled off three starts at the beginning, allowing three runs in each of them, then proceeded to allow 22 runs in his last three starts to give him a 10.80 ERA in June. What version will we get today? My guess is we get a three-run, five-inning type performance.
Chase Anderson is not someone I have a ton of confidence in, but he's not as bad as his last three starts would tell you, not even close. His xERA is 5.58, and his SIERA is 5.00. The best ERA estimators have him as a below-average starter, not one of the worst in the league. He's facing a Houston offense that has found its stride, but it's been mostly against lefties. In the last 30 days, the Astros rank 14th in wRC+ at 104 and 13th in OPS at .741. Solid, but not so explosive that it makes me nervous that Anderson has his fourth blow-up in a row.
JP France is on the other side; he has been pretty solid for the Astros. He's not what his low three ERA says, but he can be effective, and his ERA estimators are all in the high three or low fours. That's plenty good enough to face this Rockies offense on the road. Since May began, the Rockies have a 91 wRC+ against righties on the road, and it's gotten worse since June. They have an 84 wRC+ against righties on the road, far below average.


The bullpens are a big reason I went with this under. This should be a good number as long as the starters don't get destroyed. The Rockies' best arms are completely ready to go, and if you've read my column for a while, you know my respect for them. Someone not listed is Justin Lawrence, who could realistically go two innings as he hasn't pitched since June 28th. The Rockies have some solid arms and should limit damage after Anderson exits.
Minute Maid will also have its roof closed, which gives an added bump to the pitchers as well. The heat and wind with the roof open helps the offense, but they won't have that at their disposal today.
The Astros have plenty of great arms, but Stanek and Abreu won't be available. Neris, Maton, and Pressly are more than enough to be effective. 9.5 is just too many runs for offenses that aren't crazy explosive and rested bullpens. If you can only find 9, lower it to 0.5 units. 9.5 was my price target.
The Pick: Under 9.5 (-120) 0.6 U to win 0.5 U
Atlanta Braves vs. Cleveland Guardians @ 7:10 PM EST
Pitching Matchup: Mike Soroka vs. Cal Quantrill
This one makes me sad, but holy moly, there is so much value here.
Our glorious king Cal Quantrill is reeling at the moment. He's allowing the hardest contact of his career, striking out the fewest, and walking more batters than ever. I understand he was due for regression, but in no way was this a projection by anyone on Earth. His xERA now sits at 6.00, and he's going up against an offense that will not give you any breaks.
I spoke about the Braves' offense yesterday for our over, and while they struggled initially against Bieber, they rattled off four runs in the fifth. That's what they do; you can't keep them down. They have a 152 wRC+ against right-handed pitching in the last 30 days. They are the number one ranked offense in every single category you can find against righties in that span. You need to be able to strike out batters at a very high rate to have a chance against the Braves, and Cal has one of the lowest in the league. It will be a tough day if his command isn't perfect.
However, Michael Soroka is not safe at all. The Guardians' worst split is against lefties, but they got to Allard enough to hit our over. In this same time span, the Guardians ranks fourth in wRC+ at 120 against right-handed pitching. Soroka is not what his 6.89 ERA would tell you, but he's still a pitcher with ERA estimators near five. Soroka needs his pinpoint command to be effective with his lack of stuff, and he just hasn't found it yet. Like the Braves, the Guardians take advantage of pitchers who allow free passes, which Soroka is doing. They fly around the bases; all it takes is a few hits to score runs.

I do not know how the Guardians plan to use their bullpen today. It's completely spent, as only Hentges and Herrin have enough rest to be at their most effective. If they go to anyone else, the Braves now have experience against them, which will only help the Braves bats.

The Braves are in a similar spot, but not as drastic. The difference is that the Guardians' bullpen is better, but the Braves have slightly more rest. The Guardians have seen outside on Tonkin and Heller, whoever the Braves go to, in the last two days. As stated yesterday, which ended up being the difference, the one weak spot for the Braves is the bullpen. They can be beaten.
I think today's game will be similar to yesterday's, except the starters will perform worse. One of those games that's 6-6 going into extra innings. The weather continues to help the offense, as we see gorgeous hitting conditions again.
The model has this game capped at 12. It has both teams projected at six runs or higher. You rarely see that, and it's fully backed up by the baseball side of things when we look at how good the offenses are and how depleted the bullpens are. Factor in excellent matchups for both offenses against the starters, and we have a clear edge.
I will throw a quarter unit on the Guardians out of respect for Cal. It's not completely due to that; the model has the Guardians at -104 favorites. I'd put the line closer to +120 for Cleveland. Regardless, enough value at +135.
I sent this pick out last night, and it's been steamed. I would play 10 at 1.5 units; if it goes to 10.5, I would play for one unit.
The Pick: Over 9.5 (-110) 1.65 U to win 1.5 U, Guardians ML (+135) 0.25 U to win 0.34 U
Toronto Blue Jays vs. Chicago White Sox @ 8:10 PM EST
Pitching Matchup: Jose Berrios vs. Lance Lynn
Many people got burned on the over yesterday, which is a perfect time to return to it.
Jose Berrios has undoubtedly improved. His fastball was batting practice last season, and he knew it. He dropped his four-seam fastball usage by eight percent, but it's still getting hit. If I were his pitching coach, I'd lower the usage to practically zero, but he still has faith in it. His sinker, slurve, and changeup are all above average, so I'd stick with only throwing those.
However, there is a reason I'm writing this column and not in the dugout for the Blue Jays. They know what they are doing, and they still believe in it. I can't knock them, but I can fade them. Jose Berrios
The White Sox have a 102 wRC+ against right-handed, slightly above the league average in the last 30 days. The number I'm looking at is the third-ranked ISO. ISO measures a hitter's raw power by taking only extra-base hits and the type of extra-base hit into account. Ballparkpal calls for a 31% increase in HR based on the weather projection, the highest of the day. The White Sox hit for a lot of power, and the weather will only help them.
The Blue Jays bats can't be ignored, either. They have a 97 wRC+ against righties in the last 30 days, which isn't great, but they have a great matchup against Lynn. The Blue Jays have struggled this season against offspeed pitches, but the quality of contact against the hard stuff is superb. They rank seventh in Hard-Hit rate during this tough span and get Lance Lynn. His 6.47 ERA is not real, but his ERA estimators still have him in the mid-4s. He wants to pound hard stuff in the zone; that's not a good recipe against the Blue Jays.
I don't expect either pitcher to pitch well, but this is also a bet on these bullpens.

Santos and Middleton are fine arms but don't scare me against the Blue Jays. Everyone else has had some work, and the Blue Jays have seen them.

The Blue Jays have two very good arms in Swanson and Romano, but as you can see, they won't likely be available today. They'll most likely have to go to Richards or Mayza; these are not ideal options.
The model has this game at 9.5 (-116). At even money, this total is well worth a unit. The price target is even money, but anything up to -110 is playable at a unit. If it goes beyond that, lower the risk.
The Pick: Over 9 (+100) 1 U to win 1 U
New York Mets vs. Arizona Diamondbacks @ 9:40 PM EST
Pitching Matchup: Kodai Senga vs. Tommy Henry
This line is so disrespectful toward Arizona. The Diamondbacks are better than the Mets; let's get that out of the way early.
However, Tommy Henry is not better than Kodai Senga. The model also capped this game at even money, so it's not a value play. That's why you only see me play this at a half-unit.
The Mets are a good team against right-handed pitching; I'll give them that. They rank 10th in wRC+ in the last 30 days against righties. They got to Davies and the lesser arms in the Diamondbacks bullpen for eight runs yesterday. However, against left-handers, they rank 16th in wRC+ at 96. This has been a below-average offense against lefties since 2022, and it doesn't look to be changing all that much.
Henry is what he is. He has a 4.08 ERA and a 4.08 xERA. His SIERA is 5.14, and his FIP and xFIP are also in that range, so he's not someone I'm heavily relying on to dominate in this one. He has been better at home, rocking a 3.50 ERA, but I'm not putting much stock in that. Just another small edge to add. The Mets have also never seen him before, which usually gives the advantage to the pitcher. I think he pitches fine; five innings and two runs allowed.
Kodai Senga is on the other side with a more difficult matchup, but he is the better arm. His 3.88 xERA and 4.27 SIERA are around the league average, a step above Henry's. The Diamondbacks have the sixth best offense against righties over the last 30 days with a 119 wRC+. They also have the fourth-highest OPS at .820. Corbin Caroll is also back and ready to rock to help this Diamondbacks offense.

Realistically, who will the Mets go to after Senga? The three best arms, Robertson, Ottavino, and Raley, have all been used lately and won't be fully rested. They could. goto their new addition in Trevor Gott, who hasn't been any good for Seattle. Unless Senga dominates, I'm unsure how the Mets plan to stop runs.
Arizona is in a great position with its bullpen. Chafin, Ginkel, and McGough are all fine options, and they can go to Kyle Nelson again if they need him. They could also go to Jameson if needed. They have all they need to limit runs at the end of games.
When writing, I see the Diamondbacks have moved to -115. That gives me more confidence in this pick, but this game does feel like a coin flip. I wouldn't bet it at -115, as every cent counts in the long run. However, I do think they win, so it's up to you whether you think this play is worth it.
The Pick: Diamondbacks ML (+100) 0.5 U to win 0.5 U