Analysis
MLB Picks Today, Best Bets, Odds, Predictions for July 31, 2023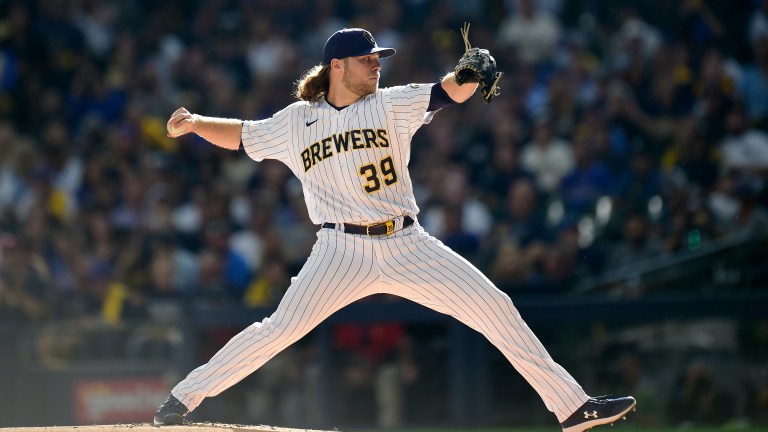 It's just been a sad year. Oh, so close on so many bets, but it's just how the cookie has crumbled. Not complaining; that's the beauty of baseball. It's an unpredictable sport with many variables; sometimes, you don't get any luck.
I will keep firing away because I love the game and trying to help people out. Over the last three years, we've built up a large bankroll between the NFL and MLB, so a couple of units lost this season is no big deal for me. If you've found yourself on the losing end too often with me, use this as a guide, not the answers to a test. If you like it and like my analysis, go for it. If not, fade or stay away.
I have three game picks and a PrizePicks entry to set us on a profitable path this month. Let's get after it.
2023 Straight Plays Record: 118-123 (-3.40 U)
I'm using BetMGM lines only this year. Here's a link to get started with a first bet offer of up to $1000.
All prop entries will be on PrizePicks: Here's a link to get a 100% deposit match.
All Bullpen Screenshots are courtesy of Rotowire.
Milwaukee Brewers vs. Washington Nationals @ 7:05 PM EST
Pitching Matchup: Corbin Burnes vs. Jake Irvin
It's Corbin Burnes day! It's not really Jake Irvin Day, but I still don't believe in the Brewers' offense.
The model continues to like Jake Irvin, routinely pointing to an under in the games he pitches in. This one is no different, as they have the total capped at 7.5 at -112 to the over. BetMGM also seems to like him, pricing his earned runs prop at 2.5 at -160 towards the under with a pitching outs line at 16.5 at -110. The book shows a likely outcome in 5-6 innings with two earned runs. If we get that, this under is in great shape. Burnes also has some good-looking props, with 1.5 earned runs and an 18.5 pitching outs line juiced towards the over at -145. By that logic, they see 6-7 innings of two-run ball.
The one redeeming quality about the Nationals' offense is their lack of strikeouts. Going up against Burnes, they could put enough balls in play to start a rally. However, they have the lowest Hard-Hit rate in the month of July, and Burnes is rocking a 32% Hard-Hit rate, putting him in the 88th percentile. That's an accumulation stat, including his rough start to the year. Everyone is talking about Blake Snell right now when Burnes has allowed six earned runs in 33 innings in July (1.64 ERA).
The Nationals' offense is being placed in their worse split. This season, they have an 87 wRC+ against right-handed pitching, tied for the fifth worst in the sport. In the last 30 days, they have a 92 wRC+, which is better, but not by much. They are a much better offense against lefties (116 wRC+ last 30 days).
What will Jake Irvin give us? Luckily for him, he's not facing a great offense. In the last 30 days, the Brewers have a 93 wRC+ against right-handed pitching, but it's worse over the full season, sitting in 23rd with an 88 wRC+. They are also worse on the road, putting up an 87 wRC+ versus 94 wRC+ at home.
That stat is normalized, and they are not facing an average right-hander. Irvin sits with a 5.07 xERA and 5.10 SIERA, below the league average. His main issue is the amount of free passes he allows and his lack of strikeouts. He thrives in soft contact (71st percentile), so he should succeed if he can limit the walks. He also has a home run problem, but the Brewers rank 26th in home runs against righties in the last 30 days. Factor in a bit of travel and three straight games of offense; I think Irvin pitches relatively well today.
The Nationals bullpen is terrible, but it's lined up pretty well today. Thompson (4.66 ERA), Weems (3.14 ERA), and Finnegan (3.07 ERA) will all be ready to go for this one.

The Brewers' bullpen is lined up really well. The four best, Uribe, Payamps, Peguero, and Williams, are all ready to go today. They are all right-handed arms, keeping the Nationals in their worst split.
The Brewers are too expensive to play, but we can confidently take the under. Take the full game under 8.5 up to -105 and the first five under 4.5 to -110.
The Pick: Brewers vs. Nationals First 5 Under 5 (-120) 0.6 U to win 0.5 U, Under 9 Runs (-115) 0.575 U to win 0.5 U
Baltimore Orioles vs. Toronto Blue Jays @ 7:07 PM EST
Pitching Matchup: Kyle Gibson vs. Chris Bassitt
You'll only see me on this type of favorite when it meets the special system.
The Sunday Night Baseball System! It's finally back after a few weeks without it due to the scheduling. This is a pretty good spot to fade the Orioles. They aren't traveling across the country, but they are on the road and coming off a nine-run performance against the Yankees in front of everyone. No wonder they are getting most of the tickets and the money; why wouldn't everyone jump on the Orioles at +120?
I'll tell you why the Blue Jays are winning this thing. First off, the Blue Jays are the better offense against right-handed pitching, and they have the superior starting pitcher. The Blue Jays would still be my lean on an even playing field. When you factor in the system and the money distribution, the Blue Jays are an auto-bet.
Do not bet on Chris Bassitt on the road, but he's been awesome at home. He's at a 3.20 FIP with a 17.9% K-BB compared to a 6.04 FIP and an 11.3% K-BB on the road. I also find it interesting that the Blue Jays are sizeable favorites after Bassitt allowed eight runs against this team in three innings the last time they faced him, yet he's majorly juiced towards over 17.5 pitching outs, and his earned run prop is -120 at 2.5. That's some respect.
Overall, Bassitt has a 4.46 xERA and 4.34 SIERA. Gibson had a 4.59 xERA and 4.52 SIERA. So moving forward, Bassitt is the better pitcher, but not by much. Small edge here.
On the other hand, Gibson threw a gem the last time he faced the Blue Jays. Seven innings while allowing just one earned run. Now he's -160 to go over 2.5 earned runs, and his pitching line is also at 17.5 outs. Gibson has worse numbers overall, but it's a little strange based on the history of these two starters against these lineups.
The Blue Jays have been the better offense against righties. They have a 110 wRC+ in the last 30 days compared to the Orioles at 90. Over the full season, it's a bit closer, putting the Blue Jays at 109 compared to the Orioles at 100. The Blue Jays have the edge on offense.
From bottom to top, SIERA's top five bullpens are the Giants, Orioles, Braves, Seattle, and Toronto. The Blue Jays have the best bullpen in baseball by the best ERA predictor, and they just added Jordan Hicks, who is trending well.

The Blue Jays have some solid arms available after Bassitt. They have Swanson, who is excellent and their best reliever outside of Romano. Hicks should be ready to go as well. They can go to Trevor Richards as well who has a 3.04 ERA. They are set up nicely here.

The Orioles have Felix Bautista available, which isn't ideal for Blue Jays backers. However, I assume he will only come in if the Orioles are winning, so it doesn't really matter because we'd probably lose anyway. Danny Coulombe is also excellent but not much different from Richards this season. Cionel Perez is probably their worst arm outside of Cole Irvin, and he'll be in this game. I give a slight edge to the Blue Jays.
A small edge on each side of the ball combined with the Sunday Night Baseball System. Play the Blue Jays up to -135.
The Pick: Toronto Blue Jays ML (-130) 1 U to win 0.77 U
PrizePicks Entry 0.2 U to win 0.4 U
Marcus Stroman Over 4.5 Strikeouts
I like the Cubs to win today, but I wish I had a better price. I think the best price is targeting Marcus Stroman on the strikeout line on PrizePicks. For one, he's -130 to go over this, which is a good price target when looking at PrizePicks. The Reds have the seventh-highest strikeout rate against righties in the last 30 days and are filled with left-handers. Stroman's clear better split is against lefties, with most of his pitches diving away from lefties, posting a .539 OPS. He has a higher strikeout rate at home, and Stroman tends to show up in big games. This is a big one when considering standings implications and tomorrow's trade deadline. I capped him at five strikeouts, and the model has him at 6.2, so I'm rolling with 4.5.
JP France Under 4 Strikeouts
The Guardians refuse to strike out. No matter how you queue is up, the Guardians have the lowest strikeout rate against right-handed pitching in the league. He's averaged between 4-5 strikeouts per game this year but had six strikeouts against the Guardians his first time around. I don't see him replicating that outlier performance, especially with the familiarity there. He's at 3.5 strikeouts on BetMGM but juiced at -140 towards the over. They don't see five strikeouts happening, nor does the model, putting him at 3.1 strikeouts. There has also been some sharp money coming in on Cleveland. That tells me France gets hit up a bit, or we get burned, and somehow Noah Syndergaard pitches well. I think it's more likely a good Guardians offense against righties hits up a pitcher they've seen before.