Analysis
MLB Picks Today, Best Bets, Odds, Predictions for July 27, 2023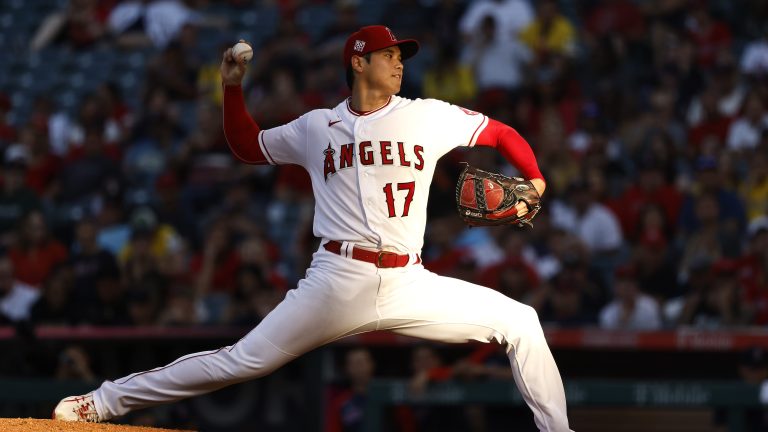 How about the Rangers? I thought they had a solid chance of winning, but there is no way I thought they would win 13-5. It shows how hungry the Rangers are; no matter the circumstance, they shouldn't be +160 against anybody.
Sticking with the underdog theme has served us well over the past week. I have two of my favorites today. However, it's with lighter unit size. With such a small slate ahead of us, things can get unpredictable, so I'm basically playing with everything we won yesterday on the Rangers.
2023 Straight Plays Record: 114-118 (-2.96 U)
I'm using BetMGM lines only this year. Here's a link to get started with a first bet offer up to $1000.
All prop entries will be on PrizePicks: Here's a link to get a 100% deposit match.
All Bullpen Screenshots are courtesy of Rotowire.
Los Angeles Angels vs. Detroit Tigers @ 1:10 PM EST
Pitching Matchup: Shohei Ohtani vs. Michael Lorenzon
I wasn't planning on re-betting the Tigers until I saw how the line adjusted in the Angels' favor. We bet the Tigers at +100 yesterday. Before it was postponed, the Tigers closed at -110. With how Ohtani is pitching right now, is he 50 cents more impactful to the line than Sandoval? As much as I hate to say it, because we have Ohtani ERA in our season-long Prizepicks entry, he isn't. Or at least, I'm willing to bet that he isn't that much better than Sandoval. I don't like betting doubleheaders, but I'm willing to be on the first game.
Ohtani is amid the worst stretch he's ever had on the mound. He could completely write his wrongs today because he's Ohtani, but I'm willing to bet it continues. He's rocking a 7.71 ERA in his last three starts against the Pirates, Astros, and Padres. Two of those starts came at home, which is strange because he's been so good at home. Today, he's on the road, where he's posted a 4.60 ERA.
He's having problems locating his sweeper, which is a big issue considering his fastball velocity is down, and batters are smashing his sinker and cutter. He runs into big issues if he cannot get hitters to swing and miss at the sweeper. Detroit is an aggressive offense in general, but they should be able to note what's happening with Ohtani and make the adjustment. He faced the Tigers last season when he was peak Ohtani and didn't get out of the fifth inning after allowing three runs.
Sandoval has a better FIP than Ohtani but a lower SIERA. Regarding xERA, Ohtani is at 3.97, and Sandoval is at 4.28. The move from -110 for the Angels to -160 is an overreaction. The Angels could still win, but there is now more value on the Tigers than yesterday.
I also still want to tail Lorenzon against the Angels. There is no bad blood, but Lorenzon was an Angel in 2022, so it's assumed there will be an extra kick of motivation combined with his name in the rumor mill for the trade deadline.
Lorenzon will never have great ERA estimators because of his inability to strike out batters at even an average rate. However, to have a SIERA, FIP, xFIP, and xERA all hovering in the low-mid fours with a strikeout rate in the 23rd percentile is pretty impressive. He's well above average at limiting walks and around league average in ground ball and Hard-Hit rates. He's not the 3.49 ERA that he's shown, but he's a slightly above-average pitcher. He's also been on a tear trying to find a new team, not allowing a run in 18 innings in July.
You take Trout and Rendon out of the lineup, and the Angels lineup hasn't missed a beat. They aren't amazing, but over the last 30 days, they have a 108 wRC+ against right-handed pitching. Since July 4 (Trout went out July 3), they have a 111 wRC+ against righties, placing them 11th in baseball. It's a good offense, no doubt about it, and it's definitely a reason the Angels are this big of favorites compared to the below-average Tigers offense.
The Tigers' bullpen has been top ten all season long, and they should have Jason Foley (2.03 ERA), Jose Cisnero (3.96 ERA), Tyler Holten (1.70 ERA), and now Alex Lange available. With the rest, the Tigers' bullpen is now a bit stronger than it was yesterday.
Estevez and Moore should be available in the early game, but they are the relievers with the least amount of rest for the Angels. If Ohtani pitches really well, the Angels are probably winning, and it doesn't matter anymore. I assume they will save them if they are up, but if Ohtani struggles, we most likely won't see them.
The model still loves the Tigers, making them -144 in that matchup. That's insanity; I would make them +105. I see 30 cents of value, and the model sees 90 cents. Bet the Tigers in Game 1 to +125.
The Pick: Tigers ML (+135) 0.75 U to win 1.01 U
Cleveland Guardians vs. Chicago White Sox @ 8:10 PM EST
Pitching Matchup: Tanner Bibee vs. Dylan Cease
I want to fade the White Sox. I watched last night's game, and it's rare to see a team display no energy. Yeah, the bats showed up, but Lynn and the bullpen couldn't look any worse. This team just traded away Lucas Giolito and Reynaldo Lopez, and the whole team outside of Cease and Robert knows they may be traded within a few days. The Guardians did trade away Rosario, but they are still gunning for the division and need every win they can get.
The pitching matchup isn't worth the Guardians being underdogs. Tanner Bibee is a stud; he's been Cleveland's best starting pitcher this season. It should be noted that he's struggled on the road this season, but I don't think Guaranteed Rate Field will be much of a rowdy road environment.
Bibee is no joke. His 3.04 ERA is fantastic, and his peripherals back it up. His 3.24 xERA sits in the 83rd percentile, he has an above-average strikeout rate and Hard-Hit rate, and his walk rate is manageable, sitting in the 46th percentile. He's a very good young pitcher, and he's facing a White Sox lineup that hasn't seen him before.
The White Sox are a terrible offense against right-handed pitching. They rank 29th in wRC+ this season at 83. They have an 86 wRC+ since June 1st. They have a 75 wRC+ in the past 30 days. This offense is just bad against righties.
Dylan Cease is on the other side, who the Guardians are all too familiar with. This will be his third time facing them this season, going 1-1 in those games. He went six innings in both starts and allowed two or three runs. That was back in May, so let's look at how the Guardians' offense was faring then versus now.
From March 30th to May 18th, the Guardians could not hit anything thrown from the right side. They had a 78 wRC+, the lowest Hard-Hit rate by far, and were striking out at a higher rate. From May 24th to now, the day after they faced Cease for a second time, that wRC+ is now 112, seventh best in baseball. In the last 30 days, the Guardians wRC+ is 114. This is a much better offense than it was when Cease faced them, and now it's for a third time.

I think this Guardians bullpen is overrated, but I will gladly lose money if Emmanuel Clase or Trevor Stephan blows it. They are rested and still great relievers, even if they cost us this season. If they blow it again, we are just cursed. They are both better than anything the White Sox can throw after Cease, and they are both righties, playing into the worse split of Chicago.

As the White Sox flamed out yesterday, they used four of the five best relievers for over 20 pitches, three of them throwing 25+. Gregory Santos is legit, but that's it. Not much firepower coming in after Cease. They won't be rested if they do decide to throw Kelly, Middleton, or Bummer.
The Guardians should be the favorites in this one. I make them -130, and the model makes them -113. I see more value than the model does because I'm factoring in mental fatigue from the White Sox. They don't look like they are all the way there, and maybe that's dumb to factor in, but I believe in that, and I'm willing to bet they don't show up. Bet the Guardians up to -110.
The Pick: Guardians ML (+100) 0.75 U to win 0.75 U