Analysis
MLB Picks Today, Best Bets, Odds, Predictions for July 26, 2023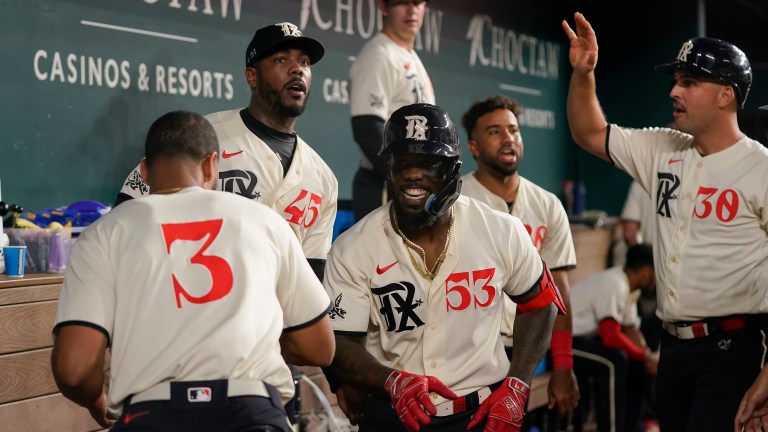 Yesterday's 1-1 record had us down 0.54 units. The day before that, we went 1-1 and netted 0.3 units. The difference between taking favorites and underdogs. What am I even doing betting on any team that's beyond -130? Yeah, they could win, like the Dodgers did yesterday, but underdogs are more fun. I'm better than that, even though I've been a fade these past two months.
I have two for you today; let's get after it.
2023 Straight Plays Record: 113-118 (-4.56 U)
I'm using BetMGM lines only this year. Here's a link to get started with a risk-free $1000 bet.
All prop entries will be on PrizePicks: Here's a link to get a 100% deposit match.
All Bullpen Screenshots are courtesy of Rotowire.
Los Angeles Angels vs. Detroit Tigers @ 6:40 PM EST
Pitching Matchup: Patrick Sandoval vs. Michael Lorenzon
I was immediately drawn to this line after watching last night's game. It was a rollercoaster of a matchup, as the Angels held the lead for most of it before the Tigers put up a four-run eighth inning to tie it up. The Angels eventually outlasted the Tigers as they chose to use up their quality arms, while the Tigers opted for swingmen. Due to that, the Tigers own the better starting pitcher right now and a better bullpen. Also, we have a revenge narrative for Lorenzon.
There is no bad blood, but Lorenzon was an Angel in 2022, so it's assumed there should be an extra kick of motivation combined with his name in the rumor mill for the trade deadline. I think he brings it today to entice a contender. I can't quantify that; it's more of a feeling. You can believe or not believe that, but here's the data.
Lorenzon will never have great ERA estimators because of his inability to strike out batters at even an average rate. However, to have a SIERA, FIP, xFIP, and xERA all hovering in the low-mid fours with a strikeout rate in the 23rd percentile is pretty impressive. He's well above average at limiting walks and around league average in ground ball and Hard-Hit rates. He's not the 3.49 ERA that he's shown, but he's a slightly above-average pitcher. He's also been on a tear trying to find a new team, not allowing a run in 18 innings in July.
It's funny, you take Trout and Rendon out of the lineup, and the Angels lineup hasn't missed a beat. They aren't amazing, but over the last 30 days, they have a 108 wRC+ against right-handed pitching. Since July 4 (Trout went out July 3), they have a 111 wRC+ against righties, placing them 11th in baseball. It's a good offense, no doubt about it, but it isn't good enough to give them a major edge.
Lorenzon has been the slightly better pitcher this season. Lorenzon has the edge in both o my favorite ERA estimators, SIERA and xERA. Lorenzon doesn't have a splits issue; he can get both righties and lefties out, while Sandoval's clear worse split has always been right-handed bats.
The Tigers will deploy seven right-handed bats today, with the two left-handers most likely being Kerry Carpenter and Riley Greene.
The Tigers' offense is definitely worse all-around, but they are stronger against lefties. In the last 30 days, they have a 93 wRC+, a below-average offense overall, but it's stronger than the 82 wRC+ against righties.
In a larger sample, which is always better, the Tigers remain with a 93 wRC+ against lefties. It's hard to look at the Angels on a bigger sample because this current lineup doesn't look anything like it did in June. Zach Neto is day-to-day, and Brandon Drury, Anthony Rendon, and Mike Trout are all out.
Basically, the Tigers have the starting pitching advantage, while the Angels have the offensive advantage. The Tigers do own two other edges.

The Tigers' bullpen has been top ten all season long, and they should have Jason Foley (2.03 ERA), Jose Cisnero (3.96 ERA), and Tyler Holten (1.70 ERA) available. They could go to Alex Lange if needed, but there is no debate that the Tigers' bullpen is set up much nicer than the Angels' bullpen today.

Carlos Estevez is the Angels' best reliever, and Matt Moore is second. After that, it's a sizeable drop-off to arms like Aaron Loup (4.71 ERA) or Jacob Webb (3.71 ERA). They could get length from Jamie Barria (3.64 ERA), but it will be difficult for the Angels bullpen to hold it down late if he doesn't have his best stuff. Without Estevez and Moore, the Tigers have a clear bullpen advantage.
The Tigers are also at home and coming off a loss. The model has the Tigers as -137 favorites, but I think they should be closer to -125 on the ML. Bet the Tigers to win outright as long as they are the underdog (-105).
The Pick: Tigers ML (+100) 1 U to win 1 U
Texas Rangers vs. Houston Astros @ 8:10 PM EST
Pitching Matchup: Andrew Heaney vs. Framber Valdez
Maybe I'm stepping into one, but I follow a similar logic to my Rockies pick. It's a line that's completely overvalued. We have a future for the Astros to win the division, so I do believe they are the better team. They also have the clear starting pitching advantage in Framber Valdez, but they should not be -180. It's an overreaction to them winning the series' first two games, combined with Yordan Alvarez returning to the lineup. The Rangers and Astros aren't far apart in skill level, and we know the Rangers will be extremely motivated to avoid being swept by the division rival.
I'm not here to convince you that Andrew Heaney is any good. He's taken a sizeable step back from his 2022 season with the Dodgers to post an xERA and SIERA in the mid-4s. However, he has thrown ten scoreless innings against the Astros this season over two starts this year. His ERA is also a full run lower pitching on the road. I want to look at his full-season stats, but the issue is he's been a completely different pitcher every year, so I don't know what to think about past starts.
He's facing an Astros lineup that's very good against left-handed pitching. Since June 1, the Astros have a 121 wRC+, ranking fourth in baseball. There are only three teams better than them in that span, the Blue Jays, Padres, and… the Rangers.
Framber Valdez is a stud; he's one of the better pitchers on earth. However, he's facing an angry Rangers lineup that is plenty familiar with him. Again, tough to look at historical stats because many of these Rangers bats have improved drastically.
Framber did throw once against the Rangers at home, allowing five runs with only one of them earned. It was a funky game, and guess who faced him? You guessed it, Andrew Heaney and the Rangers won 9-1. Not sure how much these teams remember that game considering it was back in April.
The Astros have a much better starter, but the Rangers have a slightly better offense. Without Corey Seager and adding Yordan Alvarez, the lineup is much closer to even. Let's look at bullpens.

The Rangers have four reliable bullpen arms. Aroldis Chapman, Jose Leclerc, Brock Burke, and Will Smith. They have the latter three rested and ready to go. I could see Bruce Bochy pressing the Chapman button, as this is as "must-win" for the Rangers as any game.
It's still July, so it's never that serious, but the Rangers are just one game above the Astros in the standings and have lost the first two games in the series. With those four following Heaney, I like the Rangers' chances to hold it down late. Only Will Smith has had issues with the Astros, holding a 5.40 ERA compared to the others who have been fantastic against Houston.

The Astros also have four legit bullpen arms. Hector Neris, Bryan Abreu, Ryan Pressly, and Phil Maton. I'm assuming that Neris and Pressly won't be used unless it's super close and they aren't rested. We should see Abreu, who has allowed three runs in five innings to the Astros this season.
We will see Phil Maton, who has a 7.36 ERA versus the Rangers this season, then the bottom of the Astros bullpen. Framber could dominate the entire game, and it won't matter, but the familiarity combined with the Rangers' explosiveness against lefties makes me think that doesn't happen.
Do you see what I'm getting at here? The Astros shouldn't be -180. I think the Astros should be -150, and the Rangers should be +130. The model is going wild with this one, making the line +105/-105 favor the Astros.
The model thinks there is 75 cents of value, while I think there is 30 cents of value. Regardless, the Astros are overvalued. There is also a chance the Astros don't activate Yordan today from his oblique injury, but I'm assuming he is playing when I made this bet.
Houston has the better starter and home-field advantage, but that's where the edges end. I don't see the Rangers getting swept here, I think they'll give it their all, and it's well worth the +160 price. I would bet this down to +145.
The Pick: Rangers ML (+160) 1 U to win 1.6 U