Analysis
MLB Picks Today, Best Bets, Odds, Predictions for July 25, 2023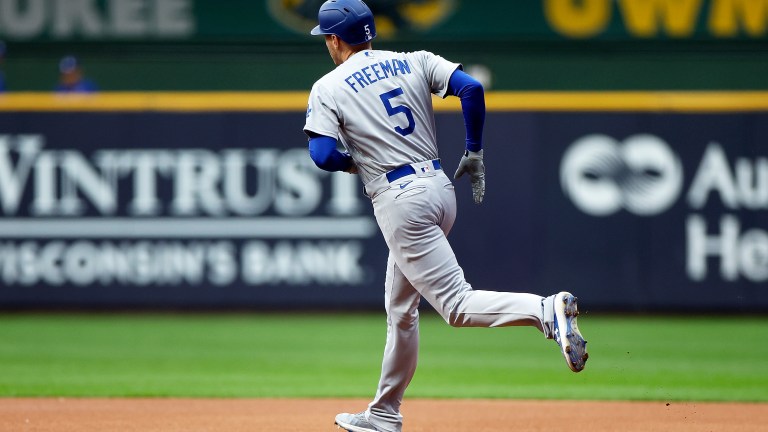 How about the Rockies? We went 1-1, producing a 0.3 unit win on the day. It's not much, but green is green, and I'd rather make it than lose it. We did lose by one run on the Twins vs. Mariners total. What makes it more depressing is how bad the Mariners have been and how much that hurts our Mariners' futures.
Today, I'm taking two expensive MLs. The underdogs went 7-3 yesterday so that always makes me feel a little bit better that favorites will have a good day today. I have to love favorites like these to play them, so yesterday's results sprinkle enough confidence to go with them.
2023 Straight Plays Record: 112-117 (-4.02 U)
I'm using BetMGM lines only this year. Here's a link to get started with a risk-free $1000 bet.
All prop entries will be on PrizePicks: Here's a link to get a 100% deposit match.
All Bullpen Screenshots are courtesy of Rotowire.
Cincinnati Reds vs. Milwaukee Brewers @ 8:10 PM EST
Pitching Matchup: Andrew Abbott vs. Corbin Burnes
I told you all I would continue tailing Corbin Burnes until I feel that BetMGM has priced us out of the market. I know it's an expensive money line on the surface, but I still see value here.
Corbin Burnes is pitching like the best pitcher on earth, maybe outside of Blake Snell. In July, he's averaging seven innings, and one earned run with nine strikeouts over four starts. Those starts came against the Reds twice, the Phillies, and the Pirates. When Burnes has his velocity and feels confident in his stuff, he's practically unhittable no matter the offense, but Corbin Burnes owns this particular Reds group.
Over 126 PA against this Reds' current roster, Burnes has allowed a .127 opponent batting average, a .240 xwOBA, and a .229 xSLG. His stuff during this month is very similar to 2022 Burnes, where he posted a 2.94 ERA and a 3.04 xERA. His strikeout rate this month is above 36%, reminiscent of his 2021 season, where he won the CY Young. This is peak Corbin Burnes, and he faces a lineup he knows all too well, and he knows they can't hit him.
This Reds offense hasn't been quite as explosive as people think lately. Since June 6, when Elly De La Cruz was called up, they rank 10th in baseball against righties with a 111 wRC+. Since July 1, so just looking at this month, that wRC+ has dropped to 97, and every stat across the board has fallen. They are currently playing like a league-average offense, going up against one of the best pitchers alive.
Not only will they get Corbin Burnes, but they should also get a very good Brewers bullpen. Unfortunately, they'll most likely be without Devin Williams, but they still have Joel Payamps, Elvis Peguero, and Abner Uribe ready to go. Those have been three of the better arms for the Brewers all season, so if we get at least six innings from Burnes, then those three, runs will be hard to come by for the Reds.
Andrew Abbott has been fantastic in his early run with the Brewers, but there are a few warning signs. For one, his SIERRA is 4.37, his FIP is 4.07, and his xFIP is 4.62 with a 3.44 xERA. Every ERA estimator tells us his 2.10 ERA is not sustainable, especially with a horrible 22% ground-ball rate and a below-average walk rate.
If you want to say that Burnes has been pitching too well, Abbott is also coming off an eight-inning shutout of his own, where he only allowed one hit. The Brewers have seen him three times, and he's posted a 4.41 ERA over 16.1 innings while allowing eight earned runs with 15 strikeouts. The Brewers have proved to be his worst matchup yet, and they'll see him for a fourth time today.
Since July, the Brewers have a 125 wRC+ against lefties, so they aren't this garbage offense anymore against Southpaws. Even if we look at a larger sample, since June 1, they rank 11th in wRC+ against lefties.

The Brewers have the advantage in the back end of the bullpen. We should see Alexis Diaz, but this will be his fourth appearance in five days if he does come in. Outside of him, we'll get Lucas Sims (4.17 xERA). We might see Tejay Antone, who is working back from an injury. Ian Gibaut is very solid, but he's also worked pretty hard. The Brewers have more rest and better options.
The Brewers have the advantage on every side of the ball. The bullpen, offense, home field, starting pitching, you name it. I capped the Brewers at -180 on the full game ML and -190 through the first five. The full-game ML is -150, and the first five are -170, so the full-game shows the most value. The Brewers have continued to dominate these matchups, and I expect the Reds to be a trendy dog, with most people wanting to back the pitcher with a lower ERA and off a loss.
The Pick: Brewers ML (-150) 1.3 U to win 0.87 U
Toronto Blue Jays vs. Los Angeles Dodgers @ 10:10 PM EST
Pitching Matchup: Chris Bassitt vs. Julio Urias
It's a lot of faith in Julio Urias, who hasn't looked like the same guy who finished second in the NL CY Young voting last year, but it's the Dodgers, and these pitchers have shown severe splits this season.
Chris Bassitt, let's go to war. The same warning signs remain; good luck against the Dodgers on the road. This season, he's rocking a 3.92 ERA, 4.40 xERA, 4.55 FIP, 4.37 xFIP, and 4.36 SIERA. He's a low fours ERA guy but has really dominated at home.
Here's where the concerning splits come in. Bassitt is 6-1 this season with a 2.24 ERA, a .167 opponent average, with a 64:19 K/BB ratio in 64 innings. He's 4-4 on the road with a 5.81 ERA, a .304 opponent average, and a 48:18 K/BB ratio. Fifteen of his 18 home runs have been hit on the road, and he's going up against a scary Dodgers offense.
Since June 1, the Dodgers rank 5th in wRC+ at 119. They are really good, but we knew that. The thing is, they are getting better. Since July 1, they rank number 1 with a 139 wRC+ against righties, with the second-best team being the Rangers at 132. If we look at the offense at home in this span, the wRC+ raises to 141. This Dodgers offense is back to being a juggernaut, especially with JD Martinez returning today off a hamstring injury. It was reported he could have pinch-hit last night but should be back today. Even if he's not, it's the lefties that should eat against Bassitt.
Lefties have a .891 OPS against Bassitt this season, and the Dodgers have some good ones. Notably Freddie Freeman, but they also have Muncy, Peralta, Heyward, and James Outman. The righties are Mookie, Will Smith, JD Martinez, and Chris Taylor. Maybe he can get Chris Taylor out? This is looking like his hardest matchup of the season.
Julio Urias is coming off an eight-run outing against the Orioles, a far superior offense against lefties than the Blue Jays are. That start was also on the road for Urias, who has struggled mightily all season. On the road, he's rocking a 2-5 record with a 7.88 ERA and a .309 opponent average. Pair that with a 32:14 K/BB ratio, and we have one of baseball's worst road starters. However, at home, he's vintage Urias. He's sporting a 2.15 ERA with a 5-1 record. In 37 innings, he has 40 strikeouts and only three walks with a .179 opponent average. Needless to say, only tail Urias at Dodger Stadium.
Against lefties on the road this season, the Blue Jays have a 100 wRC+ league average. They have been improving; they have a 114 wRC+ against lefties since June began. However, no matter how you queue is up, the Dodgers own the split advantage by a decent margin.
Urias against Blue Jays bats has the lower xwOBA, xSLG, xBA, and a higher strikeout rate than Bassitt against the Dodgers bats with over 50 PA between them.
Urias has the lower xERA and SIERA and, in his far preferred ballpark to Bassitt. So, the Dodgers own the offensive advantage, starting pitching advantage, and home field. Let's talk bullpens.
Since joining the Dodgers, Ryan Brasier has started using a cutter and has been fantastic for them. Graterol should be good to go, as should Caleb Furguson. Those three are as good as any Blue Jays arm, but the Jays' bullpen has been better from top to bottom. The issue is the Dodgers have the rest advantage.

The Blue Jays can go to Mayza or Swanson, both legit options. No real edge between those arms and the Dodgers' top arms. However, if they go to Cabrera on back-to-back days, they'll see why he was DFA'd by the Cardinals. They could go to Nate Pearson, but he's been getting destroyed, allowing six earned runs in his last 2.1 innings. In this matchup, I give the Dodgers the slight edge.
With the Dodgers having every advantage, I make their ML -165. I got the worst of the number at -145, but it makes sense with a lot of money pouring in on the Blue Jays. I want to be clear that the line moved away from me, so if that's a warning sign for you, don't tail. However, I'm still riding, and I'm confident the Dodgers pull this one out.
If you do like the Dodgers, I would take them at -135 for 1.3 U. For every five-cent interval, lower the unit size by 0.1. So, for example, if it's -140, go with 1.2 U.
The Pick: Dodgers ML (-145) 1.1 U to win 0.76 U
PrizePicks Entry 0.2 U to win 0.4 U
First Leg: Andrew Abbott Under 31.5 Fantasy Score
Explained in the game writeup. A lot has to go right to go over 31.5. Even in his last start, where he only allowed two runs in six innings against Milwaukee, he had 25 fantasy points. He needs the win and plenty of strikeouts, which is a lot to ask for a rookie on the road seeing an offense for the fourth time.
Second Leg: Chris Bassitt Under 25.5 Fantasy Score
This is his most difficult matchup of the season. You could argue it was against the Rangers on the road or the Rays on the road when they were at their best. He allowed 11 earned combined in those starts, and I believe we see something similar here. 25.5 is low for a reason, a number he's easily cleared in four of his last five outings. Let's see him do it again.