Analysis
MLB Picks Today, Best Bets, Odds, Predictions for July 24, 2023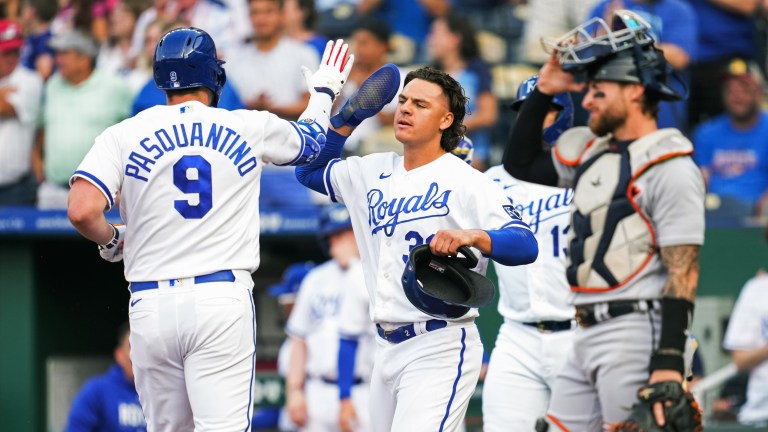 I took my first vacation in 2.5 years but I am back and ready to roll. I hoped to see a ton of value today and unload on the board, as it's my first day back since Thursday. However, this board is challenging, and some pitchers haven't even been announced yet. Rome wasn't built in one day, so I'm sticking to one game pick and a PrizePicks entry to get us started.
2023 Straight Plays Record: 111-116 (-4.32 U)
I'm using BetMGM lines only this year. Here's a link to get started with a risk-free $1000 bet.
All prop entries will be on PrizePicks: Here's a link to get a 100% deposit match.
All Bullpen Screenshots are courtesy of Rotowire.
Seattle Mariners vs. Minnesota Twins @ 7:40 PM EST
Pitching Matchup: Luis Castillo vs. Kenta Maeda
Déjà vu.
We just saw this game happen on Wednesday, cashing our Twins ML ticket at +130. We bet the Twins due to the price tag being too high, but with the familiarity here, I think there is value in the total today. Since this game was so recent, both pitchers will face these two offenses in consecutive starts in a better ballpark for the bats.
The last time I wrote up this game, I did a Player A and a Player B comparison that showed Maeda and Castillo aren't all that different. Both pitchers have ERA estimators in the high 3s with above-average strikeout rates. The numbers showed that Maeda is a lot better than his 5.10 ERA, and Castillo is not as good as his 3.04 ERA would tell you.
Castillo's issues with left-handed power bats remain, and the Twins still have them. Shocker, I know; it's just weird writing up the exact same game. Castillo struck out 11 against the Twins, which is no real surprise considering the Twins lead the majors in strikeout rate. The home runs were there, as the Twins hit two of their own. Castillo allowed three runs over six innings but can't make many adjustments going into this game. He did what he wanted but still has issues with his arsenal against batters like the Twins. I don't expect him to pitch any better than he did.
Here is where I expect the Mariners' bats to make an adjustment. They had zero success against Maeda after he tossed five innings of scoreless baseball before a home run by Tom Murphy in the sixth, then a single, then he exited before Griffin Jax gave up a two-run home run.
Maeda went to his slider and splitter a ton, getting plenty of swing-and-miss outside the zone. I watched the whole game, and Maeda successfully got Mariners hitters to swing outside the zone. The Mariner's bats can be patient; they rank inside the top ten in walk rate. If they decide to change nothing about their approach and swing freely again, they'll have no success again. If they adjust and wait for the fastball, which opponents are hitting .400 against with a .355 xwOBA, they should do well this time.
It's never as simple as I make it out to be.
It's much easier said than done not to fish for the offspeed pitches outside the zone and wait for the heater. However, it's clearly the way to beat Maeda, and after just seeing him on Wednesday, I see no reason why they can't at least try to implement that strategy.

The Mariners' bullpen isn't as rested as the last time we made this bet. I assume everyone will be "available," but only Andrez Munoz and Devin Sweet will be on enough rest to be close to 100%. Munoz came in against the Twins and blew it, and Sweet has an xERA over 25.00 because he has one appearance. It's a very good bullpen, but I imagine it won't halt the scoring on the Twins side.

Here's why we aren't returning to the Twins to win this game. I have confidence in Johan Duran, Jorge Lopez, and Griffin Jax. That's about it in this Twins bullpen. Minnesota just had a 12-inning game with the White Sox where they used those three and Emilio Pagan. Rocco Beldeli is stingy with his elite bullpen arms, so outside of Lopez, it's doubtful we see Duran, Jax, or Pagan in this one unless absolutely necessary, and they aren't rested.
On Wednesday, the Mariners were -155, and the total was 7.5. We now have a smaller ballpark with warm temperatures in the mid-80s. Now, the Twins are +100, and the total is at 8. I don't think the total has adjusted enough, I have it capped at 8.5 (-110), and the model has it closer to 8.5 (+100). Regardless, eight is too low. Both pitchers were fantastic, and the game still ended on nine runs. The bullpens have less rest, and the familiarity of the starters should help both offenses.
I'm seeing chances of rain coming in at 9 pm, which could theoretically screw this up, but I'm willing to risk it. If rain is the reason we lose, so be it.
This total opened at 7.5 and went up to 8.5 before that weather report, and the number went back down to 8. I assume it'll stick around this, so with the chance of rain, don't play beyond 8 at -105.
The Pick: Over 8 Runs (-105) 1.05 U to win 1 U
PrizePicks Entry 0.2 U to win 0.4 U
First Leg: Nick Pratto Over 0.5 Bases
Nick Pratto is a reverse-splits guy. That means he's a left-handed batter who is better against left-handed pitching. Logan Allen is the same way; left-handed hitters have had a bit more success against him than right-handed bats this season, separated by 30 points in OPS. It's a much smaller sample against left-handed bats for Allen, but I mention it because some left-handed pitchers can be much tougher, which he isn't. Pratto's main issue is his strikeout rate which is over 36%, but Allen doesn't rely heavily on the strikeout. Against lefties, Allen has primarily gone to his fastball and sweeper, only using the changeup 11 times all year to lefties. Pratto has hit sweeper/curveball-type pitches well all year with a 3 RV, the best of any pitch. He will also face a Guardians bullpen with a severe lack of rest. He's -135 to record a hit and -140 to go over 0.5 bases. I like his chances.
Matt Wallner Over 0.5 Bases
Wallner was brought up by the Twins a few times this season and has succeeded to a .896 OPS. He has a .961 OPS against righties because he's 0-3 against left-handed pitching; it's very early in his career. He's a solid left-handed power bat going up against Luis Castillo, who we spoke about with our game pick. He went 0-4 in that game, working a walk, a strikeout, and a groundout. He then proceeded to line out and ground out again. I like his familiarity and ability to key in on Castillo's weaknesses. He also took some really good ABs against the White Sox yesterday. I like how he is seeing the ball right now. He's also -135 to record a hit.