Analysis
MLB Picks Today, Best Bets, Odds, Predictions for August 8th, 2023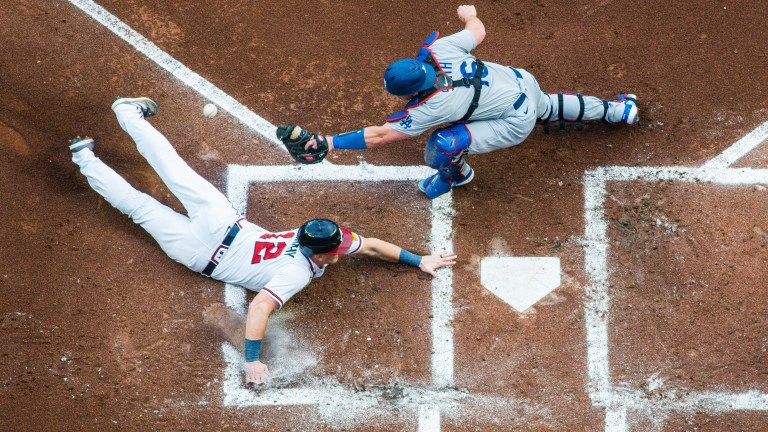 Yesterday stung really badly. The Marlins… whatever. That was simply the wrong side. I can live with that.
The Royals. It's 2-2 in the bottom of the ninth, and Luis Urias seemingly can't check his swing. It's called a ball, and then Pablo Reyes walks it off with a grand slam, and the Royals lose 6-2.
The A's took a 3-0 lead against the Rangers, then the Rangers scored three runs off a dropped ball in center field, and another dropped ball by the pitcher to get out of the inning. The A's threw a pitcher that hasn't appeared in a game since April 16th, and then they blew it open.
This has been the most challenging season mentally I can think of. We go on a run, and it crashes down in an instant.
I'm back in the saddle today with two picks and a PrizePicks entry. Let's start another run.
2023 Straight Plays Record: 127-134 (-3.84 U)
I'm using BetMGM lines only this year. Here's a link to get started with a first bet offer of up to $1000.
All prop entries will be on PrizePicks: Here's a link to get a 100% deposit match.
All Bullpen Screenshots are courtesy of Rotowire.
Atlanta Braves vs. Pittsburgh Pirates @ 7:05 PM EST
Pitching Matchup: Yonny Chirinos vs. Mitch Keller
At first glance, I thought the Pirates had some value on the money line. Then I looked deeper into Mitch Keller and asked myself, "Are you seriously going to risk it on this guy?". Mitch Keller has looked nothing like he did in the first half; good luck against this Braves offense.
The reason I leaned toward the Pirates initially was Yonny Chrinos. When the Rays can't figure you out, there is something wrong. The Braves grabbed him, and he hadn't done all that well. He did look better against the Angels, tossing five innings and allowing three earned runs. He threw 31 splitters and only five sliders, which is a significant change for him. He was primarily fastball/slider/splitter, but in that start, he just focused on his fastball and splitter. It's an intriguing change, but his fastball is not good enough to be a two-pitch guy.
He's been moderately effective from a results standpoint, posting a 4.02 ERA this season. However, he's only striking out 13% of hitters and sits with a 5.72 xERA, placing him in the 6th percentile. He's facing a Pirates offense that's slowly improving. It's not much, but they aren't the dumpster fire we assume they are.
An 87 wRC+ against righties puts them in the bottom ten since July 1, but they've been above average in the last two weeks, posting a 103 wRC+. Seeing Spencer Strider and then Yonny Chirinos should be a nice relaxing day at the plate.
The Pirates have also been a bit unlucky, which is interesting to see. They rank 9th in Hard-Hit rate against righties in the past two weeks. Chirinos is extremely easy to hit the ball hard against, sitting in the 17th percentile in Hard-Hit rate.
The one thing that can save Chirinos is his ground-ball rate, which is about 3% above average. The Pirates have kept the ball off the ground, ranking seventh-lowest in GB% rate since July 1. I don't see him having any success today. He's proved that even a successful outing is 2-3 runs in 4-5 innings.
Mitch Keller. Remember when we talked about a potential CY Young for him at the beginning of the season? Not so much anymore, as regression has hit him like a truck. He's only registered 37 PA against the Braves' current roster, but it's not been good. Braves hitters are hitting .343 with a .368 xwOBA and a .534 xSLG. That isn't good.
His velocity is down across the board lately; it looks like he's slowing down. He was near 97 MPH on his fastball and 95 MPH on his sinker, but the fastball is now at 95 MPH, and his sinker is at 93. He added a cutter this season but hasn't performed well; opponents have a .370 wOBA against. That cutter's velocity has also fallen, it averaged 90 MPH at the beginning of the season, and in his last start, it averaged 87.7 MPH.
The Braves offense. Do you need the stats? First in Hard-Hit rate, fourth in wRC+, second in OPS, and first in ISO (Isolated Power) by a lot. Seeing what they do is funny; this is a historic offense. Are they better against lefties? Sure. Does it matter? Not really.

Here's another reason I'm not on the Pirates. Colin Holderman is solid, but will I really back the Pirates with the hope that Holderman comes in and shoves? David Bednar and Yerry De Los Santos have been used in three of the last four days. Angel Perdomo, the other solid reliever, threw 24 pitches yesterday. Neither starter gave each team any length, so we saw plenty of bullpen work.

The Braves are in a delicate spot bullpen-wise, but it's not ideal. Minter is doubtful to be available, but they could go to Yates (3.21 ERA), McHugh (3.74 ERA), or Brad Hand (4.30 ERA). Iglesias should be able to pitch, but it would be in a closing situation, and the Pirates saw him yesterday.
It's also beautiful hitting weather today at PNC Park. It's a good day for players who hit the ball hard, as pressure is lower than usual, and we have 8 MPH wind blowing out. The park calls for a 10% increase on ballparkpal, and it's supposed to be 80 degrees at game time.
I capped this game at 10.5, as did the model—this game soars, with both teams scoring at least five runs. I would take this to 10 at -110.
The Pick: Braves vs. Pirates Over 9.5 (-110) 1.1 U to win 1 U
Houston Astros vs. Baltimore Orioles @ 7:05 PM EST
Pitching Matchup: Framber Valdez vs. Grayson Rodriguez
This series is going to be awesome. We have two of the best teams in baseball going at it, and Framber Valdez is coming off a no-hitter.
My sick brain was already going to look at the Orioles because Framber is coming off a no-hitter. Then I looked at the pitching props and came away hungry.
Domingo German threw a perfect game against the A's, then allowed nine hits and three runs against… the Orioles. What a weird coincidence. That doesn't matter because Domingo German isn't even close to the level that Framber is at, but it is expected that a pitcher coming off a performance like that turns around and doesn't have his best stuff.
Framber does have some continued issues. First off, he's been far worse on the road this season, posting a 4.11 ERA compared to a 2.44 ERA at home. Not to mention, his ERA is two runs worse during night games than during day games.
Here's what set me off. Framber Valdez has some extremely intriguing props for Orioles bettors.
Framber Valdez is -155 to go under 6.5 strikeouts. He's -130 to go over 2.5 earned runs. After throwing a no-hitter, he's at 17.5 pitching outs and juiced at -155 to go over, which is not saying much. He's -150 to go over 5.5 hits after throwing a no-hitter!
When we look at Grayson Rodriguez, he's -150 to go under 2.5 earned runs. His hits prop is at 4.5, albeit juiced towards the over. His strikeout line is even at 5.5. Believe whatever you want, but BetMGM thinks Grayson continues his dominance, and Framber returns to earth.
When picking between two outstanding teams, the numbers this season don't tend to matter to me as much. Both teams will play up for this game; sometimes, the full-season numbers can be thrown out the window. For the argument's sake, the Orioles have the advantage offensively.
Since July 1, the Astros rank 17th in wRC+ at 98, 10th in Hard-Hit rate, and 18th in OPS at .712. Simultaneously, the Orioles rank 14th in OPS and wRC+ at .780 and 113 and fourth in Hard-Hit rate.
That Hard-Hit rate is essential, that's been Framber's problem. He's rocking the highest Hard-Hit rate in his career outside of a shortened 2020 season. His groundball rate has dropped 13% from last season.
I think the market is too high on Framber Valdez. I know he's a great pitcher, but I don't think he's quite the CY Young pitcher he's made out to be. If you completely disagree with that, I'd fade me because it's a reasonable price on the Astros if you fully believe in Framber.
Looking at Grayson's full-season stats is not what we should do. He was HORRIBLE early in the year, but ever since he was called up, he's been dynamite. He struggled against the Dodgers in his first start back up, which is to be expected. He dominated the Yankees, then had one mistake that resulted in two hits and three earned runs against the Blue Jays.
He averaged around 96.5 MPH on his fastball at the beginning of the season. In his last start against the Blue Jays, he averaged 98.5 MPH. I believe he's a future ace in this league, and he's been proving it in his last couple of starts.

With both teams having an off-day yesterday, the bullpens are a full go. The Orioles bullpen grades out better by SIERA (3.61 for Orioles vs. 3.75 for Astros). Both are legit, but I'm taking the Orioles bullpen with Cano and Bautista ready to go.
I love the Astros bullpen, but they had plenty of work this weekend. Pressly is day-to-day due to soreness, so not exactly sure what the plan is there. Abreu and Neris, the two other great options, did get plenty of work on Sunday, so they aren't in an ideal rest spot.
I made the Orioles -105 in this matchup out of respect for Framber's total body of work. However, just because Framber is better than Grayson doesn't mean they should be -130. Especially when the first five odds are much shorter for the Orioles, the model makes the Orioles -115 favorites in this one. I'd take the Orioles down to +105.
The Pick: Orioles ML (+115) 1 U to win 1.15 U
PrizePicks Entry 0.2 U to win 0.4 U
Logan Gilbert Under 29.5 Fantasy Score
The value crashed on the Padres ML to a point where it's not worth taking, but Gilbert is +210 to record a win as a favorite with some strange props. It's not the Padres bats I'm worried about. It's the bullpen blowing the game. I think they beat up Gilbert, who's struggled at home all year, posting an ERA of 4.66. Instead of relying on Padres pitching, I'm fading the only good thing about the Padres; the bats.
Framber Valdez Under 33.5 Fantasy Score
I don't think he gets the win here, which is essential for the fantasy score. See my analysis about the Orioles ML.