Analysis
MLB Picks Today, Best Bets, Odds, Predictions for August 25, 2023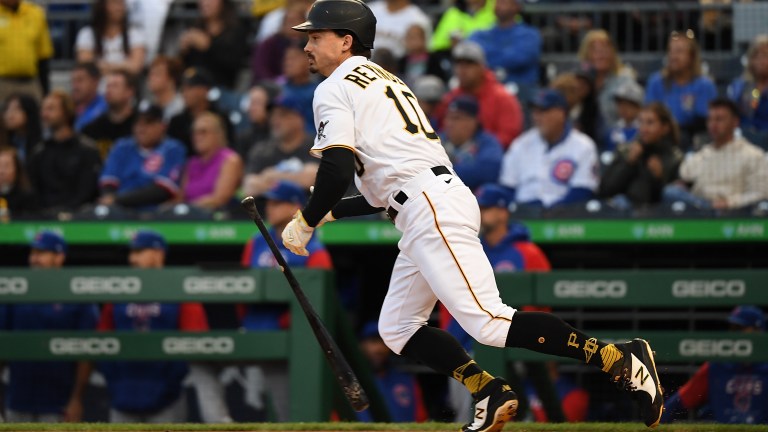 You'd think we'd get an over if we have the over nine and eight runs scored by the top of the sixth. Both teams were held scoreless in the last three innings, and I took the L. Tough, but that's baseball.
We did hit our PrizePicks entry after Adley did his thing with ease, and Zack Gelof hit a home run. The day wasn't all bad, but how about actually winning for once? I'd like that.
2023 Straight Plays Record: 142-152 (-7.15 U)
I'm using BetMGM lines only this year. Here's a link to get started with a first bet offer of up to $1000.
All prop entries will be on PrizePicks: Here's a link to get a 100% deposit match.
Cincinnati Reds vs. Arizona Diamondbacks @ 9:40 PM EST
Pitching Matchup: Hunter Greene vs. Brandon Pfaadt
Hunter Greene was absolutely demolished in his first start back from the IL. The stuff was there, but it was bombs away on a warm summer day at Great American Ballpark. It's so easy to get the ball out of the park in that tiny stadium, and Greene still hasn't figured out how to pitch there. It wasn't as drastic last season, but it's becoming a theme that he's not meant for small fences.
His low ground-ball rate and high velocity led to many hard-hit balls in the air. Luckily for him, Chase Field is one of the biggest ballparks regarding the length of the fences.
He's also facing a Diamondbacks team that ranks 27th in fly-ball rate, 16th in Hard-Hit rate, and an 80 wRC+ in the last 30 days against righties. That 80 WRC+ ranks 29th out of 30 teams in that span. Even in the last two weeks, as the bats have heated up, they still rank in the bottom five of fly ball rate. That's what kills Greene, and the Diamondbacks don't do it. It also helps that Greene is rocking an ERA under 3.50 on the road, and all of his blow-up starts have been at home.
Brandon Pfaadt is on the other side and has looked like the pitcher I thought he could be since he was called up. In the month of August, over four starts, he's rocking a 2.96 ERA, facing the Padres twice, the Dodgers, and the Giants. The Padres and Dodgers have performed much better against righties than the Reds in the last 30.
In the last 30 days against righties, the Reds have an 89 wRC+, ranking 21st in the league. Pfaadt has upped his sweeper usage, and it's generating a 31% whiff rate this season. His changeup and curveball also get plenty of swing and miss, above a 30% clip. His fastball has been his issue, but Arizona ranks 16th in baseball this season against fastballs. They aren't a good fastball-hitting team. We saw that on full display yesterday with Merrill Kelly.
While both starters have inflated ERA's, there is context to everything. We have two bad offenses going up against two starters with a lot of upside. Five runs gives us a big cushion.
The Pick: Reds vs. Diamondbacks First 5 Under 5 (-120) 1.2 U to win 1 U
Chicago Cubs vs. Pittsburgh Pirates @ 7:05 PM EST
Pitching Matchup: Kyle Hendricks vs. Mitch Keller
I think the wrong team is favored here. It's not by much, but the Pirates have the better starter, the more rested bullpen, and home-field advantage. They also have a good matchup against Kyle Hendricks.
They faced him once on June 21st, getting three runs across through six innings but only one earned run. The quality of contact over a large sample against him is very good. Through 96 PA against the Pirates' current roster, he's posted a .358 xwOBA and a .514 xSLG. Those numbers are similar to Berrios against the Orioles yesterday, except these are better. Players like Connor Joe, KeBryan Hayes, Bryan Reynolds, and Jack Suwinski all have .300 xBA or .400 xwOBA or better against him. They see him well, and I think that continues today.
Hendricks works down in the zone, and I've noticed that soft-tossing pitchers who work down are good matchups for the Pirates. They hit those pitches, whether that be curveballs, sinkers, or changeups. We've seen that with Adam Wainwright, Sonny Gray, and Bryce Elder—all pitchers who throw a completely different arsenal but work low in the zone. The only time they got beat was by Dallas Keuchel, but the Pirates can't hit lefties (Last 30 Days: 79 wRC+ vs. LHP, 105 wRC+ vs. RHP). Pirates seem to get blown up by high velocity up in the zone. That's not Hendricks's game.
On the flip side, we have Mitch Keller, who was amazing in the first half; he hit a rough patch but looks to be back in form. His strikeouts have spiked, and his quality of contact against has been superb. The Cubs don't strike out lately, but they also rank 27th in Hard-Hit rate against righties in the last two weeks. They also rank 15th or worse since June 1 against sinkers, fastballs, and cutters, which are Keller's three most used pitches.

I like the Cubs bullpen when Alzolay and Merryweather are available. Both are not so that it will be a lot of Mark Leiter and then… who? 25 pitches or more in the last three days tell me they aren't well rested, especially pitching on back-to-back days. Cuas could go, but he has a 5.69 xERA. As could Fulmer, rocking a 4.30 xERA.

Holderman has thrown in two of the last three days, but he should be available today after not throwing for a few days before that and only throwing 11 pitches yesterday. Bednar should also be available; he is a huge piece in this bullpen. Borucki has even been solid, rocking a 3.68 xERA.
Hendricks is 145 to go over 2.5 ER, and Keller is +105 to go over 2.5 ER. The Cubs have dominated this season's series, but I think the Pirates finally get there.
The Pick: Pirates ML (+100) Risk 0.5 U, Pirates F5 ML (-115) Risk 0.575 U
Texas Rangers vs. Minnesota Twins @ 8:10 PM EST
Pitching Matchup: Dane Dunning vs. Sonny Gray
It's a simple bet for me. I'm not trying to catch the falling knife with the Rangers. This team has now dropped seven in a row, and I have no reason to think they win today. The bullpen is falling apart, the offense is fine, not great, and now they go up against one of the most consistent pitchers in baseball, who the Rangers haven't seen this year.
The Twins rank 7th in baseball in wRC+ against righties in the last 30 days, while the Rangers rank 15th. Gray has a 3.76 xERA compared to Dunning, with a 4.36. In the last 14 days, the Rangers rank 19th in wRC+ against righties while the Twins rank 6th.
The Rangers do have Aroldis Chapman available, which is not ideal for the Twins. However, the Twins counter that with Jhoan Duran, so any late-game bullpen edge for the Rangers is non-existent.
Even when the Rangers did see Gray over the years, they posted a .337 xwOBA. That's not bad by any stretch, but the Twins' current roster against Dunning has posted a .359 xwOBA.
The Rangers don't have an advantage in this game except "they are due to win." They may win tomorrow's game or games afterward, but I see no reason to catch the falling knife.
The Pick: Twins First 5 ML (-120) 0.6 U to win 0.5 U, Twins ML (-110) 0.55 U to win 0.5 U