Analysis
MLB Picks Today, Best Bets, Odds, Predictions for August 16, 2023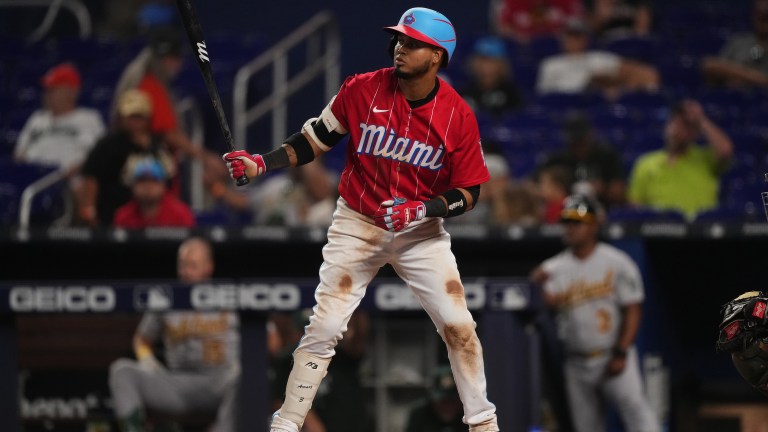 Houston Astros vs. Miami Marlins @ 6:40 PM EST
Pitching Matchup: Justin Verlander vs. Jesus Luzardo
Sometimes I can form a baseball argument, and the bet goes exactly as I plan. Sometimes the opposite happens, where the baseball argument crumbles because the sport is extremely flukey, especially in the last game of a series. Occasionally, I'll put on my conspiracy hat and make a play when the lines seem completely off.
Here's what I mean. On BetMGM:
Earned Run Line:
Justin Verlander 2.5 ER (Earned Runs): Over (-155)
Jesus Luzardo 2.5 ER: Under (-145)
Strikeouts:
Jesus Luzardo 5.5: Over (-160)
Justin Verlander 5.5: Under (-120)
Pitching Outs:
Justin Verlander 18.5: Under (-165)
Jesus Luzardo 17.5: Over (-160)
To Record Win:
Jesus Luzardo YES: (+165)
Justin Verlander YES: (+175)
Hits Allowed:
Jesus Luzardo 4.5: Over (-180)
Justin Verlander 5.5: Over (-160)
*Justin Verlander's Fantasy Score on PrizePicks is at 31.5, a number he's reached in five straight games.
The question is, why are these props like this?
For one, Justin Verlander does struggle on the road. This isn't new for Verlander, he hasn't had a better ERA on the road in a full season since 2018, and then years before that, he was worse on the road. This season, he has a (2.49 ERA, 3.48 FIP, 4.08 xFIP) pitching at Citi Field and in Houston versus a (4.11 ERA, 4.31 FIP, 5.18 xFIP) pitching in other ballparks.
He also has a 1.85 ERA during the day and a 3.58 ERA during night games. Much of that is relatively small information, but it is worth noting that these spots have been his weakness this year.
The Marlins are a very right-handed lineup. The Marlins are all right-handed outside Luis Arraez, Jazz Chisholm, and Jesus Sanchez. Right-handed bats have a .668 OPS compared to lefties with a .603 OPS. On the road against righties this season, he's rocking a 4.55 FIP and 5.61 xFIP. This is a spot where the Marlins can get to Verlander.
Verlander is also not the same pitcher we know and love. His 4.53 SIERA is below average; he's rocking the highest Hard-Hit rate of his career, coupled with the lowest strikeout rate and highest walk rate. His velocity is down across the board, and the Marlins aren't a great matchup for him.
On the flip side, we have Jesus Luzardo, who is rocking a 3.58 SIERA. He's also been nails pitching in Miami. The South Florida native has a 3.31 ERA, 3.11 FIP, and 3.56 xFIP pitching in Miami this season. His velocity is at a career-high, and he's coming off back-to-back bad starts against the Yankees and Rangers. Before that Yankees start, he was one of the best home pitchers in baseball.
Here's a take for you. Jesus Luzardo, at this moment, is a better pitcher than Justin Verlander.
While the Astros have been a fantastic offense against lefties this season, they'll have two lefty killers out of the lineup. Jose Altuve exited yesterday's game and may be due for an IL stint. Jose Abreu remains on the IL. Also, Yanier Diaz may be in the lineup, but Martin Maldonado is Verlander's catcher, so he might not even be in there.
The Astros have been fantastic against lefties in August, putting up a 155 wRC+. However, they beat up on Tyler Anderson and Reid Detmers. That wRC+ was at 170 before they got shut down by Braxton Garrett. That was with Jose Altuve, who went 3-4 in that game.
Clearly, the Astros have the bullpen advantage. At least, that's what I thought before looking at SIERA, my favorite ERA estimator for bullpens. The Marlins bullpen ranks sixth in baseball compared to the Astros at seventh.
This series has been extremely interesting. The Marlins controlled game one, then the Astros came back to win game two. The Marlins have been the better team in this series, and I think they close it out with the entire world betting on the Astros to win the game and the series. This feels like one of those Sunday fluke games where everyone gets their purse snatched.
I thought about taking the first five, but the Marlins are the favorite through five. If I'm taking this bet, it has to be plus money.
The Pick: Marlins ML (+105) 1 U to win 1.05 U
PrizePicks Entry 0.2 U to win 0.4 U
First Leg: Justin Verlander Under 31.5 Fantasy Score
I'm doubling down on this. If he's not getting his strikeouts and he's not getting a win, he won't sniff this fantasy score. If you completely disagree with my Marlins pick, then take this over. I won't be offended.
Second Leg: Nolan Jones Over 1.5 Bases
This is a baseball play backed by knowledge rather than a tin foil hat play. Slade throws fastballs, sliders, curveballs, and changeups. He's shown he throws more offspeed to left-handed hitters, which is not a good recipe for Jones. Jones destroys breaking balls, hitting .344 against them this season with a .869 OPS against right-handed pitchers. His 1.5 bases line is -115 towards the over and at Coors Field, where he really kicks it in gear. The total is high, and the Diamondbacks' bullpen has been overused, so he should see below-average arms all day. I think he hits a home run today, but he can get this by getting two hits or just hitting one for extra bases.