Analysis
MLB Picks Today, Best Bets, Odds, Predictions for August 15, 2023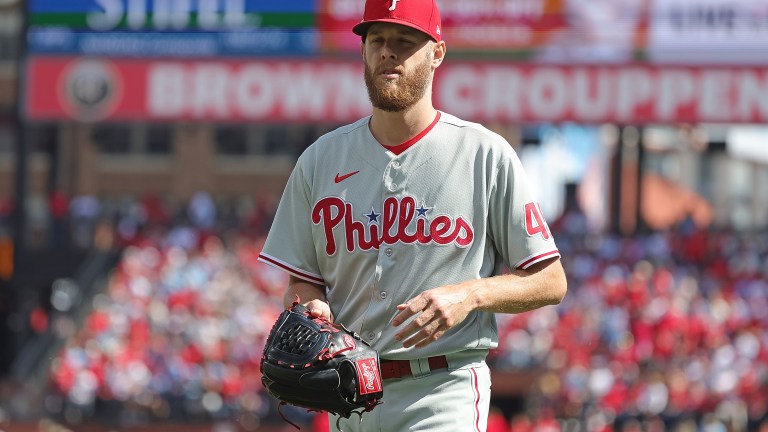 Royals! How about that Brady Singer performance; he had a no-hitter going through six innings. I wasn't looking to get in a shooting match with the loaded guns in the Mariners bullpen, but the Royals still pulled out a win for anyone who took them on the full game money line.
Today, we have four more picks, two in the same game. Let's have a day.
2023 Straight Plays Record: 133-139 (-2.64 U)
I'm using BetMGM lines only this year. Here's a link to get started with a first bet offer of up to $1000.
All prop entries will be on PrizePicks: Here's a link to get a 100% deposit match.
All Bullpen Screenshots are courtesy of Rotowire.
Cleveland Guardians vs. Cincinnati Reds @ 6:40 PM EST
Pitching Matchup: Logan Allen vs. Graham Ashcraft
Graham Ashcraft, what a guy. He's either the worst pitcher on the planet or a legit ace. He goes on stretches of pure dominance but keeps his ERA in the high 4s because his bad starts are 2023 Wainwright-esque. I'm betting on one of those great starts today.
Josh Naylor has been one of the best hitters in baseball this season, and with him on the IL, this lineup leaves a lot to be desired. Jose Ramirez is due to return from his suspension, which is obviously not ideal, but it's not all sunshine and roses. This Guardians lineup is a fantastic matchup without Naylor for Ashcraft.
Why is Graham Ashcraft good? It's matchup dependent. He's been very successful against teams who don't strike out and want to put the ball in play. The Nationals are a good example of this. He tossed eight innings of three-run ball while only allowing five hits. That's not the only matchup he excels in, but the matchup has proved over time to be a spot in which he's successful.
Ashcraft is not a data darling. His walk rate is above average, his strikeout rate is far below average, and he sits with an xERA above five. However, he will always be a pitcher who outperforms his peripherals with his above-average ground ball and Hard-Hit rates.
He can also be excellent against non-disciplined teams, shoving against the Padres, Phillies, and Pirates. The Guardians are a combination of the two. They don't take free passes, and they don't strike out. "Discipline" isn't just about walking. You know it when you see it when a team doesn't give good ABs. He also excels against teams who don't hit the ball hard. This is where I back Ashcraft.
On the flip side, we have Logan Allen. I think Allen is a fine pitcher, but his 4.47 xERA compared to his 3.55 ERA does imply that regression is coming. He's below average in every critical metric and still a rookie who's logged 91 innings this year. Late in the season, it's a spot where rookie pitchers really start to feel the length of a 162-game season.
The Guardians sent him down to the minors to relieve him, and he's had three good starts and two bad ones. He's not someone I put on the same level as Graham Ashcraft on a heater.
While the Reds' offense hasn't been explosive against lefties, they can platoon seven right-handed bats against Allen. That's important because Allen hasn't fully figured out how to get out righties, sitting with a .759 OPS vs. RHH.
I also think the pitchers' props are telling. Ashcraft is +140 to get a win, -180 to go over 17.5 Pitching Outs, and -140 to go under 2.5 earned runs. Allen is +240 to get a win, -130 to go under 15.5 pitching outs, and -130 to go over 2.5 earned runs.
You could argue Ashcraft has been pitching too well and deserves those lines, and I would agree. However, Allen has tossed two straight starts totaling 11 innings and only allowing three runs. I would argue that the Reds bats will play today at home.
I priced the Reds' first five ML at -140 and the full-game ML at -135. I think the most significant edge is with these starters considering the Guardians bullpen (which is still very good) got a day off yesterday.
The Pick: Reds First 5 ML (-115) 1.15 U to win 1 U
Tampa Bay Rays vs. San Francisco Giants @ 9:45 PM EST
Pitching Matchup: Zach Littell vs. Jacob Junis
Many smart bettors I know got burned on the Giants yesterday, and the point surrounding the bet was sound. Yes, it was Tyler Glasnow, but the Giants, as home underdogs, have been one of the best bets in baseball this season. They are tough to hit in bullpen games, so Giants +115 was the play. Unfortunately, the right play doesn't always hit, and the Rays exploded for ten runs.
The same logic applies today, but we have a pitcher who's far worse than Glasnow, and due to the blowup, the Giants didn't use any top arms. I think this is the spot where the Giants get right.
It's also a good spot to fade the Rays after a ten-run performance, especially when they are on the road. If we exclude April and May, where the Rays were by far the best team in baseball, they have won by 8+ runs three times. In the next game, they are 0-3. That's obviously not why you take a bet blindly, but it shows that lately, the Rays do not respond after a blowout win.
The Giants are 34-18 this season as underdogs and 34-27 at home. As a home underdog this season, the Giants are 15-6, the best of any team in Major League Baseball.
This is Zack Littell. I could break into many reasons why he isn't a good pitcher, but this may be easier to digest. Blue is bad. The Rays bullpen behind him is not great either; they rank 22nd in SIERA. It's rested, but it's not nearly as good as the Giants bullpen is.
The Giants will most likely go to Sean Manaea or Alex Wood after Jacob Junis, and the Rays haven't hit a left-handed pitcher in a while (75 wRC+) against lefties. Then, they'll have a complete disposal of their best arms: Camilo Doval and the Rogers brothers. This Giants bullpen is elite, sitting with the fifth-best SIERA in baseball.
This is more of a good spot than a value play on the line. I think the Giants will get to Littel and continue to hit against the Rays' mediocre bullpen. I think the Giants should be the slight favorites in this one, and I'm betting on them in both halves.
The Pick: Giants First 5 ML (-105) 0.52 U to win 0.5 U, Giants ML (+100) 0.5 U to win 0.5 U
Philadelphia Phillies vs. Toronto Blue Jays @ 7:07 PM EST
Pitching Matchup: Zack Wheeler vs. Yusei Kikuchi
Today's lowest total on the board is a great pitching matchup between Wheeler with extended rest and Kikuchi pitching in his favorite spot. Both teams had an off-day yesterday, so we get very good bullpens following these two. I expect this to be a quick pitcher's dual that isn't fun for folks who enjoy runs.
Zack Wheeler, with rest, is one of the best pitchers on the planet. Even without rest, he's great, but the extra tick-up in velocity makes him a true ace in this league. He prefers pitching on the road and is a wizard against right-handed bats (.559 OPS). The Blue Jays can't help themselves but put out a primarily right-handed lineup; they don't have enough solid left-handers. This same Blue Jays lineup also has a 92 wRC+ against righties in the last 30 days and an 83 wRC+ in the previous 14 days.
Zack Wheeler's props tell me he's about to dominate. He's majorly juiced towards his over 17.5 pitching outs (-185) with a 1.5 earned run line. His strikeout line is at 6.5, juiced towards the over, and his hits prop is at 4.5.
Yusei Kikuchi is on the other side; he has also seen his velocity tick up and is pitching lights-out baseball. He's eventually due for regression based on his mid-4s xERA, but right now, he's dominating, and I expect it to continue against this Phillies team. This Phillies offense has a relatively steep drop-off on the road, rocking an OPS 30 points lower. In the last 30 days against lefties on the road, the Phillies have a 99 wRC+. It's a fine offense but not something I'm scared about.
The oddsmakers don't seem to be afraid either, juicing his 2.5 ER prop towards the under at -155 with his pitching outs sitting at 17.5 at -110. Even a quality start from him would be fine by me (5-6 IP, 3 ER), considering the Blue Jays bullpen is rested, and they are getting a big weapon back.

This Blue Jays bullpen ranks number three in Major League Baseball in SIERA, and their closer, Jordan Romano is set to return. Romano gets meme'd because he has his blowups in road starts, but in Toronto, he might be the best closer in the game.
This Phillies bullpen is also rested and ready to roll. They are a near-elite group, ranking seventh in SIERA this season. Granted, not sure how much they'll need from their bullpen because I expect Wheeler to give them 6-7 innings.
We have two rested bullpens with two very good starting pitchers with two offenses that rank below average in these spots. We do have some slight wind coming in, and it's always good to look at an under with two high-strikeout pitchers. It's an Action Network System "High Strikeout Pitchers" where the under is 294-211-32, netting bettors 62 units with a 12% ROI.
If you combine systems with two pitchers I really believe in, you get an under. I priced this game at a generous 7.5, but I wouldn't have been surprised to see 7. With the new rules, oddsmakers can't price totals that low anymore, but I'm happy to take the under at 8.
The Pick: Phillies vs. Blue Jays Under 8 (-115) 1.15 U to win 1 U