Analysis
MLB Picks Today, Best Bets, Odds, Predictions for August 11, 2023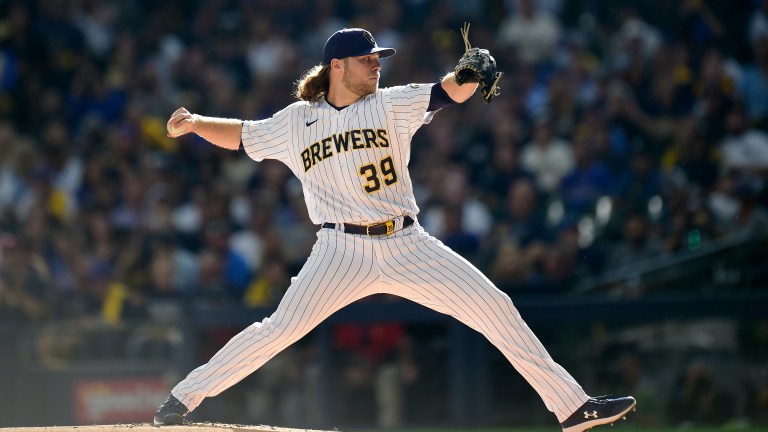 Yesterday's total was yet another backbreaker. Lane Thomas hit the top of the wall, which was called a double, and that ended up being the difference.
Both the Phillies and Nationals went 2-23 with runners in scoring position, and the total only lost by one run. You probably don't want to hear this, but I believe that was the right play and the wrong result.
Now that I took two sentences to complain, I'm flushing it and moving towards today. Let's roll.
2023 Straight Plays Record: 128-136 (-4.99 U)
I'm using BetMGM lines only this year. Here's a link to get started with a first bet offer of up to $1000.
All prop entries will be on PrizePicks: Here's a link to get a 100% deposit match.
All Bullpen Screenshots are courtesy of Rotowire.
Milwaukee Brewers vs. Chicago White Sox @ 8:10 PM EST
Pitching Matchup: Corbin Burnes vs. Michael Kopech
I'm 2-0 on run-line bets this season because I'm very particular about the spot. I don't love taking run lines in general because a team could dominate a baseball game and only win by one run. I could take the Brewers through the first five, but I'm not sure how the White Sox score many runs with key arms for the Brewers being available out of the bullpen.
Luis Robert is key for the White Sox. He's been, by far, the best player on their team. It's not just what he adds offensively, which is amazing; it's his defense in center field. He sprained his right pinky just two days ago and is currently day-to-day. I wouldn't be shocked if he plays, but we either get a less than 100% Luis Robert, or he's out of the lineup. Without him, the White Sox are barrelling toward the worst team in baseball.
Corbin Burnes is one of the best pitchers in baseball. He ranks third in Stuff+ this season, which grades the physical characteristic of his pitches. His velocity is back, he's rocking a 3.36 xERA (80th percentile), and he's much better on the road (3.00 ERA vs. 3.92 ERA). He's facing a terrible White Sox team against righties. They have an 85 wRC+ against righties in the last two weeks. They have an 82 wRC+ in the last 30 days. This season, they have an 83 wRC+, tied for last in Major League Baseball.
Corbin Burnes' and his win prop is interesting. He's -140 to record a win. Lance Lynn, who is a -290 favorite today against Austin Gomber and the Rockies, is -135 to record a win. Everyone else on the board is plus money. That's not why I made this bet, but I thought I'd point it out because that seems irregular.
On the flip side, we have Michael Kopech. I like Kopech against teams who strike out all the time. He can be effective if he has his stuff and players chase outside the zone. He's been pitching pretty well outside of a blow-up to the Braves. The Brewers have the fourth-lowest strikeout rate against righties in the last two weeks, 7th lowest last month, and around league average this season.
Kopech is also due for a lot of negative regression. He's rocking a 5.63 xERA which places him in the 7th percentile. A lot of that has to do with his 30th-percentile Hard-Hit rate and third-percentile walk rate. In the last month against righties, they have the 12th-highest Hard-Hit rate and 10th-highest walk rate. The Brewers are a slightly below-average offense against righties, but this is a good matchup for Brewers bats. He's also got a 3.5 ER prop and a 14.5 Pitching Outs prop. That's not good.
The Brewers' top arms are fantastic and relatively rested. They should all be available today. If I get Devin Williams (2.74 xERA), Joel Payamps (3.05 xERA), Abner Uribe (2.91 xERA), and Hoby Milner (3.31 xERA), I don't see how the White Sox put up runs.
The only arms I like in this bullpen are Gregory Santos (3.07 xERA) and Aaron Bummer (2.94 xERA). However, Bummer is the unluckiest pitcher in baseball because the White Sox do him zero favors on defense. I don't expect that to come back for this one fully.
The model has these Brewers at -180, but I have them priced at -210. I think the Brewers own every advantage here, and I want to fade the White Sox after a good series against the Yankees. It's a road run line, so we get guaranteed nine innings of hitting, then Devin Williams if it's close. Give me the Brewers to win by at least two runs, and I'd take this up to -115.
The Pick: Brewers -1.5 (-105) 1.05 U to win 1 U
St. Louis Cardinals vs. Kansas City Royals @ 8:10 PM EST
Pitching Matchup: Adam Wainwright vs. Dylan Coleman
The Cardinals are catching steam. They opened at -110 and have moved up to -130. Good. Give me the Royals. I'll pay to see if the Cardinals stay hot after that series win against the Rays, and I also like that the Royals just got shut out.
I got burned on the Royals in game one against the Red Sox. They are a horrible road team, and that's been continuing to struggle on the road. However, they've been better at home, rocking a 21-36 record compared to a 16-44 record on the road.
Since Statcast started tracking xERA, Wainwright is approaching historic levels of bad. In 2019, Edwin Jackson set the record for the worst xERA in the StatCast era at 8.02. Wainwright sits at 7.63. If the Cardinals were moderately competitive, they most likely wouldn't let Wainwright go every fifth day. However, this is his last season, and the Cardinals sit 11 games back of the division. You might as well let him throw against bad teams. It didn't exactly work against the Rockies, who rank dead last this season against righties in wRC+, where he allowed seven earned runs.
Even with that seven-run performance in the last two weeks, the Rockies rank 27th in wRC+ against righties. The Royals rank 6th in baseball during that span, sitting with a 122 wRC+. The Royals are an aggressive bunch; they want to swing. Wainwright keeps the ball in the zone but has a 12.2% strikeout rate, a laughably low number.
Also, are we sure the Cardinals' bats are hot?
They scored runs against Littell, Kevin Kelly, and Jalen Beeks. They faced a great pitcher in Efflin and didn't do anything. Before that, they faced a bunch of Rockies pitchers and got shut down in two games against the Twins, but they did hit Joe Ryan. Ryan is going through it, and then immediately got put on the IL after.
The Cardinals have a 99 wRC+ last two weeks against right-handed pitching against those opponents. I would argue they are slowing down, as they have a 116 wRC+ in the last month. However, they get to face a terrible Royals bullpen today.
This Royals bullpen isn't any good, but they are all rested. The Cardinals have a 103 wRC+ against lefties and will most likely get left-hander Angel Zerpa following Dylan Coleman. I know Coleman has a 10 ERA, but he's an opener. That's skewed because he allowed six earned runs in less than an inning to the Rangers. Outside of that, he's been good enough to limit damage through 1-2 innings. Realistically, Zerpa isn't any good either, but the total is at 11. Runs will be scored; I hope the home team will score more of those runs.

The Royal's offense is better right now, and they are at home. A Royals bullpen game versus Adam Wainwright is a push, and it's not like I suddenly trust the Cardinals bullpen to shut it down late. They've been blowing leads all year, so if the Royals are down, I have faith they can rally back and win the game.
The model has the Royals at -134, and I think this should be a pick-em at -110 on both sides. I would play the Royals as long as they are plus money.
The Pick: Royals ML (+110) 1 U to win 1.1 U