Analysis
MLB Picks Today, Best Bets, Odds, Predictions for April 4, 2023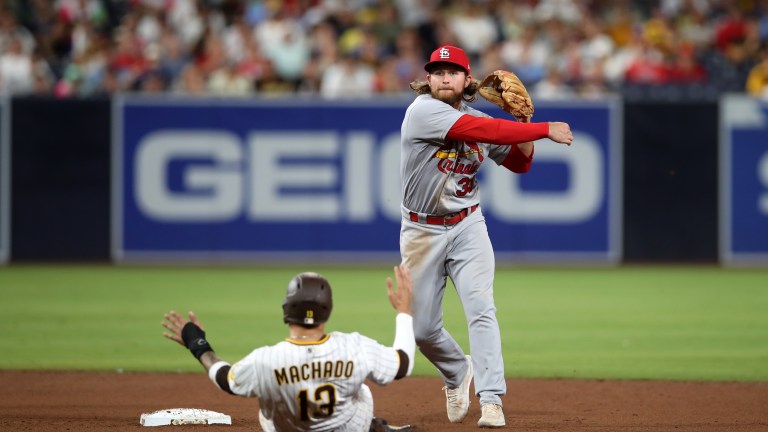 Yesterday was pretty mediocre. We won on the Reds but lost the under in Dodgers vs Rockies. Trea Turner went under his fantasy score as we predicted, but Jose Siri wasn't in the lineup, so we got refunded. We went down 0.1 U, which isn't fun.
Today, I have three game picks as none of the props are showing much value. Let's bet back on track with a joyous day!
Just so we all know, I'm using BetMGM lines only this year. Here's a link to get started with a risk-free $1000 bet. You can also use code "JB200" if you're betting MLB. Wager $10 on any MLB game and receive $200 instantly.
All prop entries will be on PrizePicks: Here's a link to get a 100% deposit match.
2023 Straight Plays Record: 10-5 (+5.68 U) – 67% Win Rate
2023 PrizePicks Entries: 0-2 (-1 U) – 0% Win Rate
I will track both records separately so you can track how I'm doing on game picks and PrizePick entries!
Arizona Diamondbacks vs. San Diego Padres @ 4:10 PM EST
Pitching Matchup: Zac Gallen vs. Yu Darvish
This is a bet on Zac Gallen bouncing back. There are more factors at play here, but I believe we get a five-inning shutout from one of the best young aces in the league. It's about limiting the Padres' offense because the Diamondbacks' offense has failed to show much power that could wipe out this total.
Gallen hasn't performed exceptionally well from an advanced data lens, but he still has solid stats against the Padres' current roster through 82 PA. He's rocking a .236 opponent batting average, a .354 xwOBA, and a .461 xSLG. Gallen put up a 2.54 ERA last season with a 3.17 xERA, a high spin four-seamer, and a devasting curveball. The best hitter on the Padres last season against curveballs was Josh Bell, a Cleveland Guardian. The Padres also rank 27th in Hard-Hit rate, implying the runs they have been scoring have been on the luckier side.
His last start was extremely unlucky. He sits at a 9.64 ERA after allowing seven runs on six hits. His current xERA is at 4.02 due to some hapless batted balls. One thing I noticed about Gallen when doing my research is he was lethal last year during day starts. Through 68 innings, he allowed just 13 earned runs to give him a 1.72 ERA. In his lone road start against the Padres last season, he threw six innings, allowing one earned run, and struck out 11. I think he delivers something similar today.
Yu Darvish gets the ball for the Padres against an anemic Snakes offense. Arizona has talent, but they've come out of the gate slow. Ranking 23rd in Hard-Hit rate as a ballclub has contributed to a 49 wRC+ as a team, 28th in the league. Yu Darvish can be inconsistent, but he's at his very best at home, rocking a 2.60 ERA versus a 3.50 ERA on the road last season. This has always been the case for him in San Diego. In 2021, he rocked a 3.38 ERA at home and a 5.54 ERA on the road. He faced Arizona on five occasions last year, throwing 32 innings and only allowing seven runs. He allowed five home runs over those 32 innings, but it'll be challenging for hitters to put the ball in the stands with how the weather looks.
Petco Park is today's fifth-worst run environment and the fourth worst for home runs (-30%). Both pitchers turn in excellent outings today, but I'd rather not worry about the bullpens.
SIM Value: 3.8 Runs
The Pick: Arizona Diamondbacks vs. San Diego Padres First 5 Under 3.5 (-110) 1.1 U to win 1 U
Atlanta Braves vs. St. Louis Cardinals @ 7:45 PM EST
Pitching Matchup: Dylan Dodd vs. Steven Matz
System Play!
This is a system I've played over the last two seasons, and it's hitting close to 70%. If that first start comes on the road, the system is fading a rookie starting pitcher. There is often some hype surrounding rookie pitchers, but it doesn't matter who they are; they tend to struggle.
I missed the boat on Jared Shuster's start. We still hit on the full game under, but I was concerned about betting on the Nationals against the Braves. The system proved once again that no matter the team, play the opposite side of that rookie on the road.
It makes sense, right? Rookie pitchers often experience plenty of nerves at the beginning of starts, especially in a hostile environment. It doesn't get much rowdier than Busch Stadium, and he'll go up against the current number-one lineup in Major League Baseball by wRC+. They were also baseball's best offense last season against left-handed pitching at home, putting up a 150 wRC+. They should manhandle the rookie southpaw.
At first, I planned on putting my standard one-unit on the first five. I went back and watched some of Steven Matz's spring training footage; the man looks really good. It's reflected in his 1.53 ERA in the spring, which is an excellent sign for the talented lefty. Before I dug deeper, I didn't know how effective he's been against Atlanta. In 100 PA against the Braves' current roster, he's rocking a .204 opponent batting average, a .293 xwOBA, and a .400 xSLG. The Braves were solid against lefties in general last year, putting up a 118 wRC+. It just doesn't come close to the Cardinals.
SIM Value: (+128) Cardinals, (+151 Braves)
The Pick: Cardinals First 5 Innings -0.5 (+100) 1.5 U to Win 1.5 U
Pittsburgh Pirates vs. Boston Red Sox @ 7:10 PM EST
Pitching Matchup: Roansy Contreras vs. Nick Pivetta
Here's a conversation that I think is happening across the country.
"Hey, you see these Red Sox games? Every game has gone over so far; it's a cheat code! Take the over today".
If betting were that easy, you and I would be sipping a piña colada on an island somewhere. Ask yourself another question, if the over is such a lock, why did the total open at 9.5, and start steaming toward 8.5?
I think I know why. First, Fenway Park is the lowest projected run environment of the day, according to BallparkPal. It calls for an absurd 50% drop in projected home runs, something you rarely see at Fenway Park. We have winds blowing straight in from center field and cooler temperatures that don't help the offense.
Nick Pivetta will get the ball for the Red Sox, who should be in for a nice day today. On BetMGM, his earned run line sits at 2.5, and it's +110 if you want to take the over. He's a fly ball pitcher; 27.3% of batted balls last year were fly balls, contributing to his lower xFIP due to some tough HR/FB luck. He threw once against the Pirates last year, tossing seven innings and only allowing one hit. I view him as an average pitcher, but he can be above average today against a Pirates team, rocking a 78 wRC+.
I'm a big fan of Roansy Contreras. I especially like him in this spot because the weather forecast should amplify his start. He's a bigger fly-ball pitcher than Pivetta at 28.1% last season, and if he's not giving up a fly ball, he's striking you out. He has excellent stuff, and he's a reverse splits guy. Left-handed hitters rocked a .674 OPS against him last season compared to a .743 OPS for right-handers.
The left-handers in the Red Sox lineup are doing most of the damage, whether that be Alex Verdugo, Rafael Devers, Masataka Yoshida, or Tristan Casas. Kike Hernandez and Adam Duvall are the righties we must be worried about, but their career splits clearly show they prefer left-handed pitching.
Also, on BetMGM, his line for earned runs is at 2.5, with a +105 line on the over.
Both bullpens should have their best arms out of the to follow these starters, and I'm betting on a total that nobody wants to take.
SIM Value: 6.5 (+100)
The Pick: Red Sox vs. Pirates Under 9 (-110) 1.1 U to Win 1 U