Analysis
MLB Picks Today, Best Bets, Odds, Predictions for April 22, 2023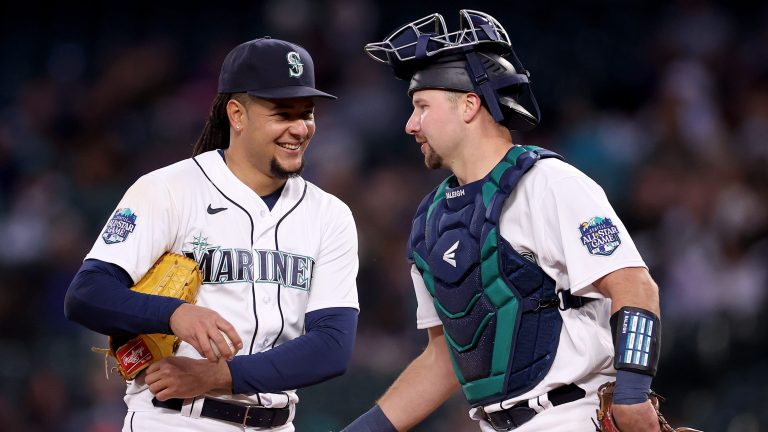 Yesterday's theme was team totals at plus money, and we got away a winner on both. Both totals ended up hitting in the ninth inning; quite the sweat. The Astros looked bleak early as they couldn't touch home plate with runners in scoring position, but a late Yordan Alvarez home run put us over the top. It wasn't just a fade on Elder; it was fading the lefties in the bullpen, as discussed. AJ Minter is incredible, but when you're facing the Astros better split, they can hit anyone.
The Mets were a different story. We faded DeSclafani, and it worked, but the Giants' bullpen held its own. It was down to two outs with nobody on, and the Mets rallied to score three runs in the top of the tenth to push us over.
Today, I have three game picks to keep riding the momentum. Let's have a day.
I'm using BetMGM lines only this year. Here's a link to get started with a risk-free $1000 bet. You can also use code "JBFANS" if you're betting on MLB. Wager $10 on any MLB game and receive $100 instantly.
All prop entries will be on PrizePicks: Here's a link to get a 100% deposit match.
2023 Straight Plays Record: 36-27 (+6.48 U)
2023 PrizePicks Entries: 3-9 (-1.3 U)
I will track both records separately so you can track how I'm doing on game picks and PrizePick entries!
St. Louis Cardinals vs. Seattle Mariners @ 9:40 PM EST
Pitching Matchup: Miles Mikolas vs. Luis Castillo
I will continue to fade Miles Mikolas until I see some improvement. It's as simple as that, but there is plenty of baseball brain backing to make this play make sense.
I learned this the hard way. I tailed him in his first start against the Blue Jays, which almost cashed but wasn't due to him. He allowed ten hits and five earned runs over 3.1 innings, but the Cardinals mounted a comeback and lost by 1. His stuff looked far worse than last year, but I thought it was just a small bump in the road, so I took the under in his next game. That play cashed, but again, it wasn't due to him. The total went under because of Bryce Elder, not because Mikolas allowed five runs in six innings.
I stayed away from him in Coors Field, and the Cardinals won, but he allowed six earned in five innings. I faded him against the Pirates, and he allowed three runs in 5.2 innings on seven hits to give us another win. I'm sorry, Cardinals fans, I really am. I loved Mikolas for a while, but this doesn't look like the same guy.
Every one of his pitches has dropped in velocity and spin rate, and his command is nothing like it was in previous years. The loss of Yadier Molina is showing, as his ERA near four without him is becoming the norm. His 8.10 ERA is terrible, but when you factor in the 8.42 xERA, you can see it's not flukey. The eye test matches up; he doesn't look like the same pitcher but is still being priced like the best pitcher on the Cardinals.
In a limited sample against the Mariners through 42 PA, he's allowed .417 xwOBA, a .323 xBA, and a .594 xSLG with a 16.7% strikeout rate. Not a pitcher you want to back.
I do want to back the next coming of Felix Hernandez in Seattle. Luis Castillo has been nothing short of brilliant this season. He's especially tough on right-handed bats, which is key considering the best hitters in the Cardinals lineup are all right-handed; Paul Goldschmidt, Nolan Arenado, and Willson Contreras. There are plenty of left-handers, but that shouldn't bother Castillo, who's holding lefties to a .328 OPS this season.
He also has years of dominating the Cardinals' current roster. Through 190 PA, he's rocking a .328 xwOBA, a .244 xBA, and a .434 xSLG. I'll take Seattle to win early with a clear advantage.
The Pick: Mariners First 5 Innings -0.5 (-115) 1.15 U to win 1 U
Philadelphia Phillies vs. Colorado Rockies @ 3:05 PM EST
Pitching Matchup: Kyle Freeland vs. Cristopher Sanchez
This should be fun.
This is one of those plays where it's best not to overthink it. Both teams' better splits are against left-handed pitching, one team gets to face a swingman off an injury, and the other gets to face a lefty that's due for negative regression. Factor in beautiful weather, the best of the day, and we should see plenty of runs.
Freeland is fascinating. His Stuff+ grade is the worst in baseball after every pitch of his has called in velocity and spin rate. What's key today is the lack of groundballs from Kyle Freeland, posting the worst groundball rate of his career at 35.2%. He's consistently been in the mid-40s, but opponents are putting the ball in the air, which isn't a good sign, especially today.
Ballparkpal calls Citizens Bank Park the best run-scoring environment of the day. It's supposed to be 80 degrees by game time with 15-20 MPH winds blowing straight out to left field. It's calling for a 29% increase in home runs.
Freeland has slightly below-average numbers against the Phillies' current roster. Through 70 PA, he's rocking a .357 xwOBA, a .253 xBA, and a .517 xSLG. Those numbers include five PA from pitchers, so it's even better than that when you look at the hitters in today's lineup.
Cristopher Sanchez threw his sinker 60.1% of the time last season. That's exactly what Charlie Blackmon, CJ Cron, and Ryan McMahon want to see. Not to mention Kris Bryant, who has feasted on lefties his entire career. This will be his first start since returning from injury, and the last time we saw him was last season, where he put up a 5.63 ERA and a 9.6% walk rate. A pitcher with command issues in his first start back isn't normally a recipe for success.
This total opened at 9.5 and has since moved to 10.5 due to the weather encouraging more runs than an average day at Citizens Bank. I think the edge is early against these pitchers.
The Pick: Phillies vs. Rockies First 5 Over 5 Runs (-125) 1.25 U to win 1 U (Play to 5.5 but lower unit)
Houston Astros vs. Atlanta Braves @ 7:20 PM EST
Pitching Matchup: Framber Valdez vs. Kyle Wright
No matter the pitching matchup, taking an under in a game with these two offenses is tough. They can put up runs in an instant against anyone, and while both starting pitchers are very good, I see both struggling today.
Similar to yesterday, the weather at Truist Field is beautiful. According to Ballparkpal, Truist Field is the second-best run-scoring environment of the day, with 5-10 MPH winds blowing out at 70 degrees. It's a great day for baseball and an even better day to watch the runs pile up.
Sure, Framber Valdez is a great pitcher. He's rocking a 1.80 ERA this season with a 3.52 xERA. He routinely outperforms his xERA due to the best ground-ball rate in baseball. I'm not trying to tear him down, but I am saying he has no success against the Braves. He hasn't faced them since the 2021 World Series, but they went poorly in both starts.
In game one, he went two innings and allowed eight hits and five runs. In game five, he went 2.2 innings and allowed four hits and five earned runs. He's a better pitcher now, but the Braves' best split is against left-handed pitchers. Ozzie Albies turns around to his right side, which is his best split, and the top of the lineup is filled with right-handed mashers like Ronald Acuna Jr, Austin Riley, Sean Murphy, and Vaughn Grissom. Kevin Pillar should also play today, who's always been better against left-handed pitching. Matt Olson and Sam Hilliard are the lefties today, so I'm not so worried about the Braves' offense.
After Valdez will be an Astros bullpen with Bryan Abreu, who will be tough but likely be without Ryan Pressly. He's thrown 42 pitches in three games, so it's doubtful we see him. This Astros bullpen is a bit weaker without him, so we should see some runs in the later innings. It's the Braves offense; I'm not worried.
The Astros will go up against Kyle Wright, who has not been off to a good start to begin his season. He's allowed six runs in his first two starts over 8.2 innings against the Royals and the Reds, and he's registered the highest walk rate since his rookie year. He's pitched pretty well against the Astros in the past, throwing six innings of two-run ball in his lone start in 2022.
Kyle Wright has thrown his curveball and sinker 78% of the time this season. His curveball is down nearly 300 RPMs since last season, and it's decreased by 0.5 MPH. The spin is most important, resulting in a loss of three inches of break on the curveball. His sinker is down 2 MPH and a full inch of break since last season. He doesn't look like the same pitcher, and even at his peak, he allowed two earned runs against this offense.
The Braves bullpen is already without their closer in Raisiel Iglesias, but we may see Colin McHugh return from injury. It's not likely because he threw two innings in a rehab assignment, but it's possible. Even so, that doesn't scare me. The three best-remaining relief pitchers, Dylan Lee, Nick Anderson, and AJ Minter, all threw yesterday. While they may be available, they should be less than effective with the familiarity and use yesterday. Two of them are lefties, which should help the Astros better split, as we saw yesterday with Minter.
Both starting pitchers are great, but neither has a great matchup today. Factor in two of the best offenses in baseball against weaker-than-normal bullpens with weather on their side, and you have an over.
The Pick: Braves vs. Astros Over 8 (-120) 1.2 U to win 1 U (Play to 8.5 but lower unit)