Analysis
MLB Picks Today, Best Bets, Odds Predictions, April 9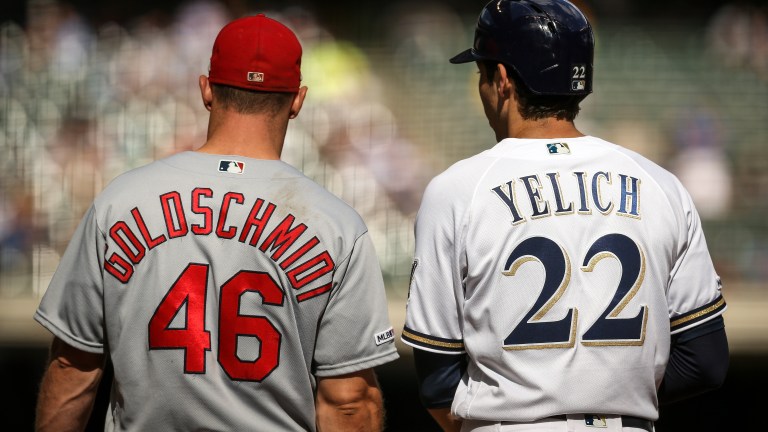 The ball bounced our way, FINALLY. We've been on the unlucky side a few times this year, and it was fantastic to see it go our way yesterday.
Not every game went our way, as the Guardians left 12 stranded en route to a 3-2 loss. That was a tough one, as it was Cal Quantrill's second lost in his last 19 starts. We've tailed them all, so no harm, no foul for Cal.
Mike Trout had a legacy home run to give us the win through the first five innings. The Rockies rallied late to give us the over in that game. The Angels game was crazy, but I did think most of the runs would come late in the Rockies vs. Nationals game due to the
Just so we all know, I'm using BetMGM lines only this year. Here's a link to get started with a risk-free $1000 bet. You can also use code "JB200" if you're betting on MLB. Wager $10 on any MLB game and receive $200 instantly.
All prop entries will be on PrizePicks: Here's a link to get a 100% deposit match.
2023 Straight Plays Record: 17-13 (+4.33 U)
2023 PrizePicks Entries: 0-4 (-1.35 U)
I will track both records separately so you can track how I'm doing on game picks and PrizePick entries!
Milwaukee Brewers vs. St. Louis Cardinals @ 2:10 PM EST
Pitching Matchup: Jake Woodford vs. Freddy Peralta
Only a handful of times does this happen in the regular season, but my brain automatically leans a certain way when it does. In division games, when both teams score zero runs in one game, normally, the third game is high scoring. The Cardinals got shut out in game one, then the Brewers got shut out in game two, and now both offenses should come to play. It's not a system, but it points me toward the over, and then I follow up with research.
I'm a big fan of Freddy Peralta. I've been high on him since before his breakout in 2021. The only issue with Peralta is he's not as good at pitching at home, and the Cardinals have been his kryptonite over the past few seasons.
In 2021, Peralta had 17 innings against the Cardinals over four appearances, allowing ten earned runs on 16 hits to give him a 5.29 ERA. In 2022, he only threw against them once but allowed six earned runs in three innings to give him an 18.00 ERA. The Cardinals' lineup looks slightly different than last year, but it's mostly the same and better than last year. Nolan Arenado and Paul Goldschmidt especially do well against Peralta, launching five home runs between them while posting xwOBA's over .420.
Following Peralta will be a bullpen that I'm not very high on. My favorite ERA estimator for evaluating a bullpen is SIERA, which ranks 20th in baseball. They also have the 27th-ranked strikeout rate and the 12th-highest walk rate. The Cardinals should put up three runs against Peralta and then a few more against the bullpen.
The Cardinals aren't safe to win this game, as Jake Woodford will toe the rubber. He's filling in for Adam Wainwright, who is stuck on the IL to begin the season. Woodford has posted an xERA above four every season and is now at 11.67. I don't view him as a major league caliber arm for a contender, and he'll be out of the rotation soon when Wainwright returns. Milwaukee is top ten this season in wRC+ against righties and should bounce back after a stinker yesterday. The Cardinals bullpen ranks 10th in SIERA, but they have a couple of arms I'm worried about; Jordan Hicks and Andre Pallante in particular.
This is also a very hitter-friendly ballpark. Ballpark Pal is calling for the third-highest run-scoring environment of the day. I see this creeping to 9, which is still playable, but at 8.5, it's too low to pass up.
SIM Value: 10.5 (-134) Implied Over
The Pick: Brewers vs. Cardinals O 8.5 (-120) 1.2 U to win 1 U
Boston Red Sox vs. Detroit Tigers @ 1:10 PM EST
Pitching Matchup: Kutter Crawford vs. Mathew Boyd
Before official weather predictions come in, the model simulates the games 1,000 times and spits out value on every game. Before the weather came in, the model thought this line should be at 8. We got reports that the wind is blowing straight in at Comerica Park, and it's supposed to be in the 40-degree range at game time. This morning, the model dropped the entire run down to 7. With that, the game total dropped to eight on some books from the opening line of 8.5, and I got it in at 8.5 before it dropped.
When wind conditions like this spike, it starts to fit a system we tend to play more often than not. Action Network quantified the "Wind Blowing In" system, saying it hits at a 57% rate. The system is 929-714-78 towards the under. It's an edge, and when you factor in a fly-ball pitcher for the Red Sox and a left-hander in Boyd who pitched well in his last outing and has a history of pitching well at home, I had to play the under.
Kutter Crawford struggled in his first outing for the Red Sox. He allowed three home runs at Fenway with the wind blowing out, which ballooned his ERA. Luckily for him, these conditions suit his style of pitching exceptionally well. Kutter relies on the fly ball to get outs, and Comerica is already a challenging place to hit at. They did move in the walls, but it ranks 23rd according to Statcast Park Factors, making it the seventh most challenging park to hit. Kutter is facing a Tigers team with the second-lowest ISO and lowest slugging percentage against righties this season, the same lineup that was historically bad against righties last season. Following Crawford will be the better arms in the Red Sox bullpen, who are all right-handed. I don't love this bullpen, but the Tigers' offense can barely hit anyone.
The Red Sox offense put up 14 runs yesterday, which often means they are due for more of a let-down today. They'll face Mathew Boyd, who prefers pitching in Comerica. In his last full season with the Tigers, he posted a 2.64 ERA at home compared to a 5.81 ERA on the road. He looked very good in his first start, allowing two hits before Cisnero allowed a home run, letting two runners of his score make the stat line worse. He sits in the 97th percentile of Hard-Hit rate, and his xERA is 3.36. Boyd is a ground-ball pitcher facing a team that relies on the home run, ranking fourth in baseball in home runs. Boyd keeps the ball in the park, and the wind is blowing in with bad-hitting conditions.
I don't love this play, but I will play it. I'm limiting it to just one unit instead of laying the -120 on 8. I have been tracking how the model adjusts to the weather, and it's doing an excellent job. I've tracked four of these so far; it's 3-1. It's worthy of a play, and I would play it at 8, but be cautious.
SIM Value: 7.5 (+126) Implied Over
The Pick: Red Sox vs. Tigers Under 8.5 (-120) 1 U to win 0.83 U
PrizePicks Entry
Dylan Dodd Under 4 Strikeouts
The Padres have a 16% strikeout rate against lefties this season, and Dodd doesn't have strikeout stuff. He gets batters out through soft contact, making you put the ball on the ground. I also don't expect him to go long; the model has him closer to 3.4 strikeouts for this game. I like the push potential at four, but I don't see him even getting there.
Hunter Brown Over 5 Strikeouts
The Twins have plenty of guys in the lineup today prone to strikeouts. Buxton, Larnach, and Michael A Taylor are all above 24% this season, and they have Jeffers, Gordon, and Wallner, who are all prone to strikeouts. Especially Wallner posting a strikeout rate of 38.5% in the majors and north of 30% in the minors. Jeffers and Gordon are also north of 23% for their career. Brown has the stuff to clear this quickly, and I think this lineup doesn't match up particularly well against him. The model has Hunter Brown at 6.3 strikeouts today.