Analysis
MLB Best Bets, Odds, Predictions for White Sox vs. Orioles, Diamondbacks vs. Royals for August 23, 2022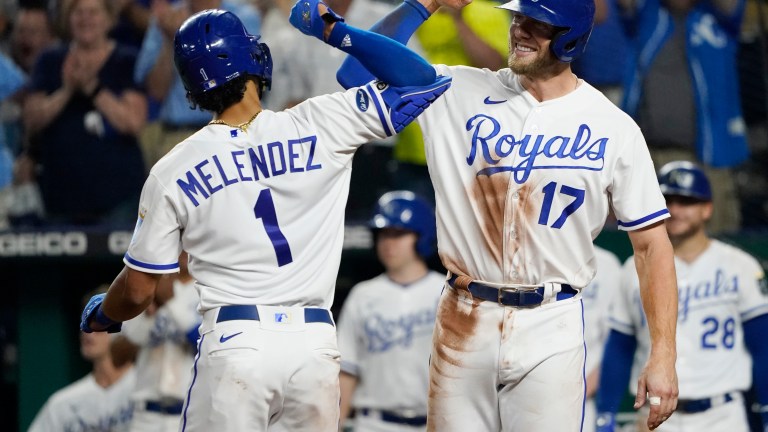 Welp, yesterday stunk. We lost both picks, and our props were much better. Luckily, Ohtani had an at-bat yesterday and struck out, so we hit his under fantasy score. We barely nailed the Urias over strikeouts prop, but Jose Miranda stunk up the joint.
On the main picks, we were "that guy" to take Dodgers on the run line and they lost 4-0. We also sprinkled on the Brewers team total under, and we lost that in the ninth inning. It was a tough day, but you can't keep me down for long. I have three picks, with two in the same game. Let's get back in the green.
Check out the podcast linked below for my three player props of the day on PrizePicks.
2022 MLB Regular Season Record: 177-147 (55%) +30.14 units
https://open.spotify.com/episode/1q3xj0wHBJzKJDTKHzwGaT?si=7dcbf4aabd8449dc
Chicago White Sox vs. Baltimore Orioles: 7:05 pm EST
Dylan Cease (RHP, White Sox) [12-5, 2.09 ERA, 1.17 WHIP, 133.2 IP, 178 K, 58 BB]
Austin Voth (RHP, Orioles) [3-1, 4.86 ERA, 1.41 WHIP, 66.2 IP, 62 K, 19 BB]
We head to Baltimore for the first game of a three-game set. We have one of the front-runners for the AL CY Young award going up against Austin Voth, who to say it lightly, is not in the running for the award.
This is one of those bets where we have look at the line and turn our gambling brains on. Dylan Cease has been otherworldly on the road, posting a 1.34 ERA in 60.1 innings compared to a 2.70 ERA at home this season. He threw seven innings while only allowing one earned run against the Orioles in his last start, and now he's sitting with a -140 money line. This is one of the fishier lines I've seen this season.
The White Sox opened as -160 favorites and the line has dropped all the way to -140. This is a tell-tail sign of a reverse line movement and the books are making it much more enticing to bet on Dylan Cease. That screams trap, and it appears to be one of the fishier lines of the season.
It's difficult to break down in baseball terms why the Orioles are a good bet today. What I can tell you is that the Orioles have defied the odds all year, and they have been able to hit right-handed pitching extremely well lately. In the past two weeks, the Orioles rank 5th in wRC+ against right-handed pitching while the White Sox rank 11th. The White Sox have been putting the bat on the ball, but they aren't hitting for any power in this span. They rank 25th in ISO and 19th in SLG percentage while the Orioles rank 6th in SLG and 9th in ISO.
The White Sox are also at a disadvantage as they are playing without a rest day. They just played in Kansas City yesterday and now have to travel to Baltimore without an off-day in between. The White Sox have also been one of the least profitable teams to bet on as a favorite, going 28-48. The Orioles on the other hand are the most profitable underdog, going 69-33. The Orioles are at their best when they are at home, going 35-23 this season, and they had an off-day to prepare while playing the last four games at home.
Austin Voth has also looked pretty solid lately. He threw six shutout innings against the Blue Jays in his last start and is rocking a 2.76 ERA in the month of August. Dylan Cease is rocking a 2.65 ERA in the month of August. On top of this, Michael Kopech didn't get a single out yesterday, so the bullpen was forced to shoulder the load for nine innings.
I'm willing to take the gamble on the Orioles, as it does make some sense how they can win this game. They are the better team at the end of the day. It's a scary play, but it's worth the risk with this insane line movement.
The Pick: Baltimore Orioles ML (+120)
1 Unit to Win 1.20 Units.
________
Arizona Diamondbacks vs. Kansas City Royals: 8:10 pm EST
Zach Davies (RHP, Diamondbacks) [2-4, 3.99 ERA, 1.22 WHIP, 97 IP, 74 K, 34 BB]
Jonathan Heasley (RHP, Royals) [1-7, 5.61 ERA, 1.56 WHIP, 61 IP, 46 K, 29 BB]
We head to Kansas City for the first game of a two-game set. If the weather on ballparkpal was calling for better run-scoring conditions, this could be another play of the month. It's not, it's calling for a -2% decrease in runs, but man do I love this over.
First, let's talk line movement. This line opened at 8.5 and has since moved up to 9 at plus money. The line is moving in the direction it should, as more people have piled in on the over. Again, not all factors are working in our direction for a play of the month, but here's why this game should soar over the total of nine.
Zach Davies will get the ball for the Diamondbacks who continue to defy the odds and outperform his advanced metrics. His 4.13 xERA is fine, but his 4.58 FIP and 4.41 xFIP implies that negative regression is just beyond the horizon. Are the Royals the team to beat up on him? Yes, weirdly, I think they are.
The Royals have some fantastic advanced numbers against Davies and they handed him one of his worst starts of the season so far. Through 33 PA against the Royals' current roster, he's rocking a .548 wOBA and a .387 opponent batting average. On the surface, that's incredible. The advanced numbers don't quite resemble that, but they are still awesome. The Royals have a .415 xwOBA, a .310 xBA, and a .632 xSLG. Combine that with an average exit velocity of 93.3 MPH, and this may be the worst matchup of the day for any starting pitcher.
The Royals are a young team, so it makes sense that they struggle on offense away from their home ballpark (.649 Team OPS). At home, they turn it up a notch, recording .710 OPS as a team in Kauffman Stadium. This is the kind of pitcher the Royals hit well, and they crushed him for five runs in 3.2 innings on May 23 in a 9-5 win. On top of all of this, Davies is worse on the road this year, and that bad start came at home where the Royals are worse on offense and Davies has performed better. I think we could see a similar score today, but I'm not sure the Royals come away with the win.
Jonathan Heasley doesn't look like a big league pitcher right now. He could develop one day if everything works out, but he's not right at the moment. He had an 8.44 ERA in July, and in one start in August, he got crushed for seven hits in 5.1 innings but only allowed two earned runs as the White Sox failed to hit with runners in scoring position. He's rocking a 6.35 ERA at home compared to a 4.96 ERA on the road. He allowed three earned runs in five innings against the Diamondbacks when he pitched on the road against them this season. I expect both starters to perform worse than last time.
Both bullpens after these starters are not very good. Since the trade deadline, the Royals have the sixth worst bullpen ERA while the Diamondbacks have the third worst. The Royals had to use three of their high leverage arms yesterday on top of this, so they'll be at a disadvantage in the later parts of the game. This should be a tale of two offenses coming to play, so I'll gladly take the full game over with a sprinkle on the first five over.
The Pick: Diamondbacks vs. Royals Over 9 Runs (+100), First 5 Innings Over 5 (-105)
1 Unit to Win 1 Unit (Full Game), 0.52 Units to Win 0.5 Units on First 5 Over
________