Analysis
MLB Best Bets, Odds, and Predictions for Guardians vs. Rays, Mariners vs. Astros for July 29, 2022.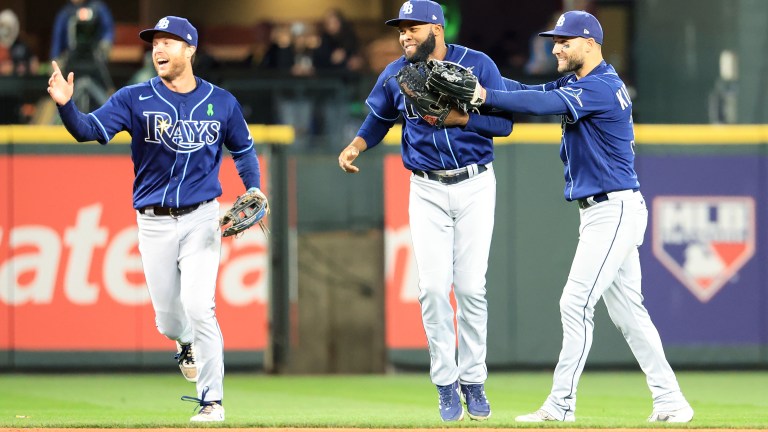 Another winning day! We have been positive or even in five of the last six days.
We swept the main card, but unfortunately, our bonus pick was lost. We had the over in Dodgers vs. Rockies, which was just the Dodgers as they put up 13 runs. We had the Reds through the first five innings, which ended in a walk-off. We had the Cubs as an underdog at +125 for a half-unit which didn't go so well.
We will undoubtedly take a 2-1 day, suitable for +1.5 Units. We are back at it again with two MLB Best Bets.
2022 MLB Regular Season Record: 146-124 (54%) +24.04 units
Seattle Mariners vs. Houston Astros: 8:10 PM EST
Robbie Ray (LHP, Mariners) [8-7, 3.90 ERA, 1.15 WHIP, 120 IP, 136 K, 38 BB]
Justin Verlander (RHP, Astros) [13-3, 1.86 ERA, 0.88 WHIP, 116.1 IP, 117 K, 21 BB]
We head to Houston for the second game of a four-game set. Both teams will bring their aces to the mound in what should be a competitive game, but I have one team taking an early lead based on the pitching matchup.
Let's discuss how each offensive unit has been doing before evaluating these pitchers. Since the All-Star break ended, the Mariners have scored 23 runs in seven games, averaging a little over three runs per contest. The Astros scored 38 runs in nine games, averaging about four runs per contest.
Against left-handed pitching, the Astros rank 11th in wRC+ with the eighth best ISO since the All-Star break. When we look at July, not much changes. The Astros still rank 11 in wRC+ and eighth in ISO.
As for the Mariners, they've been struggling out of the break. The Mariners rank 27th in wRC+ against right-handed pitching with the 16th ranked ISO. The entire month of July has been better, ranking 18th in wRC+ with the 10th best ISO.
Right now, the offense advantage has to lean towards the Astros, as they've been the better offense all season. The Astros have one of the best home offenses in baseball, while the Mariners have a slightly above-average road offense.
The starting pitching matchup also heavily favors the Astros. Justin Verlander will take the ball for Houston, one of the front runners for AL Cy Young. He's also been highly effective against Seattle this year and throughout his career. Through 245 PA against this current roster, he's held them to a .216 opponent batting average, a .298 xwOBA, and a .410 xSLG with an average exit velocity of 88.5 MPH. He has a 2.60 ERA through 34.2 innings this season against Seattle.
Robbie Ray has been solid this year, but his worst starts have come against the Astros. Through 82 PA against the Astros' current roster, he holds a .366 opponent batting average, a .424 xwOBA, and a .565 xSLG. The Astros hit him hard, averaging 93 MPH with an average launch angle of 18 degrees. That's two MPH off of averaging a barrel against Ray. Ray has also had extreme struggles on the road, rocking a 5.09 ERA versus a 2.96 ERA at home.
I think the Astros will get to Ray early again while Verlander holds it down. I'll be taking the Astros through the first five innings.
The Pick: Houston Astros First 5 Innings -0.5 (-115)
1.15 Units to Win 1 Unit
__________
Cleveland Guardians vs. Tampa Bay Rays: 7:10 PM EST
Shane Bieber (RHP, Guardians) [4-6, 3.55 ERA, 1.15 WHIP, 111.2 IP, 110 K, 26 BB]
Jeffrey Springs (LHP, Rays) [3-2, 2.50 ERA, 1.10 WHIP, 68.1 IP, 72 K, 15 BB]
We head to Tampa for the first game of a three-game set. These two teams opened at -110, but at the time of writing, we saw the Rays jump to a -115 favorite, and the Guardians went down to -105. The Rays lineup looks terrible on paper, and the Guardians are throwing 2020 CY Young Shane Bieber. The Guardians have to win, right? Not so fast, at least in my opinion.
The Rays are becoming the most underrated team in the sport. Nobody believes in them anymore after the lineups they continue to put out there. They lost three of four to the Orioles, and everyone seems ready to jump off the bandwagon. This is a perfect time to jump on, as the numbers would indicate this game should be all Rays.
The Guardians struggle against left-handed pitching. This has been a season-long problem for the team, ranking second to last in OPS versus southpaws. In July, they rank 25th in wRC+ and don't generate much power, ranking 27th in ISO in that span. They haven't seen Jeffrey Springs, who's been solid this year. Not only that, the Rays bullpen had a much-needed off-day yesterday, while the Guardians have used up a lot of their bullpen against the Red Sox. Springs has also been elite at home, rocking a 1.76 ERA compared to a 3.11 ERA on the road.
Shane Bieber will get the ball for Cleveland. He's had a drop in velocity, but his secondary pitches have been so good that he'd produced solid results. He hasn't looked like the same pitcher from two years ago, but he's still very talented. The total being at seven means this should be a pitcher's duel, but if you can believe it, the Rays can hit no matter who they put in the lineup.
In July, the Rays rank third in wRC+ against right-handed pitching. They only rank 16th in ISO, but this is not a power-driven offense. They get on base and manufacture runs, and I think they can accomplish that against Bieber, who they've beaten in the past. In 25 PA, Beiber is rocking a .318 opponent batting average, a .354 xwOBA, and a .429 xSLG with an average exit velocity of 94.9 MPH at 18.6 degrees. That's a barrel.
The Pick: Tampa Bay Rays ML (-115)
1.15 Units to Win 1 Unit
___________