Analysis
MLB Best Bets, Odds, and Predictions for Guardians vs. Blue Jays, Orioles vs. Rays for August 13, 2022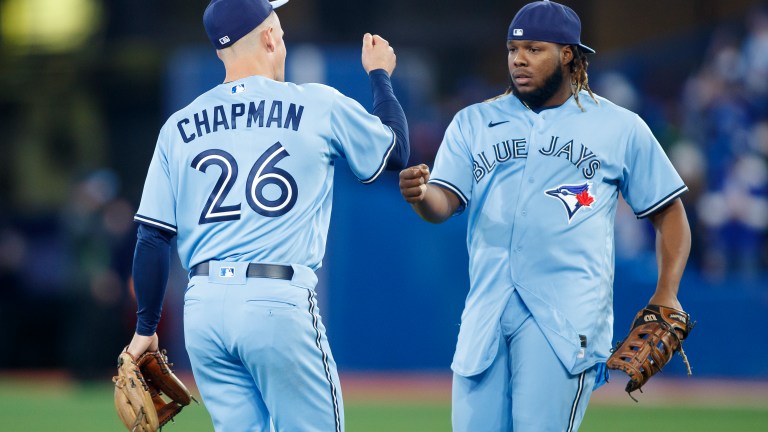 Our third sweep in five days. We are now 10-3 on the week, but we must have a short memory. I've been hot, but that doesn't mean I put in any less focus on these two MLB Best Bets.
We passed the 30 unit mark yesterday behind a 3-0 day worth 3.45 Units. Next stop, 35 units. Let's have a day.
2022 MLB Regular Season Record: 165-135 (56%) +32.04 units
Baltimore Orioles vs. Tampa Bay Rays: 4:10 PM EST
DL Hall (LHP, Orioles) [Rookie Debut]
Shane McClanahan (LHP, Rays) [10-5, 2.24 ERA, 0.83 WHIP, 128.1 IP, 161 K, 23 BB]
We have a system play here that I love taking. It upset the fan of their star rookie pitcher, but I have to play it in this spot, especially in these circumstances.
Who is DL Hall? I've known about him for a while as a left-hander with nasty stuff, but our prospect guru and Co-Founder of Just Baseball, Aram Leighton, just wrote an article about him. Here is a summary, but check the article for much more information.
"You'd be hard-pressed to find a southpaw with better stuff than Hall, but command continues to be challenging for him. Hall's 70-grade heater leads the way in the upper 90s and can even touch triple digits. His fastball command has improved quite a bit, which probably encouraged the O's to promote their second-best pitching prospect.
Handing out free passes at a 14% clip has inflated Hall's ERA to 4.76, but he has shown flashes of brilliance that could translate to big league gems. In his 20 starts this season, Hall has punched out at least seven hitters in nine of them. Most notably, Hall punched out 14 Jacksonville Jumbo Shrimp last month."
DL Hall should have a fantastic career. He just probably won't pitch very well today. This system only matches up in this circumstance, as pitching away from home in your first start often leads to control issues and an early exit. It's the reality of the sport, and no rookie is immune to it. It's certainly not a perfect system, but it's one of my most profitable.
To make it all the sweeter, we have Shane McClanahan on our side, who has struggled as of late, putting up a 5.60 ERA in his last three starts. One of those three starts came against the Orioles, the best of the three, where he threw seven innings, allowing two hits and two earned runs. This year, he's pitched 11.1 innings while allowing six hits, two earned runs and striking out 14 en route to a 1.59 ERA. His struggles should come to a close today, as he's pitched extremely well against the Orioles and is due for a bounce-back start.
These teams have been drastically different since the deadline against left-handed pitching. The Orioles rank near the top while the Rays rank near the bottom. If I could be honest, I wouldn't care if the Orioles ranked first and the Rays last. I have an ace at home against a rookie on the road. I won't blink.
The Pick: Tampa Bay Rays First 5 Innings -0.5 (-120)
1.2 Units to Win 1 Unit
________
Cleveland Guardians vs. Toronto Blue Jays: 3:07 PM EST
Triston McKenzie (RHP, Guardians) [8-8, 3.16 ERA, 0.96 WHIP, 128 IP, 121 K, 33 BB]
Mitch White (RHP, Blue Jays) [1-3, 3.86 ERA, 1.27 WHIP, 60.2 IP, 49 K, 20 BB]
We head to Toronto for the second game of a three game set. The Guardians trounced the Blue Jays yesterday 8-0 behind an incredible performance from the Guardians offense early, and an even better performance from the best pitcher to ever walk the earth, Cal Quantrill. Today, we have two starters who should get beat up a little bit, along with a shaky Blue Jays bullpen. I expect the Blue Jays to rebound after a putting up a goose egg yesterday, but the Guardians match up very well against Mitch White.
I wrote about this yesterday, the Cleveland Guardians love hitting against fastball/slider pitchers. They don't strike out, so they rarely fall into the plans of pitchers who rely on the strikeout. White features those two pitches 71% of the time, and his xERA calls for some slight regression. He struggled in his first start with the Jays, allowing three earned runs on six hits against the Twins. He's a perfect matchup for the Guardians offense early on in this ballgame. He's not a big strikeout guy, but the pitch-mix matchup doesn't lie.
Combine this with the fact the Blue Jays used five relievers yesterday and their bullpen is already not very good. They added Anthony Bass and Zach Pop at the deadline, but since the deadline, this bullpen has a 4.67 FIP that ranks 24th and a 4.76 xFIP that ranks 28th. They also rank 27th in strikeout rate in that span. They are struggling, so expect plenty of offense from the Guardians both early and late.
Triston Mckenzie is not out of the woods either. He does not have a good matchup with the Blue Jays even though he performed well in his lone start against them this year. That start came at home where he's been better all season, but this could be a blow-up for him in Toronto.
His 3.89 xERA is much higher than his actual ERA because he allows plenty of hard contact. He ranks in the 10th percentile in average exit velocity but the results have been lucky for him this year. He won't be as lucky today, as the Jays hit the living piss out of the ball. Since the deadline, the Jays have the third highest hard-hit rate against righties. The Blue Jays feature a mostly right-handed lineup, and McKenzie has reverse splits. He's allowed a .688 OPS versus right-handed bats this year compared to a .522 OPS versus lefties.
The Guardians bullpen has been elite lately but I think the Jays put up enough runs early for us to hit this over fairly easily. James Karinchak, one of the best performers in the Guardians pen is day-to-day, so he may not be available in this one.
The Guardians should also score early and often. To avoid any confusion, I would definitely take this if it goes up to 8.5, or even 9. Expect fireworks.
The Pick: Guardians vs. Blue Jays Over 8 (-120)
1.2 Units to Win 1 Unit.
_______