Analysis
MLB Best Bets, Odds, Predictions for Mets vs. Phillies, Braves vs. Astros, Giants vs. Rockies for August 21, 2022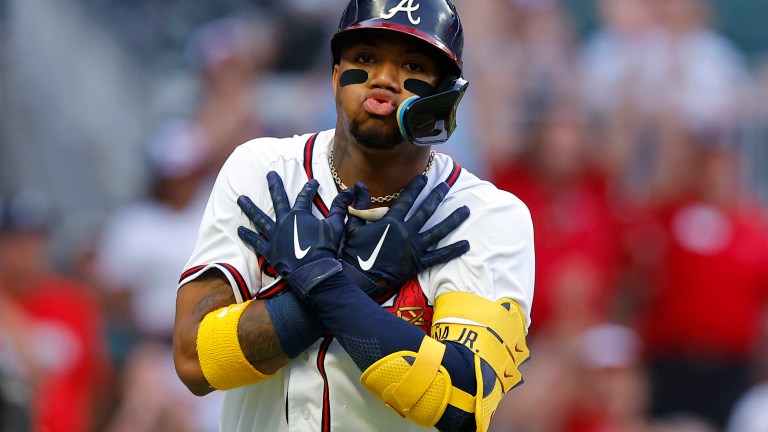 The Play of the Month was a massive success. We took the first five innings over in Diamondbacks vs. Cardinals, and it hit in the third inning. We took the over in the full game, which hit in the sixth inning. The final score of the game was 16-7, and we took over nine runs. What a day.
We have now won five bets in a row. We are now 9-5 on the week, and I have three more picks to push us to 12-5. Let's keep winning. I'm gunning for the 35-unit threshold.
2022 MLB Regular Season Record: 176-143 (55%) +32.89 units
New York Mets vs. Philadelphia Phillies: 1:35 pm EST
Jose Butto (RHP, Mets) [MLB Debut]
Kyle Gibson (RHP, Phillies) [8-5, 4.30 ERA, 1.17 WHIP, 127.2 IP, 102 K, 34 BB]
We head to Philadelphia for the fourth and final game of a four-game set. These two teams played in a doubleheader yesterday in which both teams came out with a win. Unfortunately for the Mets, they have to start a young arm who isn't quite ready for the major leagues. He's on the 40-man roster, but his profile doesn't scream top prospect. On the other side, we have Kyle Gibson, who's prone to a blow-up start. All of this will take place in the highest projected run-scoring environment of the day.
Kyle Gibson is a fine pitcher, but he doesn't inspire much confidence. His xERA sits in the 40th percentile at 4.07, so that number would indicate he's been slightly unlucky this season. He also has some very solid advanced numbers against the Mets roster, and he's pitched well against them this season. So why do I think he won't pitch well today?
For starters, the weather at Citizens Bank park is calling for plenty of runs. According to ballparkpal, the weather forecast calls for a 12% increase in run scoring combined with a 30% increase in home runs. Gibson is a ground-ball pitcher, but he's rocking the lowest ground-ball rate combined with the highest launch angle of his career. He's not keeping the ball on the ground as much, and the Mets have the third lowest ground-ball rate in the month of August against right-handers. He's thrown in two separate occasions against the Mets already, so they are familiar with him.
The Mets demolish right-handed pitching, both over the full season and lately. The Mets have the third highest OPS against righties this season, and they have the third highest wRC+ in the month of August. They may struggle against a lefty, as they did against Bailey Falter yesterday, but don't expect that against Kyle Gibson.
It's not just Kyle Gibson, it's the Phillies bullpen. They've performed much better than a lot of people thought this year, myself included, but they don't have many fresh high leverage arms. Closer Seranthony Dominguez is day-to-day with a triceps issue, and it's unlikely he'll pitch in this one. David Robertson, the setup man, threw 36 pitches yesterday so he'll most likely not be available. A Kyle Gibson start followed by a lack of relievers against the third-best offense in baseball does not inspire confidence in the Phillies.
Talk about a lack of confidence, Jose Butto pitches today. He's just simply not ready for the big leagues. Most of his innings were in AA ball this season, where he put up a 4.00 ERA and a 1.31 WHIP. He got the call-up to AAA, and in two starts, allowed four runs over six innings. Now he has to face the Phillies on the road in his first ever start. The Phillies could have a terrible offense, and I still think they'd crush him. They don't, the Phillies rank 16th in wRC+ against right-handed pitching in August and they just got Kyle Schwarber back.
Following Brutto will be a tired bullpen, but Diaz and Ottavino should be available. The Phillies lack high leverage arms, but the Mets lack pitching to fill the gap between Butto to their best relievers. Both teams should score early and often.
The Pick: Mets vs. Phillies Over 9 Runs (-110)
1.1 Units to Win 1 Unit.
________
Houston Astros vs. Atlanta Braves: 1:35 pm EST
Jose Urquidy (RHP, Astros) [11-4, 3.69 ERA, 1.14 WHIP, 127 IP, 98 K, 26 BB]
Charlie Morton (RHP, Braves) [6-5, 4.04 ERA, 1.18 WHIP, 129.1 IP, 153 K, 45 BB]
We head to Atlanta for the third and final game of a four-game set. The Astros have lost the first two, so it's fully expected they bounce back. The only issue here is the starting pitching matchup heavily favors the Braves, and the Braves are one of the best teams in baseball. The Astros are fantastic, but the Braves are almost as good. They have home field advantage, and they'll get to take advantage of Jose Urquidy.
Urquidy is not a bad pitcher, but he has a problem pitching on the road. In every season he's been in the majors, he's been slightly worse on the road, but this season has been a staunch difference. He's rocking a 2.87 ERA at home versus a 4.41 ERA on the road, and now he'll go into Atlanta to face one of the best offenses in the game.
It's not just his road struggles that make me think he won't perform well, it's his splits. Urquidy has massive issues pitching to right-handed bats, and the Braves are chalked full of right-handed power bats. Urquidy hasn't faced them yet this season, but over his career, it hasn't been pretty. In a small sample of 35 PA, he's allowed a .349 xwOBA, a .261 xBA, and a .520 xSLG. Urquidy gives up plenty of hard contact, and his xERA which sits in the 27th percentile indicates that regression is coming. The Braves should put up enough to make this a breeze.
Morton is getting older, but he can still give you an excellent start at Truist Park. He has a 3.07 ERA at home this season versus a 5.08 ERA on the road. The Astros lineup also has a lot of right-handed bats, and Morton has been much better against righties than lefties this year. Yordan Alvarez is dealing with an illness, but he'll most likely suit up in this game. He's clearly a threat, as is Kyle Tucker, but the rest of the lineup is right-handed. Against Morton in their careers, Tucker and Yordan are a combined 1-9 with four strikeouts.
Morton's former team knows him, but they've never been able to square him up. Through 111 PA, Morton is rocking a .287 xwOBA, a .208 xBA, and a .334 xSLG. He's not the same pitcher he was, but we get the best version of him at home.
With how skewed the starting pitching matchup is in favor of the Braves, I think taking them through the first five innings is the best bet here.
The Pick: Atlanta Braves First 5 Innings -0.5 (-105)
1.05 Units to Win 1 Unit.
________
San Francisco Giants vs. Colorado Rockies: 3:10 pm EST
Jakob Junis (RHP, Giants) [4-3, 3.53 ERA, 1.14 WHIP, 71.1 IP, 63 K, 16 BB]
Kyle Freeland (RHP, Rockies) [7-8, 4.82 ERA, 1.41 WHIP, 130.2 IP, 94 K, 40 BB]
We head to Coors Field for the third and final game of the series. The Rockies have won the first two games, and it's not often they win three in a row. Combine that with the Giants having the clear starting pitching advantage, and they should definitely bounce back.
Kyle Freeland to say it nicely stinks at Coors Field. This is nothing new for Freeland. Dating back to 2018, his ERA has always been worse pitching at home, and the same thing applies for him this season. He's rocking a 6.00 ERA at home versus a 3.62 ERA on the road. He's rocking a 5.76 ERA during the day versus a 4.32 ERA during night games. This is as bad of a matchup for him as it gets, and in his lone start against the Giants, he surrendered three runs on seven hits over six innings.
Freeland has some solid advanced numbers against the Giants through 170 PA. He's sporting a .252 xBA, a .421 xSLG, and a .322 xwOBA. Those numbers are slightly deflated by facing some pitchers last season, but of the current Giants hitters, they have seven in the lineup with an xwOBA over .325. That's not good.
Opposing Freeland will be Jakob Junis, who has been one of the better pitchers in the Giants' rotation this season. His xERA implies slight regression, but not much, as it sits in the 50th percentile at 3.87. Junis has done an excellent job this year at getting out right-handed bats, and most of the Rockies lineup is right-handed. That might explain why his advanced stats against the Rockies are strong, albeit in a limited sample. Through 31 PA, Junis is rocking a .312 xwOBA, a .254 xBA, and a .462 xSLG. I don't put a ton of stock in them, as only four Rockies bats have faced him, going a combined 5-29 (.172 AVG).
The best pitches to throw in Coors Field are the fastball and slider. Junis is a slider dominant pitcher, throwing it about 49.7% of the time. While I don't expect him to shut them out, I expect the Giants to get to Freeland early and often. The Giants rank seventh in baseball in wRC+ against lefties since the trade deadline, and Freeland just isn't very good. The Rockies rank 25th in wRC+ against righties since the All-Star break. Freeland's 13th percentile xERA should drop even lower in this one while Junis' raises.
The Pick: San Francisco Giants First 5 Innings -0.5 (+100)
1 Unit to Win 1 Unit.