Analysis
MLB Best Bets, Odds, Predictions for Brewers vs. Diamondbacks, Rockies vs. Reds for September 2, 2022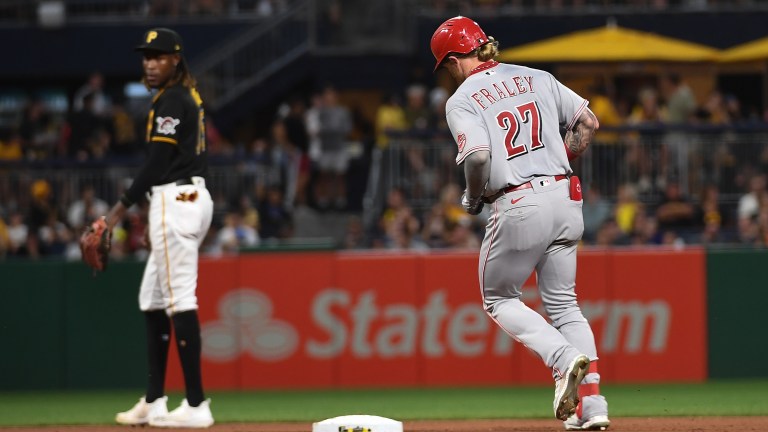 Winning day yesterday! A Shea Langleirs fifth innings home run was the only thing that kept us away from a perfect day.
We are back with three MLB Best Bets and three player props only available on the podcast.
2022 MLB Regular Season Record: 189-161 (54%) +29.54 units
Milwaukee Brewers vs. Arizona Diamondbacks: 9:40 pm EST
Eric Lauer (LHP, Brewers) [10-5, 3.58 ERA, 1.24 WHIP, 135.2 IP, 129 K, 51 BB]
Zach Davies (RHP, Diamondbacks) [2-4, 3.82 ERA, 1.20 WHIP, 108.1 IP, 80 K, 38 BB]
We head to Chase Field for the second game of a three-game set. The Diamondbacks shut out the Brewers last night behind an excellent performance from Merril Kelly while the snakes got to Woodruff early and often. The scoring stopped after the sixth inning, and the Brewers fell flat on their face. I don't see that happening today; we should see plenty of runs.
Eric Lauer will get the ball for Milwaukee who has been pretty lucky over the full season. His 4.27 xERA sits in the 32nd percentile and his 4.79 FIP is even worse. Eric Lauer allows harder contact, walks more, and strikes out less batters than the average pitcher. While his 3.58 ERA is above average, almost everything else is below average. He's a fine pitcher, but his struggles on the road (4.15 ERA) should continue today against the Diamondbacks.
Lauer hasn't pitched against Arizona this season, but there is still some familiarity there. Through 43 PA against Brewers' current roster, he's sporting a .371 xwOBA, .263 xBA, and a .508 xSLG. However, ten of those AB's have come from pitchers on the Diamondbacks, so all these numbers get even worse against the current hitters on the team.
Following Lauer will be a bullpen that is mediocre at best. Devin Williams is awesome, but that's about it. They rank 20th in ERA and 23rd in FIP over the last two weeks. Expect plenty of offense from Arizona today.
I'm not picking the Diamondbacks to win this game because offense should come from Milwaukee as well. They've been one of the best offenses against righties, ranking second in OPS this season. Over the last two weeks they have a 113 wRC+ against right-handers, ranking eighth in baseball. They can get to Davies even though they haven't faced him before, as he's another candidate due for regression.
Davies 3.98 xERA is slightly deceiving, as his 4.56 FIP and 4.48 xFIP tell a different story. He walks too many batters without producing strikeouts. He relies on soft contact, but the Brewers rank second in hard-hit rate over the past two weeks. He's faced the Brewers bats plenty of times over his career (104 PA), resulting in a .369 xwOBA, .271 xBA, and a .472 xSLG.
Following Davies is quite possibly the worst bullpen in baseball. Arizona ranks 25th in bullpen ERA over the season with the worst ERA since the all-star break, second worst since the deadline, and by far the worst over the past two weeks.
I'm expecting a ton of offense in the number one ballpark on ballparkpal for the offense which calls for a 9% increase in runs.
The Pick: Brewers vs. Diamondbacks Over 8.5 (-110)
1.1 Units to Win 1 Unit
_________
Colorado Rockies vs. Cincinnati Reds: 6:40 pm EST
Kyle Freeland (LHP, Rockies) [7-9, 4.88 ERA, 1.40 WHIP, 142 IP, 101 K, 44 BB]
Luis Cessa (RHP, Reds) [3-2, 5.36 ERA, 1.44 WHIP, 43.2 IP, 32 K, 16 BB]
We head to Great American Ballpark for the first game of a three-game set. Is this the most entertaining game in the world? No, but at this point, we have to find an edge any way we can. We have an edge here, and you're not going to like it.
First, let's talk about narratives. While the Reds are one of the worst teams in baseball, it doesn't get much worse than this Rockies team on the road. The Reds are just two games off of the Rockies in the loss column, and the Rockies are the worst road team in all of baseball.
I think people will look at the Rockies as an underdog and believe they can beat up on the Reds. Freeland is better on the road, and some no-name pitcher in Luis Cessa is on the mound with a 5.26 ERA. Not so fast, the Reds have the advantage here.
The Reds have been sneaky good against left-handed pitching lately. Over the past two weeks, they have a .307/.349/.482 slash line with a 125 wRC+ which ranks 11th in baseball during that span. While Freeland has been better on the road this season and over his career, this current Reds roster has some success against him.
He did shut them down at home this season over seven innings, but in 32 PA against the Reds' current roster, he holds a .394 xwOBA, a .333 xBA, and a .582 xSLG with a 3.2% strikeout rate.
Freeland's 5.30 xERA ranks in the seventh percentile in baseball. By that stat, he's actually been a bit lucky, even though his 4.88 ERA is already far below average.
Luis Cessa isn't very good either, but his xERA is better than Freeland's, and the Reds bullpen had a full day to rest in this one. The Rockies continue to be terrible against right-handers on the road, ranking 26th in wRC+ since the trade deadline and dead last in the past two weeks.
The Rockies bullpen has performed better than the Reds lately, but since the trade deadline, the Reds rank 10th in FIP and 8th in ERA, while the Rockies rank 26th in ERA and 24th in FIP.
The Reds are at home, had a day off yesterday, and are simply the better team right now. The Rockies can't hit at all on the road, and I'm confident the Reds can do enough to win this one outright. Considering the Rockies can't score, I'll also be sprinkling on the under even though I'm not as confident in it.
The Pick: Reds ML (-115), Under 9.5 (-115)
1.15 Units on Reds ML, 0.57 Units to Win 0.5 Units on Under 9.5