Analysis
MLB Best Bets, Odds, Predictions for Braves vs. Cardinals, Padres vs. Royals, Diamondbacks vs. White Sox for August 27, 2022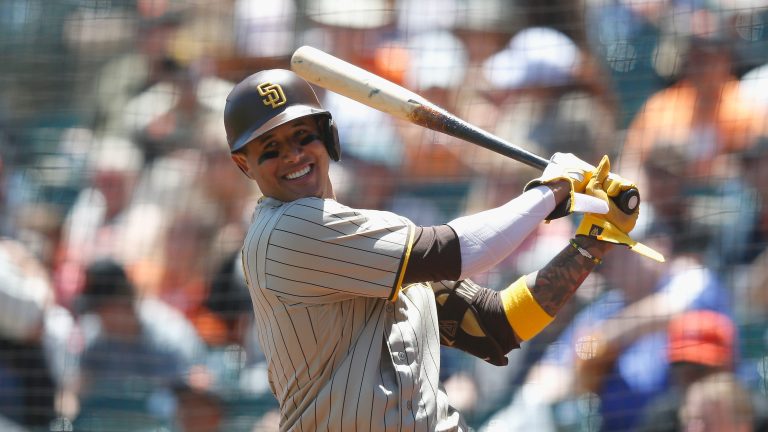 We had one of those days yesterday where we watched some baseball and didn't make or lose any money. We went exactly even, fun!
I took the over in Mets vs Rockies and it finished with 13 runs. Chris Bassitt was pitching a little too well, and he finally had his roughest start of the month. The Mets came back in the end and won the game 7-6 to hit the over of eight runs.
I had a terrible read on the Rangers vs. Tigers game. I took the under and it was done by the fourth inning. Tyler Alexander got bombed early and often and the Rangers almost hit the over by themselves. We took it at +100 and the other over at -120.
I have four picks today, with two being in the same game. It's three main picks with a sprinkle on a run line. Let's have a good weekend.
2022 MLB Regular Season Record: 182-148 (55%) +34.89 units
Atlanta Braves vs. St. Louis Cardinals: 7:15 pm EST
Charlie Morton (RHP, Braves) [6-5, 3.99 ERA, 1.17 WHIP, 135.1 IP, 164 K, 47 BB]
Jordan Montgomery (LHP, Cardinals) [7-3, 3.08 ERA, 1.01 WHIP, 140.1 IP, 121 K, 26 BB]
We head to St. Louis for the second game of a three-game set. The Braves wiped the floor with the Cardinals yesterday, and now they'll send Jordan Montgomery to the hill to write the wrongs of yesterday. Old man Chuck Morton gets the ball for the Braves and Atlanta opened as short favorites and the money line has crept in their direction.
Jordan Montgomery has been doing his best CC Sabathia impression since being traded from the Yankees at the trade deadline. In August, Montgomery has allowed just one earned run in 25 innings. He's coming off the best start of his career, throwing a one-hit shutout against the Cubs with seven strikeouts. No way he can lose… right?
Similar to Chris Bassitt yesterday (who allowed four earned runs), he's almost pitching too well for my liking. He's a solid pitcher, don't get me wrong, but this level of dominance isn't sustainable. This season, the Braves rank as the third best team against lefties in OPS, right behind the Cardinals and the Yankees.
In the last two weeks, the Braves rank fifth in wRC+, third in batting average, and fourth in OPS. They are a juggernaut against southpaws and Jordan Montgomery should finally fall back to earth.
The Braves have faced him before, and it didn't go well for Montgomery. He hasn't faced them this season, but he's compiled 41 PA against the Braves' current roster. In those plate appearances, he's posted a .433xwOBA, a .322 xBA, and a .645 xSLG. That's alarmingly bad. Montgomery's xERA sits at 3.90, so he's due for some negative regression.
Opposing Montgomery will be Charlie Morton, who is still doing his thing at 38 years old. Unlike Montgomery, Morton's ERA is right around where it should be, as his xERA is at 3.98. He's also had much more success against the Cardinals' current roster in a larger sample.
Through 128 PA, he's rocking a .300 xwOBA, a .235 xBA, and a .369 xSLG. I don't expect him to dominate, as the Cardinals have the number one offense against right-handed pitching in the last two weeks. I do expect him to pitch better than Montgomery.
The bullpen advantage leans towards the Braves, both over the full season and lately. The Braves bullpen is also more rested than the Cardinals, and they should be able to shoulder the load if Morton gets into any trouble. I can't say the same for the Cardinals at the moment.
The Pick: Atlanta Braves ML (-115)
1.15 Units to Win 1 Unit
_______
San Diego Padres vs. Kansas City Royals: 7:10 pm EST
Yu Darvish (RHP, Padres) [10-7, 3.39 ERA, 0.99 WHIP, 148.2 IP, 147 K, 27 BB]
Daniel Lynch (LHP, Royals) [4-8, 4.58 ERA, 1.52 WHIP, 98.1 IP, 91 K, 42 BB]
We head to Kansas City for the second game of a three-game set. Honestly, when going through this game, I thought to myself, how can the Padres not cover the run line? I think they'll crush Daniel Lynch and they are guaranteed nine innings of hitting as the road team. My only worry here is the Padres bullpen has been suspect, and you never can be too confident in a Yu Darvish road start. I saw the total was pretty high, so I thought, why not take the over?
At the same time, I think it's foolish not to sprinkle on the Padre's spread in case Yu Darvish dominates. I really like it, but the Padres are a huge public team today so I don't want to go all out.
Daniel Lynch should get rocked today. The Padres offense is still lethal, especially against left-handers. In the last two weeks the Padres are the number one offense against left-handed pitching, sitting with a 171 wRC+ with an absurd .370/.422/.543 slashline to go along with the third lowest strikeout rate. Since the trade deadline, they've been about league average against southpaws, but they are seeing them extremely well right now.
They just bombarded Kris Bubic yesterday for six runs over four innings, and Lynch should suffer a similar type of start today. Lynch allows an alarming rate of hard contact, sitting in the fifth percentile of hard-hit rate and the seventh percentile in average exit velocity. The Padres have the second-highest hard-hit rate in the last two weeks against lefties, which doesn't inspire confidence that he pitches well today.
Behind Lynch will be one of the worst bullpens in the majors that had to shoulder six innings of work yesterday. In the last two weeks, they rank dead last in ERA and xFIP and they have the second worst FIP as a staff. The Padres could hit this over by themselves.
Don't count out the Royals bats. They rank 10th in hard-hit rate in the past two weeks, even though the results haven't exactly been there. When you hit the ball hard consistently, good things are bound to happen. The Padres bullpen has been very good in the past two weeks, but they are still very prone to blowups.
Yu Darvish has been solid this season, but he's always had trouble pitching on the road. Last season, his ERA was a full two runs worse on the road, and this year that same trend holds true. He's also been tougher on left-handed bats this year, and we see most of the best bats in the Royals lineup are right-handed. I think he pitches well, but not so well that we see some sort of dominant performance.
The weather in Kansas City is calling for runs. We have 10-14 MPH winds blowing out to left field and it's supposed to be upwards of 80 degrees at game time. That type of environment screams offense, and we should see plenty of it today on both sides.
The Picks: Royals vs. Padres Over 8.5 (-110), Padres -1.5 (-135)
1.1 Units to Win 1 Unit (OVER), 0.5 Units to Win .37 Units
____________
Arizona Diamondbacks vs. Chicago White Sox: 7:10 pm EST
Merrill Kelly (RHP, Diamondbacks) [10-5, 2.87 ERA, 1.14 WHIP, 150.1 IP, 128 K, 47 BB]
Davis Martin (RHP, White Sox) [2-3, 4.25 ERA, 1.19 WHIP, 36 IP, 26 K, 10 BB]
This is purely a line read, as nobody wants to put their hard-earned money on this White Sox team. They are undisciplined, not well coached, have injuries throughout their lineup, and they are bad defensively. They are pitching a rookie without much experience against a really good pitcher in Merril Kelly.
The public came in on the Diamondbacks, and the line moved in favor of the White Sox. This seems very fishy to me, especially after the Diamondbacks just crushed them yesterday. Whether we like it or not, the White Sox are the better team, and at plus money, I think this is the play.
The White Sox can definitely hit, and in the last two weeks, they rank 9th in wRC+ against right-handed pitching. Merrill Kelly is enjoying a great season, but he is due for some slight negative regression with his 3.21 xERA. I don't think he'll be the problem, but the Diamondbacks bullpen certainly will be.
The bullpen is bottom five in ERA, opponent batting average, FIP, xFIP, wOBA, you name it. The only good bullpen arm if Joe Manitply, and he's a left-hander that the White Sox love to hit.
Davis Martin is a fine rookie. He's one of the better pitching prospects in the White Sox system, and he's enjoyed average results so far in his first stint in the big leagues. The Diamondbacks can hit a sinker-baller, but four-seam/slider combinations can give them trouble. That's what Martin will give the Diamondbacks about 77% of the time. Following Martin will be an average bullpen, but much better than Arizona's.
The Diamondbacks feel like one of those trap favorites. We've seen how bad they've played against the Orioles, then they just put up a stinker yesterday. We have a much better pitcher in Kelly going up against a rookie that most haven't heard of. The Diamondbacks at -120 on the money line feels too easy, and on Saturdays in the dog days of summer, it never is.
This game is pretty even, but I'm willing to stick with the home team at plus money. I would take this up to -110, but if they somehow get juiced towards a larger favorite it wouldn't be worth it anymore.
The Pick: Chicago White Sox ML (+100)
1 Unit to Win 1 Unit