Analysis
MLB Best Bets, Odds, Predictions for Athletics vs Nationals, Rockies vs. Braves for September 1, 2022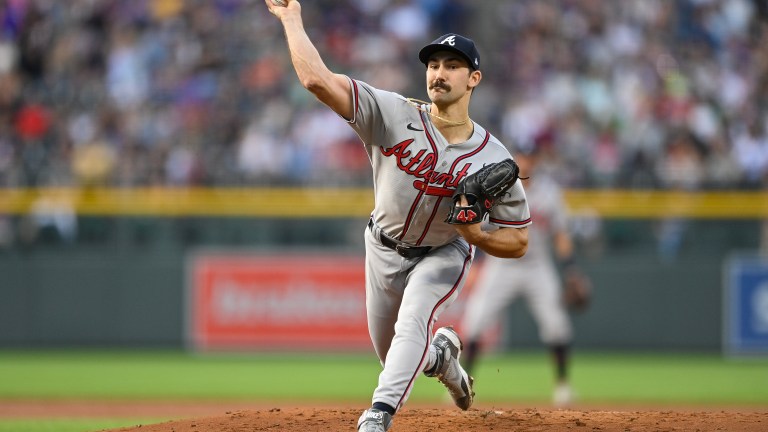 We went 1-1 yesterday and didn't lose a thing. In yesterday's article, I only put out one play, which was the first five innings over in Diamondbacks vs. Phillies. 10 runs were scored through those five innings.
I got greedy and took the Rays through the first five when I saw Trevor Rogers was making his return. We should have known that Rogers would look like the 2021 version. I'm kidding, it's almost impossible to predict his stuff would look electric after returning from injury.
We are currently down 3.65 units this week. I intend to make a lot of it back today with three picks.
I will be all over the props today as well, so check out my podcast for a breakdown of my favorite player props on PrizePicks.
2022 MLB Regular Season Record: 187-160 (54%) +28.54 units
Oakland A's vs. Washington Nationals: 4:05 pm EST
Ken Waldichuk (LHP, A's) [MLB Debut]
Paolo Espino (RHP, Nationals) [0-6, 4.35 ERA, 1.31 WHIP, 91 IP, 69 K, 19 BB]
This one is simple; we fade rookie pitcher's making their debut on the road. It's another system that has worked for us all season, and I don't intend on stopping it now. Especially what Ken Waldichuk has only thrown 65 innings in his career at triple-A, and the numbers aren't awe-inspiring.
Ken Waldichuk was the main piece that went over from the Yankees to the A's in the Frankie Montas deal. Waldichuk wasn't expected to debut this year for the Yankees, but with the lack of arms that the A's have, they thought it made sense to bring him up for start as the rosters expanded. It's a good idea for them to look at what they have, but that doesn't mean they'll win the game.
In Triple-A this season, Waldiuchuk through 47 innings in the international league, putting up a 3.59 ERA and a 1.28 WHIP. Waldichuck has strikeout stuff, putting away 70 hitters but walking 23, not very good. In 18.2 innings in the PCL, he rocked a 3.38 ERA and a 1.23 WIP, but only walked three hitters while striking out 21. This performance is likely what gave him the call-up, but I'm not sure he's ready to get out big league hitters consistently.
Luckily for Waldichuk, the Nationals put out lineups that are the closest thing to minor league lineups. That's a joke, as big league hitters are big league hitters, and while the Nationals did trade away Juan Soto and Josh Bell, they can still hit a young pitcher who hasn't even dominated triple-A. While the Nationals aren't much of a threat, they have at least been salvageable against left-handed pitching.
Since the trade deadline, they are rocking a 92 wRC+, which places them 20th in baseball. In the last two weeks, it's risen slightly to 94 wRC+. This lineup as of now is a slightly below-average offense against left-handed pitching. That's enough for me; they are a big league lineup.
The only way the A's can win this is if they beat Paolo Espino, which is possible, but not probable. Espino has been the Nationals' best starter this year. That's not saying a whole lot, but considering the A's have a 92 wRC+ against right-handed pitching and the lowest hard-hit rate since the trade deadline against right-handers, I'm more than comfortable backing the Nationals in this spot.
The bullpen advantage is negligible, and I think the Nationals go up early and win the game outright.
The Picks: Washington Nationals First 5 Innings -0.5 (+120), Nationals ML (-115)
1 Unit to Win 1.2 Units (First 5), 1.15 Units to Win 1 Unit (Full Game)
________
Colorado Rockies vs. Atlanta Braves: 7:20 pm EST
Chad Kuhl (RHP, Rockies) [6-7, 5.17 ERA, 1.51 WHIP, 108 IP, 80 K, 47 BB]
Spencer Strider (RHP, Braves) [8-4, 2.87 ERA, 1.03 WHIP, 106.2 IP, 158 K, 38 BB]
What I'm about to do is somewhat irresponsible, as it's a bet I've never made before. I feel this matchup is so incredibly lopsided that I have no choice.
We are heading to Atlanta for the third game of a three-game set. Both games have been close, with the Rockies winning 3-2 in game one, and the Braves winning by the same score the day after. I'm sure Braves bettors are scared at this point, as each game has opened with a money line north of -300, and the Braves haven't covered the spread one. Not only do I think they'll cover the spread today, but I think it'll happen early.
I've seen all that I needed to see with Spencer Strider. There are only a handful of pitchers that I want more than him on the mound at this moment. His fastball is Jacob deGrom-esque, and his slider should be classified as a deadly weapon. I love that he mixes in a changeup that he's thrown 110 times this year and it's only surrendered two hits. The Rockies are not good against right-handed pitching, especially pitchers like this on the road.
We saw this first-handed in the Jacob deGrom start, where he threw four no-hit innings before an infield hit. The Rockies can feast on lefties, and the occasionally soft-tossing righty, but when they see pitchers like Strider, they fold. You may look at Strider's last appearance against the Rockies and point to the fact that they can hit him. He allowed two hits and one run against them back on June 4th over four innings.
That start was at Coors Field, and at the time, that was his third longest appearance in the major leagues. He's grown so much since then, and it's expected that a rookie won't have an elite showing pitching in altitude for his first time. Today, he'll be pitching at home, where he's been better this season.
Opposing Strider will be Chad Kuhl. I will fade Chad Kuhl until the wheels fall off. Kuhl already faced the Braves this season, throwing six shutout innings and only allowing five hits in the process. In that game, Kuhl allowed eight balls to be hit over 95 MPH but was able to weasel his way out of it.
Kuhl was pitching much better at this point, but since July, he's been one of the worst pitchers in baseball. His 8.71 ERA in July is dreadful, and since August began, he's thrown 10 innings and allowed 12 earned runs. When we look at his baseball savant page, it's much more indicative of the pitcher he truly is.
The Braves can certainly hit a slider, they are one of the best in the sport at it. A lot of their lineup matches up well against sinkers as well, which is most of Kuhl's pitch mix. With the line being set at 8, I believe it's due to the fact that the Braves are expected to dominate this matchup.
Since the trade deadline, the Braves are sixth in wRC+ against right-handers and the Rockies are 29th. In the last two weeks, the Braves lineup hasn't looked good against right-handers, but it doesn't compare to the 30th ranked team, the Colorado Rockies. The Braves should go up early, and Strider shouldn't allow more than one run through five innings.
The Pick: Atlanta Braves First 5 Innings -1.5 (-115)
1.15 Units to Win 1 Unit.