Analysis
MLB Best Bets, Odds, Predictions for Astros vs. Orioles, Braves vs. Phillies for September 22, 2022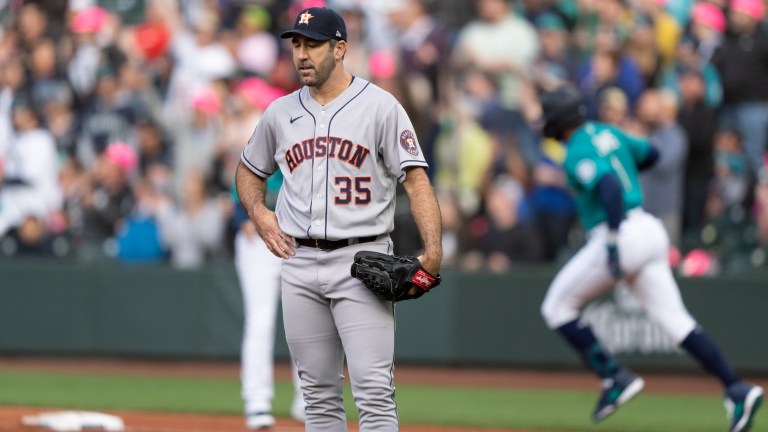 Five straight winners. We are 5-0 in the MLB to start the week. We achieved the 40-unit goal!
We have two MLB picks, picks for Thursday Night Football, and plenty of props on the podcast. We are 16-4-1 in the NFL so far, so I'm looking to keep the momentum in both sports today.
2022 MLB Regular Season Record: 212-172 (55%), +41.44 Units
Houston Astros vs. Baltimore Orioles: 7:05 pm EST
Justin Verlander (RHP, Astros) [17-3, 1.78 ERA, 0.83 WHIP, 157 IP, 163 K, 27 BB]
Kyle Bradish (RHP, Orioles) [3-7, 5.05 ERA, 1.45 WHIP, 101.2 IP, 93 K, 37 BB]
We head to Baltimore for the first game of a four-game set. Justin Verlander returns from injury and Kyle Bradish will get the ball for the Orioles. This should be a great game, as Baltimore is building momentum on offense, yet the Astros are a juggernaut. I'm not exactly sure who will win, but I do think I can count on one thing.
Let's talk about line movement. The public has come in on the under at around 60%, yet the total has risen from, 6.5 to 7 in most places. I found that jump very interesting as I was already leaning towards the over. I think we have a very solid shot of pushing at this number, but I do believe it will exceed seven runs.
The Astros have indicated that they will not set a pitch count for Justin Verlander, but my guess they will be careful with him. They are set for the playoffs, and extending him this late in the season makes zero sense. He threw five no-hit innings against the A's in his return from injury, limiting him to 79 pitches. I don't think we'll see more than six innings regardless of how well he pitches.
The narrative that the Orioles' magic has run out is a bit overblown. This is still a very good offense, especially against right-handed pitching. In the last two weeks, the Orioles have a 108 wRC+ against right-handed pitching, ranking ninth in that span. He's only pitched once against the Orioles this season, which was the start he only threw three innings and then exited the game.
Following Verlander will be baseball's best bullpen, which again, could be bad news for the Orioles. Ryan Pressly, the best of the bunch, will most likely not be available after throwing in two straight games. I'm going to go out on a limb and say we get a few runs off of Verlander and one run against the bullpen.
While I'm expecting three runs from the Orioles, I'm expecting Houston to win this game in the end. Kyle Bradish's stuff has looked much better in the second half, but he has been pretty inconsistent. In his last start against the Astros, he threw eight shutout innings while only allowing two hits. I expect that to completely reverse today as you can't hold this Astros offense down like that more than once.
In the last two weeks, the Astros have a 116 wRC+ against right-handed pitching, ranking eighth in baseball during that span. The Orioles bullpen got a night off after Jordan Lyles threw a complete game, but my thinking is they'll be used plenty today after Bradish gets roughed up.
The reason the Orioles' "magic" has fallen off hasn't really been the offense, it's been this bullpen. They rank 20th in bullpen ERA at 4.31 with a 3.59 FIP. They are not impervious to allowing runs, especially against an offense as lethal as Houston.
This feels like a "hold your breath" over, but I do think it has a very solid shot of landing at seven or going over. There are too many variables here that work for it going under a total this low.
The Pick: Astros vs. Orioles Over 7 (-105)
1.05 Units to Win 1 Unit
________
Atlanta Braves vs. Philadelphia Phillies: 7:15 pm EST
Max Fried (LHP, Braves) [13-6, 2.52 ERA, 1.02 WHIP, 175.1 IP, 159 K, 31 BB]
Ranger Suarez (LHP, Phillies) [9-5, 3.53 ERA, 1.30 WHIP, 140.1 IP, 118 K, 53 BB]
We head to Philadelphia for the first game of a four-game set. This will be a dogfight until the end, as both teams are gunning for respective spots in the playoffs. Atlanta is attempting to keep pace with the Mets and the Phillies need to keep winning to hold off the Brewers for the last remaining wild-card spot. We have a very solid pitching matchup, but the offense should be there.
Normally we see games like this go into extra innings. The Braves have the advantage today in most aspects, but the familiarity between these two teams and starting pitchers is screaming a 5-4 score for me. I believe we are getting value on this over with how good these starters have been on the surface.
Max Fried has been awesome this season, but he hasn't been as awesome against the Phillies. His last start was against the Phillies, and this will now be his fourth appearance against them this season. We saw this exact matchup just five days ago where the Braves ended up winning 7-2. It was decided by the bullpens, as Fried threw six innings of two-run ball.
The Braves bullpen has been working hard lately. They haven't had an off-day since September 15th and none of the starters have given them much length.
Ranger Suarez just faced the Braves as well, turning in six innings of one-run ball. That start was on the road, where he has been much better this season. He's rocking a 4.70 ERA at Citizens Bank Park but a 2.67 ERA on the road. His issue this year is right-handed bats as well, and the Braves lineup is full of them.
This will now be his fifth appearance against the Braves, and he hasn't been all that great against them. Over four starts, he has allowed 10 earned runs, and 13 total runs, in 22 innings to give him a 4.09 ERA.
The Phillies bullpen behind Suarez has had major work over the past few days. Most of the high-leverage arms have thrown 20+ pitches in the past two days so the regular bullpen shouldn't be at full strength.
Seranthony Dominguez, the closer, threw 25 pitches yesterday and allowed two earned runs. David Robertson and Jose Alverado threw 18 pitches yesterday. We should expect them to pitch, but they won't be fully ready to dominate.
I do see this game ending at nine runs, so I feel the over is a strong play. These hitters know both the starters and relief pitchers very well, but don't expect this to hit early on. This will be one of those overs that hits at the end.
The Pick: Braves vs. Phillies Over 7.5 (-110)
1.1 Units to Win 1 Unit