Analysis
MLB Best Bets, Odds, and Predictions for Braves vs. Mets, Dodgers vs. Giants for August 4, 2022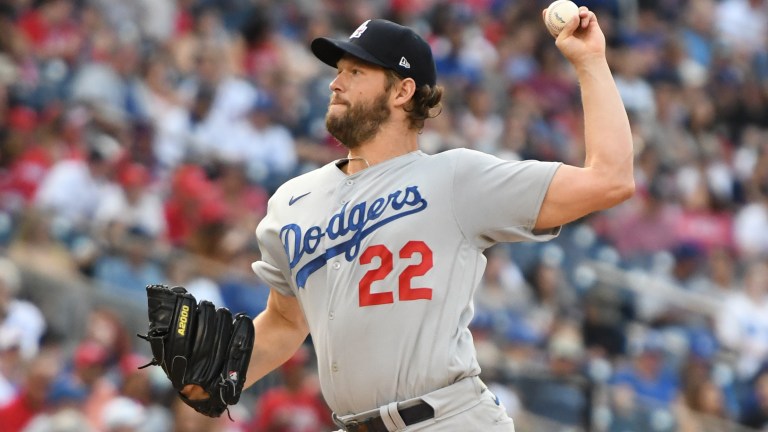 We swept the board yesterday! Feels good to continue to win, as we are now 4-0-1 in our last two days. I have two main picks for you as well as two underdog picks in our Chalkboard Groupchat.
Let's get into it.
2022 MLB Regular Season Record: 151-126 (55%) +26.89 units
Atlanta Braves vs. New York Mets: 7:10 PM EST
Kyle Wright (RHP, Braves) [13-4, 2.93 ERA, 1.15 WHIP, 122.2 IP, 120 K, 36 BB]
Carlos Carrasco (RHP, Mets) [11-4, 3.79 ERA, 1.31 WHIP, 111.2 IP, 108 K, 30 BB]
We head to New York for the first game of a five-game series. Lock in people, this should be one of the more competitive series of the season so far as the Braves sit just 3.5 games out of the division lead. It will be a tall task for the Braves to come into Citi Field and win four of five, but I believe they should be the favorites in game one based on the starting pitching matchup.
This game should be close, real close as evident by the line. The Mets are the favorite, which does make sense as they are the home team and the team in first place. Kyle Wright has been better at counting numbers (ERA, WHIP), but the xERA's of both pitchers sit in the 47th percentile. Wright has a minuscule edge, in xERA, and a slightly larger edge in FIP and xFIP. Carrasco has been better at home this year and Wright has been better on the road. This is a close one, but there is a factor here that I find really interesting.
This matchup was played out already on May 3rd, where Carrasco through eight shutout innings and gave the Mets the 3-0 win at home against Kyle Wright. Wright didn't pitch that well, throwing seven innings, allowing three runs, but only striking out one and allowing nine hits. As the baseball gods often do, matchups as close as these ones often reverse in favor of the losing team. The Braves make their adjustments to Carrasco and Wright makes the proper adjustments to the Mets lineup. The game-plan worked for Carrasco and the Mets' offense, so there isn't much to change on their side.
Another reason I give the lean towards Wright in this matchup is the splits versus righties and lefties. Wright has been extremely tough on right-handed bats this season, and while the Mets will deploy a left-handed dominant lineup, the two righties, Marte and Alonso, could be slightly limited here. Carrasco on the other hand has been slightly worse against right-handed bats, and the Braves have Acuna, Swanson, Riley, and Ozuna near the top of the lineup.
When we look at the bullpens, the Braves have the advantage. While the Mets have the best closer in baseball right now, the Braves bullpen is deeper and more robust. They have a slew of battle-tested arms that should be ready to go after Braves' starters have given them some length in recent starts.
The offense advantage leans towards the Mets in this one, as the Mets have been the better offense against right-handed pitching all season and in the past month. Similar to the bullpen and starting pitching advantage for the Braves, the offense isn't that much better, but it still leans towards the Mets.
This should be a phenomenal game and I can't wait to watch it. I'll go with the underdog here as the Braves can see deGrom and Scherzer lurking in the shadows and this will feel as more of a must-win than it will for the Mets.
The Pick: Atlanta Braves ML (+105)
1.05 Units to Win 1 Unit
___________
Los Angeles Dodgers vs. San Francisco Giants: 3:45 PM EST
Clayton Kershaw (LHP, Dodgers) [7-3, 2.66 ERA, 0.98 WHIP, 81.1 IP, 84 K, 14 BB]
Jakob Junis (RHP, Giants) [4-2, 2.78 ERA, 1.05 WHIP, 58.1 IP, 48 K, 12 BB]
We head back to San Francisco and we are dipping our toes in similar logic as yesterday. We cashed the under, as the game ended 3-0. The Giants loaded the bases in the bottom of the ninth as Craig Kimbrel gave us a typical jump-scare as you'd see in a horror movie. Nonetheless, he finished the job and we ended up on the right side. Today, I see much of the same, but I'm not putting my eggs in these bullpens baskets anymore.
Let's talk starting pitching because I'll be isolating the first five innings in this one. We have one of the GOATS, Clayton Kershaw taking on Jakob Junis, who could look like a GOAT in this one.
Similar to Urias, Clayton Kershaw has owned the Giants. Through 157 PA against the Giants' current roster, he owns a .180 opponent batting average, a .308 xwOBA, and a .467 xSLG with a 33.6% K rate. That xSLG is a bit higher than I would like, but we are playing this game in Oracle, a notorious pitchers' park with a vast outfield that's challenging to get the ball over the fence. On top of this, the Giants rank 18th in ISO, 24th in SLG, and 25th in Hard-Hit Rate. They don't hit the ball very hard as a team, and I don't expect that to tick up against Clayton Kershaw.
Kershaw has been slightly better on the road this season and he's been weirdly really dominant during day games. In 2020 we saw the same thing while in 2021 there wasn't much of a difference. This season he's rocking a 1.79 ERA during the day compared to a 3.51 ERA in night games. Another fun stat, Brandon Belt is 4-62 with 30 strikeouts against Kershaw. That's so incredibly bad, and he's the best hitter in the lineup.
Is Jakob Junis elite? No, not really, but for some reason, the Dodgers haven't been able to time him up. He threw once against them this year, throwing five innings of two-run ball while striking out five hitters. Over his career against the Dodgers' current roster in 36 PA, he holds a .179 opponent batting average, a .299 xwOBA, and a .349 xSLG with a 29.4% K rate. That's even better than Kershaw! A limited sample of course, and both pitchers are allowing an average exit velocity of under 89 MPH against the current rosters.
The Dodgers should be able to hold their own against Junis. I'm not expecting a shutout, but I believe he'll deliver a similar type of performance to that of his first start against them. On Kershaw's side, he should dominate. I've seen this line juiced towards the under at 4.5 and at plus money at 4. I like both, but I'll take the extra bit in case it lands on four.
The Pick: Dodgers vs. Giants First 5 Innings Under 4.5 (-120)
1.2 Units to Win 1 Unit