Analysis
MLB Best Bets, Odds, Predictions for Guardians vs. Padres, Marlins vs. A's for August 24, 2022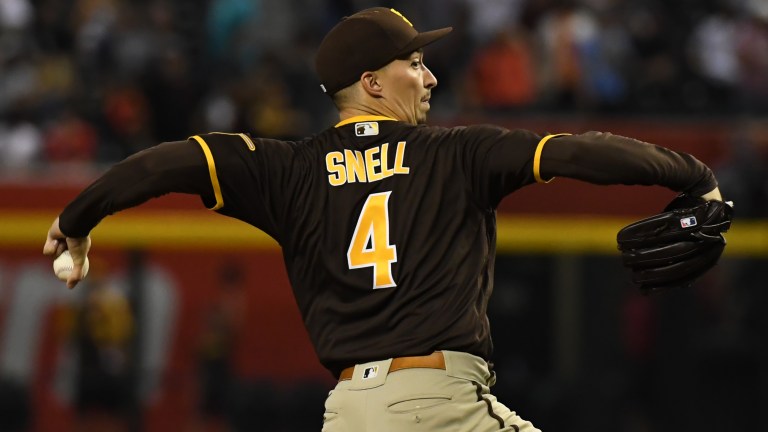 DO YOU BELIEVE IN MIRACLES??
The Orioles money line at plus money didn't require a miracle, that was just a line read which his fairly easily. We didn't hit our first five over, and the full game over looked terrible going into the later innings. That's why we loved the full game over, the bullpens for the Diamondbacks and Royals are just terrible.
They scored a combined seven runs from the eighth innings on, and we came away with +1.7 units. We are exactly even on the week now after a rough Monday. Let's shoot back up into the green.
Remember to check out the podcast for my three props of the day on PrizePicks.
2022 MLB Regular Season Record: 179-148 (55%) +31.84 units
Cleveland Guardians vs. San Diego Padres: 4:10 pm EST
Cal Quantrill (RHP, Guardians) [9-5, 3.77 ERA, 1.22 WHIP, 136 IP, 88 K, 37 BB]
Blake Snell (LHP, Padres) [5-6, 3.76 ERA, 1.30 WHIP, 83.2 IP, 112 K, 38 BB]
We head to San Diego for the greatest pitching matchup since the 1996 World Series between the Atlanta Braves and New York Yankees. In Game 5, Andy Pettite took the mound for the Yankees and threw 8.1 innings without allowing a run. Opposing him was John Smoltz who allowed one run over eight innings but it wasn't earned. He struck out 10 in that game, but the Yankees won 1-0.
Alright, enough of that, let's get into it.
Let's start with Blake Snell because I like his matchup more than Quantrill today. The Guardians are a great team that does a lot of things well, but one thing they don't do is hit left-handed pitching. This has been a trend throughout the season, ranking second to last in OPS as a team against southpaws. They've gotten better as the season has progressed, ranking 15th in wRC+ since the All-Star break. They can put the ball in play, but it's not for much power, ranking 25th in ISO during that span.
Snell hasn't faced this Guardians team this year, but he has faced four hitters in their lineup. Through 26 AB against Jose Ramirez, Amed Rosario, Luke Maile, and Myles Straw, he has a .167 xBA, a .269 xSLG, and a .203 xwOBA. That's fantastic, and Snell has been much better pitching at Petco Park this season.
King Cal Quantrill takes the bump for the Guardians and he'll have a tough matchup today. The Padres bats have been swinging it better of late, ranking 4th in wRC+ against right-handed pitching. It's a bit skewed however, as they get a bump from having an incredible 13.1% walk rate in that span. They rank 15th in batting average and 8th in ISO but the walks definitely help. They are a very patient squad, but Cal is so good at getting out of trouble with runners on base that I think he'll pitch fine in a big pitchers park.
Coming in after Quantrill will be a relatively rested bullpen. The Guardians had an off-day on Monday, and they had a rainout on Sunday so the bullpen is ready to go if he gets into any trouble. This Guardians bullpen is fantastic, ranking third in ERA since the trade deadline. Snell should pitch great, and coming after him will be a moderately rested bullpen that ranks 5th in ERA since the trade deadline. This has all the makings of an under. If you're a hater of either of these two pitchers, good. Take the over. Do it. You won't.
The Pick: Guardians vs. Padres Under 7.5 (-110)
1.1 Units to Win 1 Unit
_____
Miami Marlins vs. Oakland A's: 3:37 pm EST
Jesus Luzardo (LHP, Marlins) [3-5, 3.44 ERA, 1.05 WHIP, 52.1 IP, 65 K, 21 BB]
Cole Irvin (LHP, A's) [6-11, 3.33 ERA, 1.06 WHIP, 135.1 IP, 87 K, 26 BB]
We head to Oakland for the third game and final game of a three game set. The first two games have been boring, as both teams have combined for 11 runs over two games. Yesterday's game went over the posted total of seven, as the Marlins scored four in the sixth inning and the A's scored three in the ninth. If you had the under yesterday, it was a terrible beat, but that makes me all the more excited to tail this under today.
Jesus Luzardo will get the ball for the Marlins today who's been electric since he returned from injury. He's made four starts in August, tallying a 2.70 ERA with 24 strikeouts in 23.1 innings. His most recent start came against the Dodgers where he allowed just one run over 6.1 innings while striking out seven. He has electric stuff, and he's been much better in road starts this year. He'll go into Oakland to face the worst home offense in baseball.
Oakland is one of the best pitchers parks in baseball, and the weather is supposed to support the pitchers even more. According to ballparkpal, Oakland Coliseum calls for the lowest run scoring environment of the day with a -8% decrease in runs. While the A's have been better this year against left-handed pitching than right-handed, both team OPS's are below .650.
Since the All-Star, the A's rank 19th in wRC+ against lefties with the 22nd ranked OPS. It's also the Oakland A's, they aren't very good.
Opposing Luzardo is Cole Irvin who has been a gem while pitching in Oakland. His home/road splits are severe, but we get his best matchup of the season. At home this season, he's rocking a 2.12 ERA compared to a 4.88 ERA on the road. He'll face a historically bad Marlins offense against lefties, rocking a .594 OPS as a team, which is dead last by a sizeable margin.
Neither pitcher has much experience against the opposing offenses which more often than not helps out the pitcher more than the hitter. We also have two bullpens that are not very strong, but at least on the A's side, they have a couple of high leverage arms available. They have Zach Jackson, AJ Puk, Sam Moll, and Dany Jimenez are all ready to go. On the Marlins side, they have high leverage arms available as well and they've been a better all-around bullpen since the trade deadline.
This has all the makings of a low scoring pitchers dual. We have bad weather, two solid pitchers, two decent bullpens and two bad offenses.
The Pick: Marlins vs. A's Under 7 Runs (-115)
1.15 Units to Win 1 Unit
_______