Analysis
MLB Best Bets, Odds, and Predictions for Red Sox vs. Royals, Rockies vs. Diamondbacks, Padres vs. Dodgers for August 6, 2022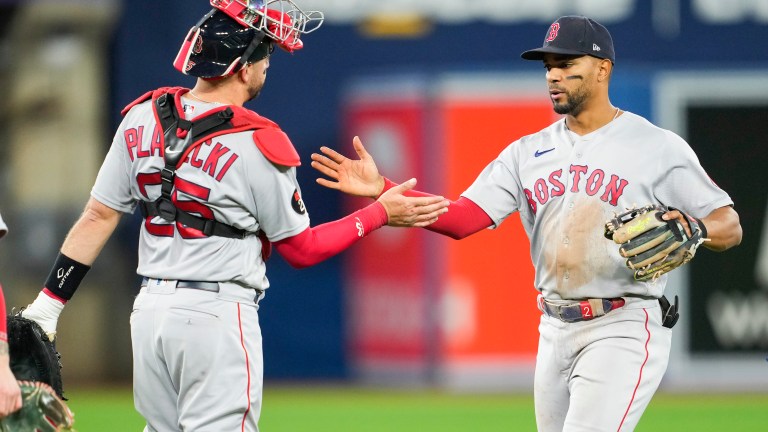 ARE YOU KIDDING ME TY FRANCE?? We were a Ty France game-tying single away from a perfect 2-0 day, but we ended 1-0 with a push on the Angels vs. Mariners under. We needed a bounce-back day like that, but I'm not satisfied.
Today, I have three more MLB Best Bets to keep us in the green. Let's have a Saturday.
2022 MLB Regular Season Record: 153-129 (54%) +26.19 units
Boston Red Sox vs. Kansas City Royals: 7:10 PM EST
Nathan Eovaldi (RHP, Red Sox) [5-3, 4.11 ERA, 1.23 WHIP, 87.2 IP, 86 K, 16 BB]
Daniel Lynch (LHP, Royals) [4-7, 4.70 ERA, 1.55 WHIP, 76.2 IP, 80 K, 33 BB]
We head to Kansas City for the third game of a four-game set. The first two games were almost identical, but both teams won. The Royals won the first game 7-3, and the Red Sox won the second game 7-4. Today, we have a starting pitching matchup that heavily favors one side, so I'll be isolating the first five innings.
Nathan Eovaldi gets the ball for the Red Sox, who has a massive home run problem. That's been his kryptonite this season, but lucky for him, the Royals aren't much of a slugging offense. Since the all-star break ended, the Royals rank 23rd in SLG and 24th in ISO against right-handed pitching. In the past 30 days, it's much of the same, and over the entire season, they rank 28th in home runs. We should see a vintage Nathan Eovaldi start today.
It's not just because of the lack of power from the Royals. Nathan Eovaldi has some insane home/road splits, and his advanced numbers against the Royals are phenomenal. At home, Eovaldi has a 6.81 ERA through 35 innings. On the road, Eovaldi has a 2.25 ERA through 52 innings. He'll be on the road today against a Royals offense that hasn't been able to touch him in a limited sample. He hasn't faced them this season, but through 37 PA against the Royals' current roster, he has a 37.8% strikeout rate, a .216 batting average, a .182 xwOBA, and a .241 xSLG. Expect a fantastic start from the hard-throwing right-hander.
On the other side, we have Daniel Lynch, who went down to the minor leagues before his last start to fix some issues. He pitched well on August 1st, throwing 5.1 innings of shutout-ball against the White Sox while striking out seven. The Red Sox do not have an imposing offense right now, but they rank higher against lefties in almost every metric. Similar to Eovaldi, Lynch has had massive struggles at home this season. In 28.2 innings, he holds a 5.97 ERA at home versus a 3.94 ERA on the road. He'll be home today, and I expect him to get roughed up.
The money line is not very expensive at -145, but I'd take the value through the first five innings because this is where I see the most prominent edge. The Royals' bullpen is terrible, but the Red Sox bullpen isn't much better. I don't want to deal with some late-game heroics.
The Pick: Boston Red Sox First 5 Innings -0.5 (-105)
1.05 Units to Win 1 Unit
_________
Colorado Rockies vs. Arizona Diamondbacks: 8:10 PM EST
Antonio Senzatela (RHP, Rockies) [3-6, 4.87 ERA, 1.71 WHIP, 77.2 IP, 48 K, 20 BB]
Merrill Kelly (RHP, Diamondbacks) [10-5, 2.87 ERA, 1.13 WHIP, 125.1 IP, 104 K, 38 BB]
Let's get this out of the way early. This will be a public play, as everyone has come in on the Diamondbacks early and often. With that said, the line has moved accordingly as the Diamondbacks opened as -155 favorites before being moved to -180 as that money came in. If you are a contrarian, this pick may not be for you. I don't care, as the pitching matchup is too lopsided for me to look any other way.
Antonio Senzatela can give you a good start at Coors Field, but on the road, he's dreadful. This is nothing new for him, as every single year since 2019, he's been worse on the road. He's faced the Diamondbacks once this year, allowing three earned runs in just two innings, and that was at home. He'll meet them on the road today. I can't see him having a good start, but it's not just because of his woes on the road.
He's been lit up by this Diamondbacks' current roster in his career. Through 89 PA, he has a .417 batting average, a .366 xwOBA, and a .491 xSLG. The top five hitters in this lineup, Josh Rojas, Alek Thomas, Ketel Marte, Christian Walker, and Daulton Varsho, eat him for breakfast. They are a combined 31-71 (.450 AVG) with 11 extra-base hits. Are you kidding me?
Facing off against him will be Merrill Kelly, who is enjoying a fantastic season for Arizona. He keeps hitters off-balance with a five-pitch mix that's led to a 2.87 ERA and a 3.08 xERA. Arizona should have traded him for a litany of prospects at the deadline, but they decided to stand pat. It's helpful for us today as he matches up well against baseball's second-worst road team.
Kelly has faced the Rockies twice this season and dominated. In two starts, he's thrown 15.2 innings while only allowing two earned runs with 11 strikeouts. His advanced numbers against the Rockies' current roster are also solid. Through 118 PA, he's rocking a .223 batting average, a .315 xwOBA, and a .449 xSLG.
This is a fade on Antonio Senzaleta, and if it doesn't hit, I'm chalking it up to the crazy sport of baseball.
The Pick: Arizona Diamondbacks First 5 Innings -0.5 (-125)
1.25 Units to Win 1 Unit
________
San Diego Padres vs. Los Angeles Dodgers: 9:10 PM EST
Mike Clevinger (RHP, Padres) [3-3, 3.13 ERA, 1.08 WHIP, 60.1 IP, 59 K, 16 BB]
Andrew Heaney (LHP, Dodgers) [1-0, 0.77 ERA, 0.99 WHIP, 23.1 IP, 34 K, 9 BB]
Are you trying to be a bit dangerous? I'm feeling it today.
We head to Los Angeles for the second game of a three-game set. We had the Dodgers' first five innings yesterday, which was an easy win. They trounced Manaea, and Tony Gonsolin performed very well again at home. Today, I'm thinking the tides reverse, as everyone has piled in on the Dodgers after the commanding win. It makes sense; look how well Andrew Heaney has pitched in a limited time. These two teams are very close in talent, and the Dodgers don't deserve a money line as high as -155 in this one.
The Padres should come out angry after an embarrassing loss yesterday. San Diego has been tough on lefties this season, and Heaney's 0.77 ERA will surely rise after this one. His xERA sitting at 2.72 would tell us that, as would prior history with him. He just pitched against a Giants offense that's been terrible, allowing one run in four innings. The Padres are a much better offense, especially after adding lefty killer Brandon Drury. Josh Bell can undoubtedly hit a lefty, and I wouldn't count out that Juan Soto guy either.
The Dodgers are good, so you won't find many stats that show they are at a disadvantage in this one. However, I will point out that the Padres are one of the most profitable teams in baseball as an underdog, going 22-11 even with last night's loss. Another interesting stat is the Dodgers' haven't been as good as you might think against right-handed pitching since the All-Star break. They rank 8th in wRC+, which is very good, but at home, they rank 19th in that span. They didn't add any significant bats at the deadline, so it's possible that after an eight-run performance, they come out slow.
This is a value play as I believe this game should be closer to a pick-em rather than the Padres being +130 underdogs. I find it very interesting the Dodgers opened up as -165 favorites, and the line has moved down with the public all over them.
The Pick: San Diego Padres ML (+130)
1 Unit to Win 1.3 Units