Analysis
MLB Best Bets, Odds, and Predictions for Cardinals vs. Nationals, Nationals vs. Braves for July 30, 2022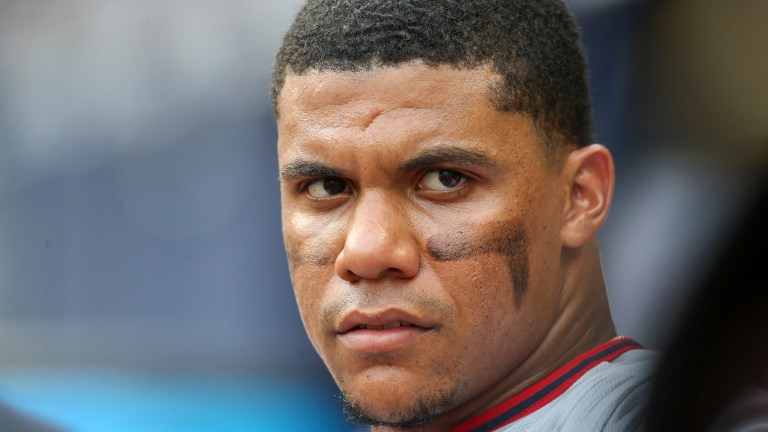 Yesterday didn't inspire much fun, but we had some free baseball. We went 1-1 on our picks as the Rays offense did not come to play. The Astros crushed the Mariners, so that was an easy win. The Rays left 13 base runners on and only scored one run. That's not going to produce winning baseball.
We move forward with two plus money picks today. Let's get back to our winning ways.
2022 MLB Regular Season Record: 147-125 (54%) +23.89 units
St. Louis Cardinals vs. Washington Nationals: 7:15 PM EST
Dakota Hudson (RHP, Cardinals) [6-6, 4.10 ERA, 1.36 WHIP, 96.2 IP, 53 K, 42 BB]
Erick Fedde (RHP, Nationals) [5-7, 4.95 ERA, 1.54 WHIP, 92.2 IP, 70 K, 47 BB]
We head to Washington for the second of a three-game set. We have two starting pitchers that do not match up very well and two offenses who have excellent batted ball data since the All-Star break ended. This is a recipe for an over, but a specific over.
Erick Fedde will get the ball for Washington who is not enjoying a great season. His 4.95 ERA is not very good, and his xERA agrees, sitting in the 14th percentile in baseball. The Cardinals got out to an early lead yesterday before hammering home three more runs in the sixth inning to take the 6-2 win. They were hitting the ball hard all day, recording 11 hits over 95 MPH. This has been a trend for the Cardinals post-All-Star break as they rank number one in hard-hit rate at 37.4%.
While Anibal Sanchez isn't very good, the xERA tells us he's been much better than Fedde. The Cardinals should roll early and often, as velocity has been slight kryptonite for this offense. Erick Fedde does not rely on velocity, and the Cardinals' patient approach at the plate should do them wonders against a pitcher with a major walk problem.
Not so fast Cardinals fans, I'm worried about Dakota Hudson's matchup today as well. This will be his first start since hitting the IL with a neck injury, and before he went on the IL, he was a major candidate for regression. Hudson ranks eighth in baseball in the difference between his ERA and xERA as he allows plenty of hard contact and walks batters at a very high rate. He doesn't have strikeout stuff, so the Nationals should be all over the basepaths today.
The Nationals lineup doesn't look very scary outside Juan Soto and Josh Bell, but they've been hitting the ball hard post-All-Star break. The Nationals rank sixth in baseball in Hard-Hit rate at 33% which is bad news for Hudson. The wRC+ ranks towards the bottom of baseball as they've been getting pretty unlucky. I think that'll change today.
Hudson relies on soft contact, but when a team is putting the barrel on the ball, coupled with the ninth-best walk rate in that span, that's bad news. Hudson has also been noticeably worse on the road and without catcher Yadier Molina. Hudson has a 5.40 ERA in July, and in three starts in June since Molina was out, he allowed 10 earned runs in 14.1 innings. His road ERA is also 5.36 compared to a home ERA of 5.36.
On top of all this, we have 5-9 MPH winds blowing out to center field. I took the first five innings over and would honestly play the YRFI if I was feeling spicy. If you can get the first five innings at five, I would take it, but I think this will go to at least six runs, so I'll play the over 5.5 at plus money.
The Pick: Cardinals vs. Nationals First 5 Innings O 5.5 (+100)
1 Unit to Win 1 Unit
_________
Arizona Diamondbacks vs. Atlanta Braves: 8:10 PM EST
Corbin Martin (RHP, Diamondbacks) [0-0, 3.93 ERA, 1.64 WHIP, 18.1 IP, 15 K, 11 BB]
Ian Anderson (RHP, Braves) [8-6, 5.31 ERA, 1.58 WHIP, 95 IP, 81 K, 48 BB]
Let's get weird. We start in Atlanta for the second game of a three-game set. The Braves won pretty easily yesterday by another really strong performance by Kyle Wright. They went up early and cruised to a 5-2 win. Now, they opened as larger favorites than yesterday with a starting pitcher who has not enjoyed a good season. On the other side, we have a young pitcher who doesn't excite me, but at the same time, isn't much worse than Ian Anderson at the moment.
Ian Anderson's pitch arsenal or "stuff" has fallen off a cliff. His fastball spin ranks in the first percentile. If you are unaware of percentile rankings, you want to be as close to the 100th percentile as possible. His curveball also ranks in the, you guessed it, FIRST percentile. Two of his three pitches have performed as some of the worst in baseball. While the Diamondbacks' offense isn't as lethal as the Braves, they certainly have a good matchup and they've been hitting the ball well lately. Anderson has also been much worse at home this year, rocking a 6.43 ERA at home versus a 4.42 ERA on the road.
Since the All-Star break ended, the Diamondbacks rank ninth in wRC+ against right-handed pitching. They rank fourth in walk rate and second to last in strikeout rate during that span as well. In this span, the Braves' offense hasn't been as lethal. While they are still very good and should do fine against Marin, they rank 25th in wRC+ against right-handed pitching in this span. They rank fifth in strikeout rate and 25th in walk rate.
I'm not here to tell you we will get a sparkling performance from young right-hander Corbin Martin. But with that said, I do think the Diamondbacks can keep it close through the first five innings. Ian Anderson is wildly overvalued in this one, but I'm not ballsy enough to tail the Diamondbacks through the full game. The Braves bullpen is much better, and it's the Atlanta Braves at the end of the day.
I do think the value is worth it to go after the spread in the first five innings. If they are tied after five innings, which I think is highly likely, we will cash this bet. Especially at +130? That's worth it for me.
The Pick: Arizona Diamondbacks First 5 Innings +0.5 (+130)
1 Unit to Win 1.3 Units