Analysis
MLB Best Bets, Odds, and Predictions for Angels vs. Mariners, Padres vs. Dodgers for August 5, 2022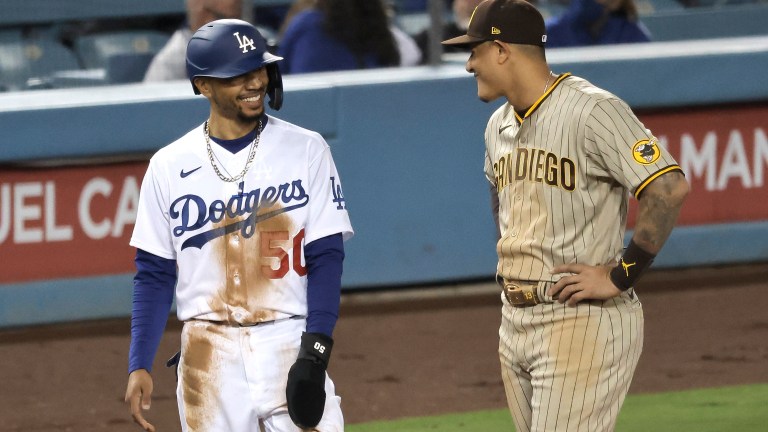 Yesterday wasn't very fun. We lost both picks on the main card and went 1-1 with our underdogs. I believe we were robbed in the Nationals vs. Phillies game as they called it in the fifth inning due to rain.
It was unfortunate, but the win streak had to end at some point. I'm not worried, and I'm back on the saddle with two picks to round out the work week. Let's get back in the green.
2022 MLB Regular Season Record: 152-129 (55%) +25.19 units
Los Angeles Angels vs. Seattle Mariners: 10:10 PM EST
Patrick Sandoval (LHP, Angels) [3-7, 3.61 ERA, 1.48 WHIP, 89.2 IP, 97 K, 41 BB]
Robbie Ray (LHP, Mariners) [8-8, 4.11 ERA, 1.20 WHIP, 122.2 IP, 139 K, 42 BB]
We head to Seattle for the first game of a four-game set. This isn't your classic matchup of ace pitchers, but these two have performed very well against the opposing lineups. On top of this, these lineups are not at full strength, and the Angels have to take a flight on short rest up to Seattle from Los Angeles. For all my east coasters, it's a longer flight than you may think, it's longer than a flight from Chicago to New York!
Robbie Ray will get the ball against the Angels and not only has he been fantastic at home, it's a really bad matchup for the Angels at the moment. In the last 30 days, the Angels rank dead last in wRC+ by a sizeable margin. They sit with a 54 wRC+ compared to the Brewers at 59. They also have the fourth lowest hard-hit rate in the span combined with the seventh highest ground-ball rate.
They are not hitting the ball hard or putting the ball in the air, and this has been a trend for the Angels this year. They have the fourth lowest OPS as a team against lefties this year, and that number is a bit inflated with Mike Trout being in the lineup. He is still on the IL.
Ray has only faced the Angels once so far, and he dominated them. He threw seven innings while allowing three hits and one earned run with 10 strikeouts. That lineup included Mike Trout, and it won't include him today. This is an ideal matchup for Ray, as he's been much better pitching at T-Mobile Park and he doesn't rate very well in average exit velocity and hard-hit rate. The Angels simply don't hit the ball hard against lefties, or in general.
Patrick Sandoval takes the ball for the Angels who will face a less than ideal Mariners lineup. The Mariners lineup is still solid, but it will be without Julio Rodriguez. Ty France is slated to return from a wrist injury today, but I wouldn't be that afraid of him coming off that injury which should dampen his power.
Sandoval has faced the Mariners twice this season and has performed well above average. In two starts against them, he's allowed two earned runs in 11 innings while striking out 11 batters. The line movement tells me he'll pitch well today, considering the public is all over the Mariners and the line is creeping in the Angels' direction.
After doing this research, I came to the conclusion that the Mariners should easily cover the first five innings, but if we look at other games where the money line is at -200, the first five innings should be more expensive than -120.
This takes me to the under in the full game as I love the Mariners bullpen and the Angels bullpen is rested enough. I think this game ends in a close, low-scoring game. Don't be surprised if the Angels pull it out.
The Pick: Mariners vs. Angels Under 7 (-110)
1.1 Units to Win 1 Unit.
________
San Diego Padres vs. Los Angeles Dodgers: 10:10 PM EST
Sean Manaea (LHP, Padres) [6-5, 4.25 ERA, 1.27 WHIP, 110 IP, 111 K, 42 BB]
Tony Gonsolin (RHP, Dodgers) [12-1, 2.41 ERA, 0.90 WHIP, 104.2 IP, 96 K, 28 BB]
This should be a good one. We head to Los Angeles for the first meeting since the Padres added every good player on the trade block. They added Juan Soto, Josh Bell, and Brandon Drury, and they are now everyone's favorite team. The line opened at -155 for the Dodgers and has relatively stayed there, but some books have it at -160 or -165. That's a pretty sizeable line for how close these two teams are, and I think I know why.
The Dodgers are clicking on all cylinders right now, and when they are, you do not want to face them. They'll get Sean Manaea today who should get throttled by a Dodgers offense that has had his number throughout his career. Through 76 PA against the Dodgers' current roster, he holds a .290 batting average, a .465 xwOBA, and an absurd .725 xSLG. When the Dodgers have an xSLG that high, fireworks often ensue.
Sean Manaea against the Dodgers has an average exit velocity of 93.5 MPH and an average launch angle of 18 degrees. To qualify for a "barrel" that you see on baseball savant, you must hit the ball at least 95 MPH with an optimal launch angle of 18-35 degrees. Those are batted balls that are more likely to lead to extra-base hits. Yes, I like that, I like that a lot.
Tony Gonsolin will grab the ball for the Dodgers' who I'm not exactly in love with, but this is a decent spot for him. If he was on the road, I'd be much more nervous, but he's at home where he's been dynamite this season. At home, he's rocking a 1.97 ERA but it's due to a crazy low BABIP. I don't truly believe in this home ERA for him, but he is a better pitcher than Manaea and has performed well against this Padres' current roster.
I don't put a ton of stock into his prior appearances against the Padres because this is a new and improved roster. Juan Soto, Josh Bell, and Brandon Drury are a combined 3-10 against him with one extra-base hit. That's not bad, but the entire team combined has a .246 opponent batting average, .293 xwOBA, and a .393 xSLG. Combine that with an average exit velocity of 85.2 MPH with an average launch angle of 8.6 degrees.
You won't see a shutout from Gonsolin, but he'll do enough to give the Dodgers the win through the first five innings.
The Pick: Los Angeles Dodgers First 5 Innings -0.5 (-115)
1.15 Units to Win 1 Unit
_________