Analysis
Marlins vs. Reds, Dodgers vs. Rockies Betting Odds, Picks and Predictions for July 28, 2022.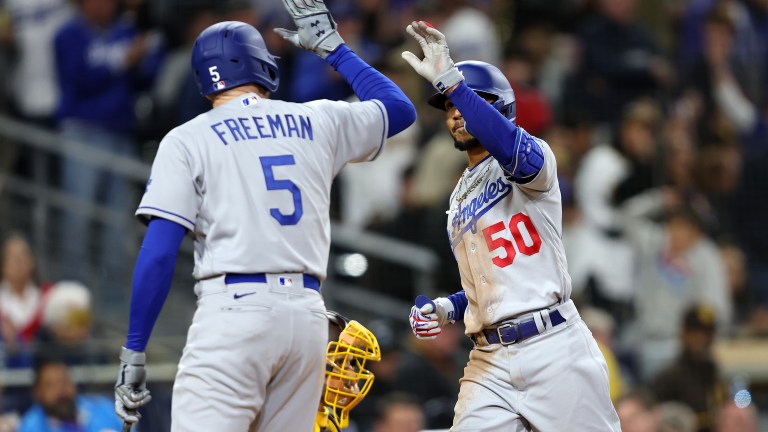 We swept the board yesterday! We needed a day like that, but we have to have a short memory because of course we are back again today with two MLB Best Bets.
We took two underdogs and the Reds as a heavy favorite and came out on top. The Reds won easily as did the Diamondbacks, but the Guardians gave us the sweep on a late inning come back on the back of Josh Naylor.
Today I have two MLB Best Bets for you plus an underdog pick that I'll drop in our free baseball groupchat.
2022 MLB Regular Season Record: 144-123 (54%) +22.54 units
Miami Marlins vs. Cincinnati Reds: 12:35 PM EST
Daniel Castano (LHP, Marlins) [1-3, 3.86 ERA, 1.40 WHIP, 35 IP, 20 K, 9 BB]
Graham Ashcraft (RHP, Reds) [4-2, 4.70 ERA, 1.42 WHIP, 59.1 IP, 40 K, 15 BB]
We head to Cincinatti for for the fourth and final game of a four game set. The Reds cashed our money line bet yesterday winning 5-3, and they have now won two of three in this series. Today, we have a very similar matchup as yesterday and nothing will really change for me.
The Marlins have to prove to me they can hit before I stop tailing the opposing team. It's not simply a fade on the Marlins, it's tailing the Reds at home against a left-handed pitcher. They faced Trevor Rogers in game one, putting up six runs in 3.2 innings. The Reds got shut down by right-hander Pablo Lopez in game two, but then they got back to their winning ways against lefty Braxton Garrett, putting up five earned runs in five innings.
The Marlins still rank 26th in wRC+ against right-handed pitching, but again, this isn't a blind tail on Graham Ashcraft. Through 59 innings of work this season for the young righty, a pattern is emerging. He really struggles on the road and he's been beat up by lineups within his division. He has a 6.66 ERA on the road through five starts but a 3.34 ERA at home through six starts. He has an 11.33 ERA through four starts against opponents within his division, but a 2.11 ERA against opponents outside of his division.
Ashcraft will go up against a lineup that has never seen him and doesn't scare me one bit. Ashcraft is also due for some positive regression as his xERA sits at 3.71 which places him in the 58th percentile in baseball. Daniel Castano on the other hand is due for negative regression with his 4.47 xERA which sits in the 27th percentile.
It's clear at this point the Reds get their runs early and then taper off in the later innings. Due to this, I'll be taking the Reds through the first five innings for the preferred value over the money line.
The Pick: Cincinnati Reds First 5 Innings -0.5 (+100)
1.00 Units to Win 1 Unit
__________
Los Angeles Dodgers vs. Colorado Rockies: 8:40 PM EST
Tyler Anderson (LHP, Dodgers) [10-1, 2.79 ERA, 1.02 WHIP, 103.1 IP, 87 K, 19 BB]
Jose Urena (RHP, Rockies) [1-2, 3.13 ERA, 1.42 WHIP, 31.2 IP, 17 K, 15 BB]
We head to Colorado for the first game of a four game set. We have two pitchers who have put together very solid results so far. This total opened at 11.5 and moved up to 12 even with a lot of early money hammering the under. On the surface, the under looks like the play, especially when you consider these two teams have played six times this year and only once did it reach a total of 12. That changes today.
Tyler Anderson will get the ball for the Dodgers and he'll have a tough test in Coors Field. When speaking about pitchers at Coors Field, I've posted a number of studies that have looked at how each pitch performs in Coors Field. The Rockies go after pitchers who have fastball/slider combinations because those pitches don't feel the same affect at altitude as other pitches. Pitches with the most horizontal movement (changeups and sinkers) are the most affected as they start to lose movement and hang in the zone.
Anderson deploys a four pitch mix; fastball, changeup, cutter, and a sinker. He relies on a change-up a lot, throwing it 32.3% of the time versus his fastball at 36.2% of the time. It makes sense why he got hit around in his first start at Coors, but he got pretty lucky. He allowed 10 hits but just four earned runs. Against right-handed bats, he's actually thrown more changeups than fastballs, and the Rockies are loaded with hot right-handed bats.
Opposing Anderson will be Jose Urena, who I've been trying to find a spot to fade for a while now. While it's a short sample because he's only thrown 31 innings, his past history would indicate he's due for regression, as is his 5.18 xERA which sits in the 12th percentile. His strikeout rate ranks in the second percentile and his walk rate sits in the 15th percentile. He's due for a blow-up start, and we saw the first sign of that in his last start where he allowed six earned runs.
I don't even know why the Rockies like him so much. He does throw a fastball and a slider, but 72.8% of his pitches thrown this year are sinkers and changeups. He can't keep getting away with this, and the Dodgers have seen him already this season. Not only that, the Dodgers have the best OPS in baseball against righties while also ranking third in wRC+ against right-handed pitching in the month of July.
I'm not afraid of Colorado's 29th ranked bullpen ERA, and the Dodgers bullpen isn't all-world either, ranking 6th in bullpen ERA. I think the Rockies punish Anderson today while the Dodgers do the same to Urena. This game will probably be close, considering the Dodgers have this weird losing nature against the Rockies. Give me the over in a typical high scoring game in Colorado.
The Pick: Dodgers vs. Rockies Over 12 Runs (-105)
1.05 Units to Win 1 Unit