Analysis
KBO Picks and Predictions: Korean Baseball Betting for June 14th
Brendan Aumiller's play for the SGG Landers and KT Wiz on Tuesday morning.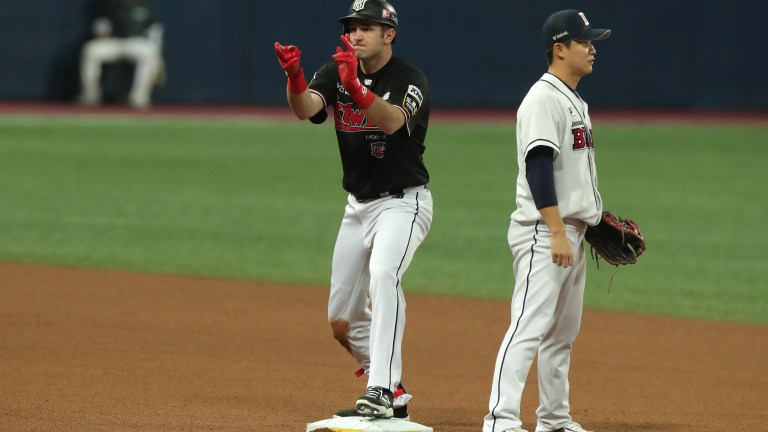 I've been extremely hesitant to give out KBO plays recently, as I try to keep my undefeated record intact. Luckily for me, and everyone out there reading this, I've got an absolute banger of a play for tomorrow morning's KBO slate. Before I dig in to the matchup, I want to give everyone a little bit of background on the KBO.
The Korean Baseball Organization consists of 10 teams, playing a slightly shorter season than MLB, with 144 regular season games. Each team plays the other nine teams 16 times, very different from how MLB works with divisions; in the KBO, there is only one division.
The rules of the games are nearly identical to MLB, except for the 12 inning rule; if both teams are tied after 12 innings, the game results in a tie (and your moneyline bet will push). Five of the 10 teams make the playoffs, and each team is limited to three foreign players each.
Only two foreign players are allowed to play in the same lineup at a given time, hence why most teams are composed primarily of South Korean born players. The norm is for each team to roster one foreign position player, and two foreign arms, usually starters. The World Series equivalent in the KBO would be the Korean Series, a best of seven series of the two remaining teams from playoff competition.
Last year, KT Wiz defeated Doosan in four games, a rare Korean Series sweep. This season, SSG sits atop the league, on pace to win two of every three games. This presents the perfect transition for my KBO play tomorrow morning…
KT Wiz ML (-125)
The matchup of SSG, this year's best team, and KT Wiz, the defending champion, intrigues me significantly. Most would assume that SSG would be the favorite in this matchup, considering SSG holds down first place, while KT is sitting under .500 in seventh place. It's now or never for the KT Wiz, and after talking with many KBO sharps over the past week, don't be surprised to see the Wiz make a mid-season run. As many of you probably know, I bet numbers and lines, not teams. I was extremely perplexed this afternoon seeing the struggling KT Wiz as a small favorite against the KBO's best team.
I automatically lean KT just based off the line, but don't hate the matchup either. SSG struggles offensively on the road this season, and I like KT's starter over SSG's tomorrow. So Hyeong-jun is having an incredible season for the Wiz, and Lee Tae-yang carries nearly a 5.00 ERA against KT this season.
With SSG's offensive woes on the road this year, they'll need an above average start from Lee, which I'm not expecting against this hungrier Wiz offense, who's had success against him this year already. SSG is last in batting average on the road this season, and are potentially without star Han Yoo-Seom, who missed Sunday's game with an injury.
This isn't the same dominant SSG offense we witnessed earlier in the year, Kevin Cron is still rehabbing, and Kim Kang-min is on the DL for the Landers as well. They'll have to rely on 39-year-old Shin-soo Choo, who many of you will remember from his illustrious 16-year MLB career. 
Without cleanup hitter Han Yoo-Seom in the lineup, SSG's offensive road struggles, and a sketchy line with the seventh place Wiz sitting as a short favorite against first place SSG, this is a perfect spot to back to Wiz; they simply need this win more.
My contrarian brain also loves the fact that SSG enters tomorrow's matchup off a sweep, and KT is coming off a loss. It doesn't hurt that they have the better arm on the mound in So Hyeong-jun, either. The Wiz have no business being the favorite tomorrow morning against SSG, and that is exactly why they'll win; the line tells all. There's nothing like waking up to a KBO winner to get your day started, it's better than coffee.