Analysis
How to Bet Los Angeles Dodgers vs. Milwaukee Brewers on August 18th, 2022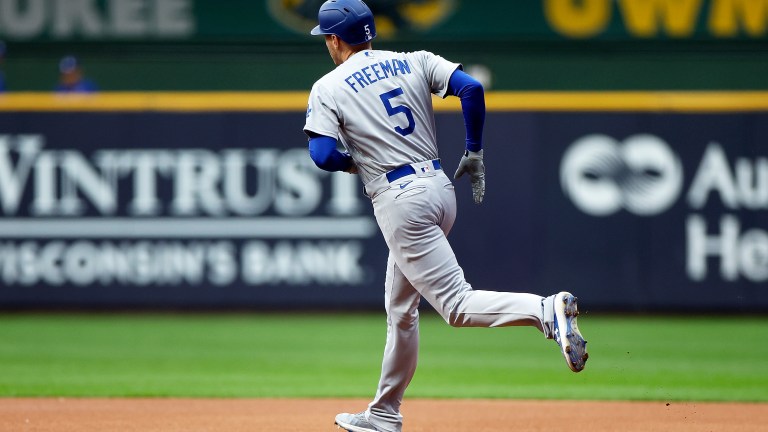 Yesterday was rough, we haven't had that bad of a day since July 17th. I'm pretty proud of that, but yesterday was terrible.
We did win on the under in Giants vs. Diamondbacks but taking some juiced first five picks crushed us.
You might be upset at me for only going with one pick today, but there isn't much to choose from on a limited Thursday board. I'll be much more active on the player props side today to make up for it. Listen to those Props on the Podcast linked below.
2022 MLB Regular Season Record: 171-142 (55%) +29.04 units
Los Angeles Dodgers vs. Milwaukee Brewers: 2:10 PM EST
Andrew Heaney (LHP, Dodgers) [1-0, 1.16 ERA, 1.00 WHIP, 31 IP, 42 K, 10 BB]
Corbin Burnes (RHP, Brewers) [8-5, 2.39 ERA, 0.92 WHIP, 143 IP, 181 K, 38 BB]
We head to Milwaukee for the final game of an electric four-game set. The Dodgers have won two of the first three games and had the possibility of winning all three before Craig Kimbrel blew it in the ninth for Los Angeles. Today, the Brewers send out the NL CY Young award winner to get the job done, while the Brewers will have to deal with one of the best comeback stories of the season.
The Dodgers opened as slight favorites and the line has slightly trickled up in the Dodgers' direction. This is a tough one to gauge, as the Brewers have the clear starting pitching advantage, but the Dodgers have the advantage on every other side of the ball.
Corbin Burnes is phenomenal, but he's not perfect. His problem has been pitching at home this season, where he's rocking a 2.82 ERA, a 3.17 FIP, and a 2.43 xFIP. xFIP is a stat that normalizes home run rate, and he's allowed 11 home runs at home this season. The xFIP indicates that number is much higher than what's expected as he only allowed three home runs at home last season. However, if we look at last season, his ERA was almost a full run worse at home.
He'll go up against the best offense in baseball against right-handed pitching. Since August began, they have the number one wRC+ against right-handed pitching, so they are crushing them recently. Over the full season, they have the number one OPS against right-handed pitching by almost 40 points.
Burnes hasn't faced the Dodgers much, but when he has the results haven't been spectacular. He faced them in October of last year and allowed three earned runs in two innings. Through 35 PA against the Dodgers' current roster, he holds a .371 xwOBA, a .248 xBA, and a .518 xSLG.
His 25.7% K rate is still great, but it's below his normal strikeout rate and the average exit velocity against him is 94.1 MPH. He's in a ballpark where he's not his best, facing the best offense in baseball that has some success against him. I don't think he throws any sort of shutout.
Opposing him will be Andrew Heaney, who went from the worst pitcher in New York to a man who forgot how to allow runs. The Dodgers messed around with his pitch mix, as he's completely ditched the curveball from last season and now relies solely on a fastball, slider, and changeup mix.
It's mostly a fastball/slider combination, and it's worked wonders for the left-hander, as both pitches are holding offenses to batting averages under .200. He's also been tougher on right-handed bats this season, and the Brewers will deploy a mostly right-handed lineup.
The Brewers' offense has been one of the best in baseball against right-handed pitching, but they fall off a cliff against left-handers. The season OPS against left-handers is a full 100 points less against southpaws, and in a limited sample, they haven't hit Andrew Heaney.
He hasn't faced them yet this season, but of the 27 PA against the Brewers' current roster, he holds a .324 xwOBA, a .216 xBA, and a .497 xSLG. Since August began, the Brewers rank 24th in wRC+ with a .194 batting average and a 28% strikeout rate.
The bullpen advantage would also lean in the Dodgers' favor after these two pitchers exit the game. Luckily, Kimbrel has pitched the past two games so he most likely won't be available. The Dodgers will have everyone except him available, while the only arm in the Brewers' pen that scares anyone is Devin Williams. This will be a battle, but I'll be taking the best team in baseball.
The Pick: Los Angeles Dodgers ML (-115)
1.15 Units to Win 1 Unit
______