Analysis
Giants vs. Diamondbacks, Marlins vs. Reds, Guardians vs. Red Sox Betting Odds, Picks and Predictions for July 27, 2022.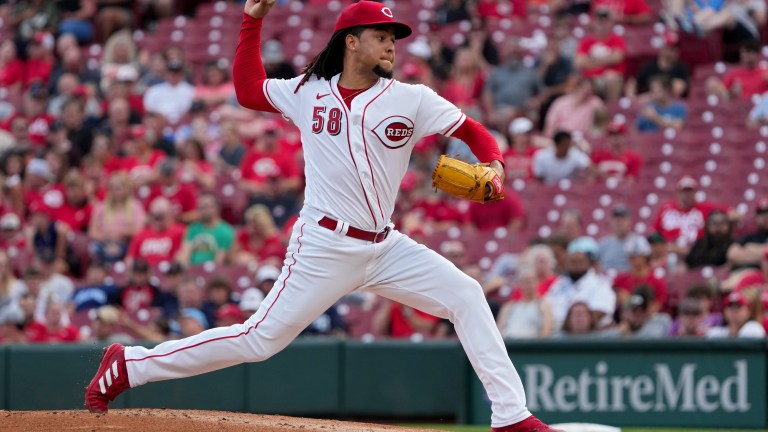 This is why I hate parlays. If we straight-bet the Yankees and the over, we would have come out fine. Instead, I got greedy, and we lost a unit on a +250 parlay. We had some fun, but now we get back to business with three MLB Best Bets.
2022 MLB Regular Season Record: 141-123 (53%) +19.44 units
San Francisco Giants vs. Arizona Diamondbacks: 3:40 PM EST
Logan Webb (RHP, Giants) [9-3, 2.77 ERA, 1.12 WHIP, 123.2 IP, 103 K, 32 BB]
Zac Gallen (RHP, Diamondbacks) [5-2, 3.31 ERA, 1.02 WHIP, 100.2 IP, 96 K, 28 BB]
We head to Arizona for the third and final game of a three-game set. We have an excellent starting pitching matchup combined with offenses that have not shown a lot of promise against right-handed pitching. The Diamondbacks are a short underdog in this spot and with how both teams have been performing, it's hard to call the Giants a favorite with whoever is pitching.
Zac Gallen has pitched really well in July and he's had a lot of success against this Giant's current roster. Through 100 PA against the Giants, he's working with a .226 opponent batting average, a .308 xwOBA, and a .358 xSLG. The quality of contact has been poor against Gallen, resulting in an average exit velocity of just 87.4 MPH. The Giants' offense has been putrid against right-handed pitching in the month of July, rocking a .192 batting average as a team with the 27th ranked wRC+. When we look at how they've performed post-all-star break against righties, they rank as the worst in the sport.
The Giants' one hope is hitting the fastball, but they do not match up well against Gallen's secondary pitches like his curveball, changeup, and cutter. The Giants like fastball/slider pitchers, so it makes sense that Gallen's success can be sustained against the Giants. In his last start against them, he threw 6.2 innings while allowing just four hits and two earned runs.
Opposing Gallen will be Logan Webb who has been on a tear since July began. He's thrown 32 innings and has only allowed seven earned runs to give him a 1.97 ERA. He dominated the Diamondbacks in his last start, throwing six shutout innings while striking out eight batters. He has had his struggles on the road, and the Diamondbacks have hit right-handed pitching well since July began. They rank 10th in wRC+, first in walk rate, and last in strikeout rate. I love that.
Both bullpens should be relatively ready to go as well. Joe Mantiply and Mark Melancon will be ready to roll for the Diamondbacks after short outings yesterday, and Dominic Leone, Tyler Rogers, and Camilo Doval will be ready for the Giants. We should see some nice bullpen performances on both sides, but I'll tail the Diamondbacks as the underdog until the Giants can prove they can hit anyone throwing with their right hand. I don't believe Webb replicates this performance on the road but I also don't believe Gallen throws a shutout either. This should be close, but I'll be on the Diamondbacks.
The Pick: Arizona Diamondbacks ML (+100)
1 Unit to Win 1 Unit
___________
Miami Marlins vs. Cincinnati Reds: 6:40 PM EST
Braxton Garrett (LHP, Marlins) [2-3, 3.42 ERA, 1.14 WHIP, 47.1 IP, 47 K, 11 BB]
Luis Castillo (RHP, Reds) [3-4, 2.77 ERA, 1.08 WHIP, 78 IP, 82 K, 27 BB]
I'll keep this one short and sweet because come on now. Have you seen the Marlins' offense lately? They won yesterday 2-1 because of a Pablo Lopez masterclass, but now the Reds get a left-hander, and the Marlins will face one of the better right-handed pitchers in the game. The Reds are winning this.
The Marlins rank 26th in wRC+ against righties since July began and Castillo has allowed three runs in the month of July through 21 innings.
The Marlins put out a lineup yesterday that featured Willians Astudillo, JJ Bleday, Avisail Garcia, and Lewin Diaz in the meat of the lineup. What more do you want from me.
The Reds haven't performed all that great against lefties this year by the numbers, but they can hit Braxton Garrett enough to take an early lead. Garrett has pitched really well in July against some bad competition, facing the Pirates twice and the Nationals, but allowing three runs to the Mets. I think Castillo shuts down the Marlins and the Reds score enough to win this. It's not a total fade on Braxton Garrett but I've also been less than impressed with the bullpen in Miami. I think it'll be low scoring early before the Reds pull away in the end.
The Pick: Reds ML (-145)
1.45 Units to Win 1 Unit.
___________
Cleveland Guardians vs. Boston Red Sox: 7:10 PM EST
Cal Quantrill (RHP, Guardians) [7-5, 3.75 ERA, 1.30 WHIP, 105.2 IP, 67 K, 31 BB]
Nathan Eovaldi (RHP, Red Sox) [4-3, 4.30 ERA, 1.23 WHIP, 75.1 IP, 79 K, 14 BB]
You know what day it is. Cal Quantrill Day.
I'm back on him after a brief hiatus due to the value of the Guardians as a whole. With how the Red Sox offense has been performing with the inconsistency of Nathan Eovaldi, I think the Guardians are in a great spot here.
If Rafael Devers was playing, I may be singing a different tune, but the lineup has not looked the same since he landed on the IL. Trevor Story would also scare me a bit, but he is still on the IL for the Sox.
The Red Sox rank 25th in wRC+ since July began against right-handed pitching. The Guardians on the other side rank 8th in that time span and they match up well against Nathan Eovaldi.
The Guardians normally perform well against fastball/slider pitchers who rely on strikeouts. The Guardians rarely strike out and they put the ball in play. Nathan Eovaldi this year has allowed plenty of hard contact, ranking in the sixth percentile in hard-hit rate and the third percentile in average exit velocity. He needs strikeouts and a high chase rate to get batters out and the Guardians simply don't chase or strike out very often.
On the other side, we have our king, Cal Quantrill. He's not a numbers guy, but the dude gets outs. I think he'll get plenty of them today against this Red Sox lineup. Without Story or Devers in the lineup, Quantrill has very solid numbers against this Red Sox current lineup. Through 46 PA, he's rocking a .238 opponent batting average, a .320 xwOBA, and a .397 xSLG with an average exit velocity of just 87.9 MPH. I could read you Eovaldi's advanced numbers which also look solid, but he doesn't look the same as last year and he hasn't faced the Guardians this season.
The bullpen advantage would also lean towards the Guardians. James Karinchak looks to have found his stride again, and while he did throw 26 pitches in game one, he got a rest day yesterday. Sam Hentges should be rested as should Trevor Stephan. Emmanuel Clase didn't pitch in game one, and he only threw 10 pitches yesterday. Even a guy like Nick Sandlin and his 2.81 ERA will be available after throwing just 11 pitches yesterday.
The Red Sox bullpen hasn't been very strong and they'll be without Sawamura and Tanner Houck. They should have Whitlock and Schrieber which will help, but I'd still lean on the Guardians with their depth.
The Pick: Cleveland Guardians ML (+110)
1 Unit to Win 1.10 Units