Analysis
Best Bets for World Series Game 6: Houston Astros vs Philadelphia Phillies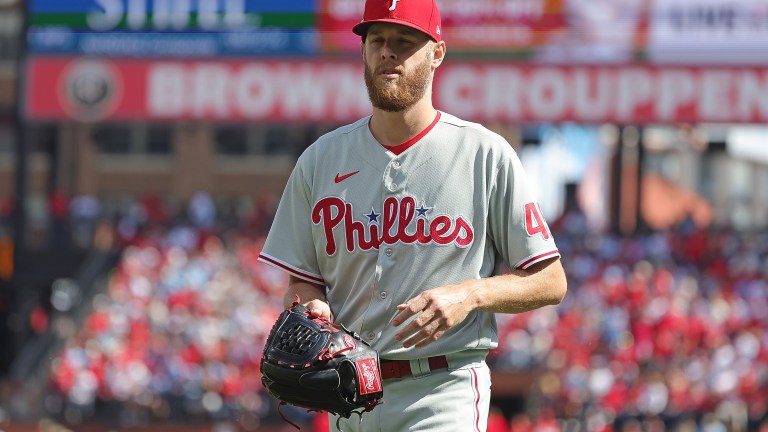 We are back and better than ever.
We are coming off a nice win on the under in Game 5, and now we are going back to the well in game six. It's win or go home for the Phillies while the Astros have a chance to hoist the commissioners' trophy.
I can't wait to watch this game. Also, my NFL Week 9 Picks are live on my podcast.
2022 MLB Regular Season Record: 232-191 (55%) +43.05 Units
Philadelphia Phillies vs. Houston Astros: 8:03 pm EST
Zack Wheeler (RHP, Phillies) [2.82 ERA, 153 IP, 26.9% K, 3.10 xERA, 2.89 FIP, 3.06 xFIP]
Framber Valdez (LHP, Astros) [2.82 ERA, 201.1 IP, 23.5% K, 3.31 xERA, 3.06 FIP, 3.00 xFIP]
The Astros are set up nicely. They are returning home up 3-2 in the series after winning a pivotal Game 5 in Philadelphia. The Phillies have their backs against the wall; it's win or go home. It all comes down to this.
I gave out the Phillies series price at +165 and the Phillies to win this series in seven (+600) before the World Series started, so I'm rooting for the Phillies to push towards a game seven. It will be dependent on the health of Zack Wheeler. Will he look like he did in the early parts of the playoffs, or will he look as injured as he did in Game 2?
Let's evaluate each facet of the game.
Starting Pitching
The hardest part about handicapping this game is evaluating Zach Wheeler. In large part, Wheeler's dominance in the playoffs was due to his velocity reaching new heights of 97-99 MPH. What we saw in Game 2 wasn't even close to that. His average fastball was 95.6 MPH, and his average sinker was 94.8 MPH. When he threw seven shutout innings against the Padres, his fastball averaged 97.2 MPH, and his average sinker was 96.5 MPH.
He didn't start game five for what seems to be that reason. It's currently unclear whether he's fully healthy, but he will have six days to rest before starting this game. According to Rob Thompson when he was asked about it, he said "I'm really confident he'll be able to go." If he confident that he's ready to go, or fully healthy??
Wheeler will feature a fastball/slider/sinker/curveball mix that is extremely tough to square up when it's right. Wheeler typically throws the four-seam fastball more than any pitch, but he mainly relied on his sinker in Game 2. The Astros are an excellent fastball-hitting team, so it makes sense he'd depend more heavily on a pitch the Astros haven't been as successful at hitting. I have no real issue with him doing this; it's about locating the pitch and regaining the velocity.
Framber Valdez will get the ball and has been the best pitcher on the Astros during these playoffs. He made three starts in the postseason, totaling 19 innings while allowing 12 hits and five earned runs, with 24 strikeouts to give him a 1.42 ERA. He's about as unhittable as it gets right now, but how will he fare on his second time around?
Of his 104 pitches, he only threw 16 that weren't his sinker or his curveball. He only needed those two pitches, as 18 of his 19 outs were either groundballs or strikeouts in game two. It's hard to get much better than that.
We are also getting both of these players worse home/road splits. Wheeler has a 3.84 ERA on the road this season versus a 1.85 ERA at home. Valdez had a 3.54 ERA at home this season compared to a 2.27 ERA on the road. Neither of these splits have mattered much in the playoffs, and we should take these with a grain of salt.
When Wheeler is fully right, he's the better pitcher. It's hard to know how he is feeling, and we know with 100% certainty how well Framber Valdez is pitching. I want to call this a push due to Wheeler's uncertainty.
Lean: Push
Offense
It appears that the Phillies have his a cold stretch. This can happen to a Phillies lineup, dependent on the home run. They scored seven runs in game three on five home runs. They never had a runner in scoring position the entire game.
The Astros offense hasn't been excellent this entire series but they are traveling to a preferred ballpark for them. They prefer hitting at home, recording a .817 OPS at Minute Maid Park during the playoffs instead of a .590 OPS on the road.
We saw Wheeler change his pitch repertoire drastically against the Astros to counteract their ability to hit fastballs and changeups. Wheeler barely threw a changeup during the regular season, so that wasn't an issue. He started throwing the sinker at a much higher rate and cut his fastball usage in half. He mixed in plenty of sliders and curveballs at standard rates.
This is a solid recipe if he's locating within the zone. Wheeler has some of the best stuff in the game when he's fully healthy. We saw it on full display when he was challenged for the CY Young award in 2021, and that same velocity was there in the early parts of these playoffs.
The Phillies have better splits during this game, but it doesn't seem to matter all that much. The Phillies ranked sixth in wRC+ this season against lefties and 12th against righties, so it's assumed that a matchup with Framber Valdez could help them. Framber isn't any regular left-hander, especially with how he's pitching right now.
The Phillies need to lift the ball in the air for extra-base hits. They aren't the fastest team in the world that can rely on a few hits and run around the bases. Valdez doesn't allow balls to be hit in the air, hurting the Phillies' run opportunities.
The Astros have their worst splits in this game, but they've proved they can hit Wheeler if his stuff isn't the same. The Astros will hit in bunches if Wheeler isn't entirely right.
Lean: Astros
Bullpens
Both of these bullpens are amazing. The Astros bullpen is not only fantastic, they are pitching at historic levels.
The Phillies' bullpen has been almost as good. They've allowed just three runs in the World Series. Neither team has proved they can hit the bullpens, and both had an opportunity to rest with the travel day yesterday. We will see the best of the bunch. Expect minimal scoring when these starters exit the game.
Lean: Astros
Umpire
The home plate umpires keep switching around, and today's will be one of the more inconsistent ones. Lance Barksdale will be behind the plate and according to umpscorecards.com, he ranks in the lower third of accuracy among all MLB umpires.
He does have a trend working on the total throughout his career. According to Action Network, Barksdale has a strong trend working on the total. In his career, he is 54.9% to the under (278-228-29).
Ballpark
Minute Maid Park grades as a pitchers' park, ranking 23rd in Park Factor on baseball savant. It plays toward the pitcher, but the left-field porch calls for easy home runs. According to ballparkpal, the park calls for a -5% decrease in average run scoring.
This is a lower projection than any game at Citizens Bank Park.
________
My Pick:
I will keep saying it because it keeps me up at night. What will we get from Zack Wheeler? It's frankly impossible to guess, but we know one thing about the total.
Wheeler and Valdez faced off in game two, and the game ended 5-2. That would be a push on the total, even with Wheeler allowing five earned runs in five innings. The bullpens are pitching at such an elite level that the scoring seems to halt after these pitchers are removed.
We have an umpire that trends towards the under. We have a pitcher's environment in Houston. We have two rested bullpens. We have a Phillies offense that appears to be on a cold streak. We have an Astros offense that hasn't been as explosive in the regular season.
If we see a healthy Wheeler, this game is going way under. If Wheeler struggles early on as he did in game two, we still have a solid shot at the under. The first five over is 4-1 in the series, but the full game under is also 4-1.
The under will be 5-1 regardless of who wins.
The Picks: Under 7 (-120)