Analysis
Best Bets for World Series Game 4: Houston Astros vs Philadelphia Phillies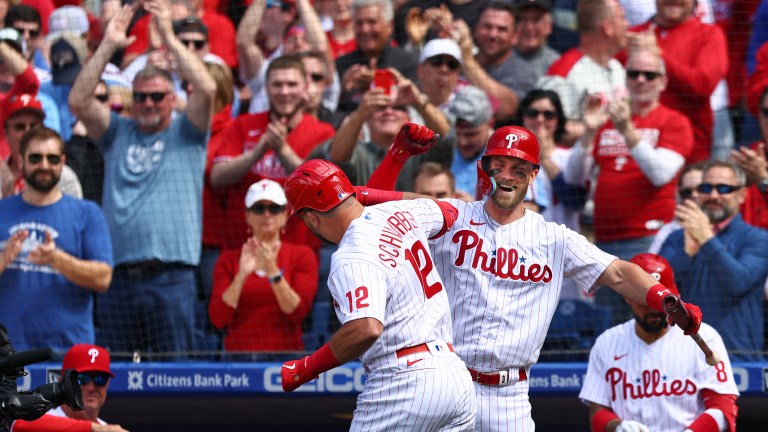 We won 0.5 units last night after Kyle Schwarber hit a rocket to center field to seal the first five over. Scoring came to a halt after the fifth inning, which is why we only put 0.5 units on the over. Scoring is at a premium late in games, that's why we targeted the first five innings.
We hit all of our props except Kyle Tucker. He hit a couple of balls hard, but none of them found a gap. He had his chance to not only hit the full game over but hit his prop.
Tucker hit that ball at 99.9 MPH at a 24-degree launch angle, which qualifies as a barrel. It went 362 ft and had an xBA of .500. That's baseball for you.
Today, we have one game pick and multiple props on the podcast. We are now up 1.2 units on the postseason if you don't include the 1.6 units made on series prices, which I have not in the overall record. Let's keep rolling.
2022 MLB Regular Season Record: 231-190 (55%) +43.09 Units
Houston Astros vs. Philadelphia Phillies: 8:03 pm EST
Cristian Javier (RHP, Astros) [2.54 ERA, 148.2 IP, 33.2% K, 2.57 xERA, 3.16 FIP, 3.53 xFIP]
Aaron Nola (RHP, Phillies) [3.25 ERA, 205 IP, 29.1% K, 2.74 xERA, 2.58 FIP, 2.77 xFIP]
Yesterday we told you the Phillies average seven runs at home during the playoffs. They did that, putting up seven on the board with five home runs. It was an offensive explosion for the Phillies, which gave them the 2-1 series lead. The Astros never got anything going, even against the mop-up relief pitchers.
I'm sure this game will be much closer. Let's evaluate each facet of the game.
Starting Pitching
Now that we have four starts to look at for Aaron Nola in the playoffs. He's pitched in every series, including game one. He started the postseason on another level, but in his last two starts, he's failed to get out of the fifth inning, allowing five runs in each.
His most recent start was in Houston, where he allowed five earned runs over six hits in 4.1 innings. Surprisingly, as his final start of the regular season, he took a perfect game into the seventh at Minute Maid Park. What he has to do now is make an adjustment and revert to how he pitched on October 3. It's easier said than done, but it can be done.
After looking at how each of his pitches fared in those starts, it's clear he has to stop throwing his sinker so much to these Astros hitters. His elevated four-seam fastball and knuckle curve has been excellent in both starts; the sinker is getting teed off. The Astros did not rate well against the cutter this year, especially the right-handers in their lineup. Look for Nola to use more cutters in this matchup on his third time against the Astros in just over a month.
Nola doesn't have any split concerns. He's been great both on the road this season and at home. He's been better against lefties this year, but not by a whole lot. Nola is an extremely good pitcher; if his stuff is working, it doesn't matter who it is or when it is.
Cristian Javier will make his first start in the World Series for the Astros, coming off a dominant performance against the Yankees in the ALCS. Javier was phenomenal, only allowing one hit in 5.1 innings. Not taking anything away from that start, but he owns the Yankees. His pitch mix is ideally suited to take out the Yankees, so it's hard to predict how he'll fare today.
We know that Javier and Verlander's pitch mixes are pretty similar. Both heavily rely on the fastball; Verlander throws it 50% of the time, while Javier uses it 59% of the time. They both are in the mid-'90s with excellent location on the pitch. When you combine slider and fastball usage, Javier throws those pitches 87.5% of the time, compared to Verlander at 79%.
I bring this up because the Phillies can hit both of those pitches, especially the slider. Javier and Verlander have completely different sliders, but both are very effective. Verlander's slider touches 88 MPH, while Javier's sits in the low 80s. Javier's slider performed better than Verlander's, as did his fastball. You can make the argument that Javier is pitching even better than the future AL CY Young award winner at the moment.
Both pitchers are excellent. As John Smoltz said on the broadcast, it's often easier for pitchers to adjust to a lousy start than the hitter when they've already seen success. Nola has a much longer track record, but Javier is so nasty that he's right there with him. The one reason I'll slightly lean towards Nola is Javier's inexperience. He's 25 years old, making his first-ever World Series start in a hostile environment. These two would be relatively similar if it weren't for that, but I'll lean on Nola's experience at home.
Lean: Phillies
Offense
The Phillies at home this postseason are the 1927 Yankees. They still average seven runs per game, rocking a .284/.362/.616 slash line as a team with 17 home runs in six games. They have a .977 OPS at home. Only three players in Major League Baseball had a higher OPS, Aaron Judge, Yordan Alvarez, and Paul Goldschmidt. The Phillies are running out of a lineup of Paul Goldschmidt's at home.
The Astros, on the other hand, are struggling to hit on the road. As a team in the postseason, they are slashing .191/.267/.272 with just three home runs to give them a .538 OPS. The road offense for the Astros is a bunch of Myles Straw clones. Myles Straw had a .564 OPS this year, so he spits on this road offense.
Yordan Alvarez is huge for them; he's only rocking a .758 OPS in the postseason and has just one hit in three games against the Phillies. Jose Altuve, who set the table for them all year, is rocking a .408 OPS in the postseason. That's just not going to cut it. If Altuve and Alvarez aren't hitting, this offense isn't getting going.
I bring them up mainly because they have had almost no success against Nola in their careers. They are a combined 3-12 in their careers against him, and neither took any part in scoring off him in game one. They need those two to show up, and there isn't much data to support that they will.
On the Phillies' side, they'll see a healthy use of Javier's slider, one of the best in the game. He'll face an offense that ranked fourth in baseball this year against sliders and just had a field day with Lance McCullers Jr.
Javier likes to use his slider on the lower half to lefties and in on righties. When I queue up the stats to see how the Phillies have done against sliders located, they rank in the top 10. Overall, they just hit sliders well.
Players like Bryce Harper and Kyle Schwarber, who are on fire this postseason, are some of the game's best fastball/slider hitters. Rhys Hoskins also lines up similarly in terms of run value, but Javier has been so tough on righties all season that most of the offense should come from these two.
Overall, I'd give a slight lean to the Phillies. The Astros' offense can explode anytime, but you can't dismiss the incredible momentum the Phillies have built at home.
Lean: Phillies
Bullpen
Both bullpens are elite at this point. The overall data points towards the Astros having a deeper and more powerful unit, especially at the back end. How can we overlook what the Phillies bullpen has done?
They haven't allowed a run yet in the World Series. The only runs the Astros have scored in this series are against Aaron Nola and Zack Wheeler. The Phillies have at least scored against the Astros bullpen as JT Realmuto hit a home run in game one against the best of the Astros bunch in Ryan Pressly.
The total numbers point to the Astros, but the Phillies will have a rested Dominguez, Alvarado, Robertson, and Efflin ready to relieve Nola.
Lean: Push
Umpire
The Umpire for this game is Tripp Gibson, who is just a hair below Pat Hoberg's accuracy. According to umpscorecards, he ranks within the top five of most accuracy metrics for umpires. There aren't many trends that point to a direction of a total. We should see a very consistent strike zone.
Ballpark
Citizens Bank Park ranks as the fourth-best ballpark for hitters by Baseball Savant Park Factor. According to Ballparkpal, the environment calls for a -3% increase in runs. That's the lowest of the series so far, as we are looking at our coldest temperatures of the world series.
My Picks
Here's my thinking. I'm trying to play the more likely scenario, but this is just my opinion. I'll lay out both sides.
The Astros bounce back and continue to crush Nola who doesn't make an adjustment and the offense does a complete 180 from what they've shown on the road. A 25-year-old making his first World Series start shuts down the best home offense in the playoffs by a mile on the road in the craziest environment he's ever pitched in.
The Phillies roll with their momentum. An experienced pitcher like Aaron Nola makes the proper adjustment and does enough to win and turn it over to the bullpen that hasn't allowed a run. The Phillies continue their success at home and do enough against Javier to give them the win.
It just seems that the first scenario is less likely to happen. Could it happen? Of course! It's the playoffs. What I will say is that even if Aaron Nola gets hit today, they can still win, as proven in Game 1.
I think the Phillies have a slight advantage in all facets and home-field advantage puts it over the top for me. The Phillies know they have Syndergaard going game five, so this is as must-win as it is for the Astros. I think the Phillies grab a 3-1 series lead.
The Picks
Philadelphia Phillies ML (-104) 1.04 Units to Win 1 Unit