Analysis
Best Bets for World Series Game 3: Houston Astros vs Philadelphia Phillies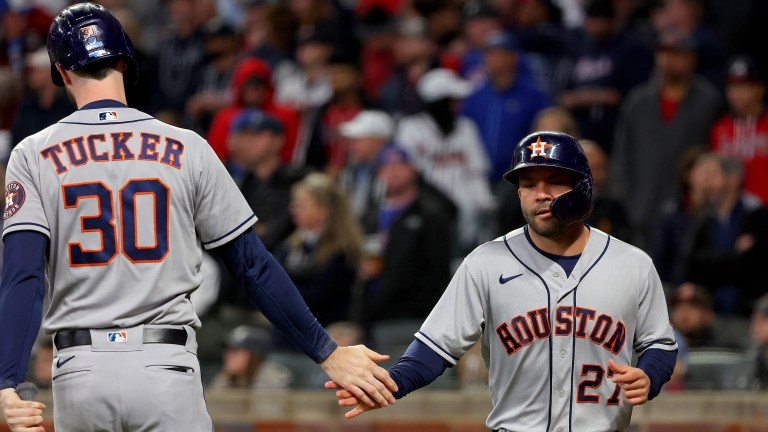 Shoutout to Alex Bregman. Without him, we would have lost our first five over. He hit a home run in the bottom of the fifth with two outs to give us the win.
We did lose our half-unit sprinkle on the Phillies' First 5 ML, as Wheeler didn't pitch as well as I had hoped. We still gave out positive, and now we are up 0.5 units in the World Series.
Today I have my favorite pick of the World Series so far. I also have plenty of props and a Monday Night Football Pick on the podcast.
2022 MLB Regular Season Record: 230-189 (55%) +42.59 Units
Houston Astros vs. Philadelphia Phillies: 8:03 pm EST
Lance McCullers Jr (RHP, Astros) [2.27 ERA, 47.2 IP, 25.6% K, 3.57 xERA, 3.49 FIP, 3.58 xFIP]
Noah Syndergaard (RHP, Phillies) [3.94 ERA, 134.2 IP, 16.8% K, 4.43 xERA, 3.83 FIP, 4.29 xFIP]
We may see more scoring in Game 3 of the World Series than Monday Night Football tonight. Citizens Bank Park is about to be as loud as possible when they see the Phillies put up five runs tonight, but they may fall silent when the Astros do the same.
We should see runs early and often in a battle of pitchers due for regression. I'll be playing it in multiple ways, as enough runs should come early enough to push both totals toward the over.
Let's evaluate each facet of the game.
Starting Pitching
April 9, 2022. Noah Syndergaard suits up for the Los Angeles Angels and turns in his best start of the season. He threw 5.1 innings of two-hit ball against the Astros without allowing a run. His velocity was there, and Angels fans had something to be excited about with their new addition to the rotation. He turned in a 2.12 ERA in April; everything was going well for Thor.
Unfortunately, that didn't last long, as Thor turned into Noah, posted a 5.40 ERA in May, and didn't have the same stuff he had in previous years. His fastball velocity was the lowest of his career, and although he used his sinker more, he registered the lowest groundball rate.
He faced the Astros one more time on July 12 and allowed three runs in four innings. This was before he was traded to Philadelphia and put up a 4.12 ERA over ten starts. He's a fine pitcher but shouldn't be in line to start Game 3 of the World Series.
Lance McCullers Jr will take the ball for the Astros, who could also struggle immediately. He is command-dependent; if he's locating his slider, curveball, and sinker, he's deadly. If he's not, things unravel quickly. This has been proven in road starts for him this year, as he's rocking a 3.57 ERA compared to a 1.50 ERA at Minute Maid Park. This will be his most challenging road start of the year.
In the playoffs, McCullers has had one fantastic start against the Mariners and one below-average start against the Yankees. Both were on the road, but neither had the environment of Citizens Bank Park in the World Series. He's made two starts in the previous World Series' allowing three runs in 7.2 innings on seven hits.
Lean: Astros
Offense
Both teams are coming into this game red-hot. The Phillies are 5-0 at home this postseason, averaging seven runs per game. At home, the Phillies have a .296/.378/.597 slash line with 12 home runs and a .975 OPS. The Phillies are a patient team, especially at the top of the order. If McCullers shows early signs of command issues, it could get ugly quickly.
The Astros have not been as good on the road, but the bats are still excellent overall. They've scored five runs in the first two games without any holes in their lineup. The Astros do not strike out, and Noah Syndergaard allows plenty of contact. We should see plenty of offense for the Astros today, with a less-than-ideal defense for the Phillies.
Lance McCullers Jr will deploy plenty of sliders and curveballs. Those two pitches take up over 50% of his arsenal. Rhys Hoskins, Kyle Schwarber, Bryce Harper, JT Realmuto, and Jean Segura are positive hitters by run value against the slider. Bryson Stott, Alec Bohm, JT Realmuto, Brandon Marsh, Jean Segura, Edmundo Sosa, and Bryce Harper are all positive against curveballs. I'm pretty sure that's the whole lineup.
The only hitter I'm forgetting is Nick Castellanos, a positive hitter against the sinker, which McCullers likes to use almost exclusively to right-handed bats.
Noah Syndergaard will throw various pitches, but the three most common he'll use are his sinker, slider, and changeup. Jose Altuve, Yordan Alvarez, and Martin Maldonado destroy sinkers, and Kyle Tucker is another positive hitter by run value.
It's hard to find a better-hitting team against the slider than the Astros, who feature three hitters with a ten-run value or higher. Those hitters are Alex Bregman, Kyle Tucker, and Yordan Alvarez. Syndergaard will throw his changeup a lot to lefties, which you cannot do to Yordan or Tucker.
I don't expect much from Syndergaard, but I believe in the Phillies lineup against McCullers. Considering I think the Phillies are in a better spot, but the Astros have the better matchup, both should come ready to hit.
Lean: Push
Umpire
The home plate umpire is about average in his accuracy. His name is Dan Iassogna, and he has one of the most inconsistent strike zones in baseball. According to Umscorecards.com, he ranks below average in accuracy metrics.
A very cool stat that I found from Action Network, "From 2010-2015, Iassogna's games went under at a 61.1% clip (116-74), suitable for a $3,520 profit for a consistent $100 bettor (17.8% ROI) while covered by about a quarter of a run per game, on average.
In 2016, the trend flipped; Iassogna's games have gone over the total at a 55.5% rate (96-77) since, by a significant margin of 0.92 runs per game. Most of that damage has come in the past two seasons (40-25, 1.27 margin)."
If you're telling me Dan Iassogna won't help the pitchers, I'm entirely in on the over.
Ballpark
Citizens Bank Park ranks as the fourth-best ballpark for hitters by Baseball Savant Park Factor. According to Ballparkpal, the environment calls for a 7% increase in runs. Even though the wind is blowing out, that's a slight decrease from the norms in the middle of the summer. Regardless, the park plays toward the hitters' advantage.
My Picks
This game has over written all over it. I see the most significant edge through the first five innings, as that's where we'll see the weakest arms in the game. The bullpens had an opportunity to rest yesterday, so the scoring could halt in the later innings.
I believe the scoring will be so high in the early parts of the game that we'll only need 1-2 runs beyond the fifth inning. This is my most confident bet on the World Series.
The Picks:
Astros vs. Phillies First 5 Over 4 (-115) (1.15 U to Win 1 U)
Astros vs. Phillies Full Game Over 8 (-105) (0.52 U to win 0.5 U)