Analysis
Best Bets for World Series Game 2: Philadelphia Phillies vs Houston Astros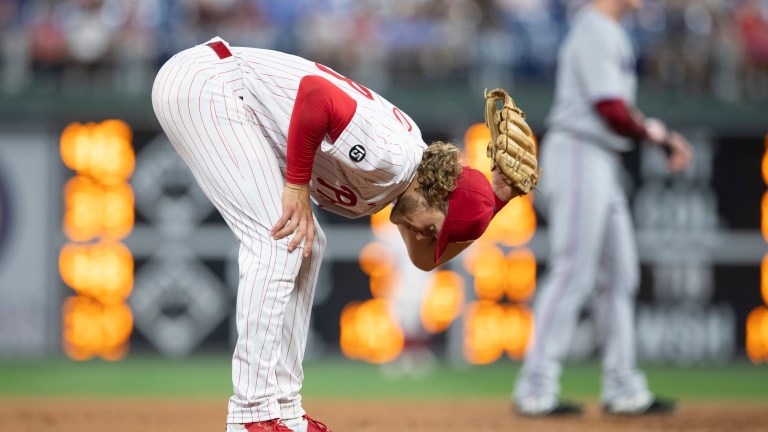 Playoff baseball is just the best. We had a push on our pick yesterday, and it was the happiest I've ever been going home empty-handed. I have two choices in this game. Let's roll.
2022 MLB Regular Season Record: 229-188 (55%) +42.09 Units
Philadelphia Phillies vs. Houston Astros: 8:03 pm EST
Zack Wheeler (RHP, Phillies) [2.82 ERA, 153 IP, 26.9% K, 3.10 xERA, 2.89 FIP, 3.06 xFIP]
Framber Valdez (LHP, Astros) [2.82 ERA, 201.1 IP, 23.5% K, 3.31 xERA, 3.06 FIP, 3.00 xFIP]
After watching last night's game, it's clear that baseball is the best sport in the world. It's not even close.
Philadelphia, are you kidding me? Kyle Tucker has two home runs before the fifth inning, and a pit begins to grow in my stomach. The Astros had all the early momentum, the crowd was as loud as possible, and they still did it. They returned to tie it in the fifth inning and eventually won on a late-inning home run by JT Realmuto. How can you not be romantic about baseball?
Let's buckle in because it's clear that predicting what will happen is a crapshoot. I'd agree if you told me this game would be an intense pitching dual between two of the best pitchers in the postseason. If you claimed that offense would come early once again as it did last night, I'd say you might be on to something.
If you fully believe the Astros cannot go down 0-2, I'd say your baseball brain is working. How could I disagree if you told me the Phillies have the momentum now, and it'll carry over into today?
Let's evaluate each facet of the game and give it our best shot.
Starting Pitching
Zack Wheeler will take the bump for the Phillies, who I believe is the best pitcher in this entire series. He's thrown 25 innings this postseason and has only allowed five earned runs to give him a 1.78 ERA. His velocity and spin rates are up, and he's diced through almost every playoff lineup he's thrown against.
How will he fare against this Astros lineup? I thought Aaron Nola had a high chance of dominating, and look how that went. The Astros are a lethal lineup that can leave the ballpark any minute, but they also have an innate ability to beat you by a thousand paper cuts. They can string together hits at whim and then crush one for extra bases.
Another wrinkle in all this is the Astros have never seen Wheeler. Mancini, Maldonado, and Vasquez have faced him, but it wasn't this year and wasn't in a playoff atmosphere. Will that work better or worse? Simply put, I have no idea.
Wheeler will feature a fastball/slider/sinker/curveball mix that is extremely tough to square up. Wheeler will throw the four-seam fastball more than any pitch, and finding a better fastball-hitting team is more challenging than the Astros. They feature six hitters with a run value over ten against the four-seam.
Framber Valdez will get the ball and has been the best pitcher on the Astros during these playoffs. He's made two starts, totaling 12.2 innings, and has only allowed two earned runs. The Yankees scored twice against him, but it was his own doing, as he threw the ball away on a weak grounder that resulted in runs.
Framber keeps the ball on the ground at the highest level of any starting pitcher. In the regular season, we saw a Phillies offense that was built on power, but that hasn't exactly been the case this postseason. While the home run has undoubtedly helped, they are a team that can string together hits against any pitcher.
We are also getting both of these players worse home/road splits. Wheeler has a 3.84 ERA on the road this season versus a 1.85 ERA at home. Valdez had a 3.54 ERA at home this season compared to a 2.27 ERA on the road.
These pitchers outperformed their xERA, with Framber having the more considerable discrepancy.
Lean: Phillies
_______
Offense
This is where it gets challenging because both offenses should produce in this game. This is what brought me to my conclusion. I dug a bit deeper into the stats for this one.
The Astros are not only one of baseball's best against four-seamers but also rank as the sixth-best team in xwOBA versus pitches 96 MPH and above. It's one thing to be good against any old fastball, and it's another thing to be excellent against high velocity.
The two best teams, the Braves and the Dodgers have succeeded against Wheeler. The Braves put up three runs against him in his worst start of the postseason, and the Dodgers scored three runs against him in 5.1 innings on May 12.
Framber is certainly not out of the woods, either. The Phillies have the ninth-best xwOBA against left-handed sinkers with the fifth-highest xBA. A team with similar numbers is the Toronto Blue Jays, who faced him once this season and scored three runs over six innings.
I dug even deeper. The Phillies rise to the fourth-highest xwOBA and the second-highest xBA against left-handed sinkers through the first five innings. For the Astros, they drop to 11th in xwOBA against four-seamers faster or equal to 96 MPH. They are still very good, but not as good as the Phillies.
This Astros lineup has been destroying baseballs at home this postseason. They have a .832 OPS as a team versus a .576 OPS on the road. They have not been hitting right-handed pitchers nearly as well in the playoffs, putting up a .689 OPS versus a .965 OPS versus southpaws.
Over a larger sample in the regular season, the Astros were better against left-handed pitchers, but not by much, putting up the eighth-highest OPS as a team against righties.
This Phillies offense has been much better against left-handed pitchers this year than righties. They feature a .773 OPS in the playoffs against lefties versus a .735 OPS against righties. In the regular season, they had a .769 OPS against lefties versus a .727 OPS against righties. The Phillies will see plenty of sinkers and curveballs. Most of the Phillies' lineup features hitters with a positive run value against at least one of those pitches.
There are a lot of factors here that point to early offense from both sides. Both teams should be able to score early and often against both starters. I also find it extremely interesting that both are listed for five hits when we look at the pitching props board. That seems high.
Lean: Push
________
Umpire
The home plate umpire is one of the best in the game. His name is Pat Hoberg, on average; he has one of the game's most accurate strike zone; I don't see a particular edge toward either side with how fantastic he's been.
Ballpark
Minute Maid Park grades as a pitchers' park, ranking 23rd in Park Factor on baseball savant. The roof will be closed, adding some benefit to the hitter and be easier for the defense due to the lack of wind.
________
My Pick:
Today, I have one pick for a full unit that is the best way to attack the game, but I also have an additional value play.
The books are straight-up undervaluing the Phillies. After last night's game, they are still making the Phillies plus money, even though this matchup is as close. I understand giving the Astros a slight edge due to home-field advantage, but Wheeler is the better pitcher, and nobody has a hotter offense than the Phillies.
At the same time, it would be naive to think the Astros bats won't show up today, especially considering the viral image of Nick Castellanos lifting his shirt.
Whether it's a routine thing for him will no doubt light an additional fire under the Astros. It could be perceived that he was poking fun at Jose Altuve for allegations of a wire under his jersey back in 2017. I can already hear you if you're a Phillies fan reading this. "He does that every game!" I know it, and you know it, but the Astros will only use it as fuel.
It's frankly impossible to handicap the bullpens. We saw all the offense come early and then a stalemate until the tenth inning. I think this game will resemble that. We should see early offense followed by the bullpens softening the blows. I believe the total sitting at seven is fascinating when this game is being perceived as a low-scoring battle. It may go over, but it has a chance early on.
The value play is the Phillies through the first five innings. Wheeler has been a cheat code for me this postseason, and if you give me plus money, I will take it. Especially when you consider the tie creates another push scenario.
The Picks: First 5 Innings Over 3.5 (+100) (1 Unit), Phillies First 5 Innings ML (+115) (0.5U)