Analysis
Best Bets for NLDS Game 2: Philadelphia Phillies vs. Atlanta Braves, San Diego Padres vs. Los Angeles Dodgers for October 12, 2022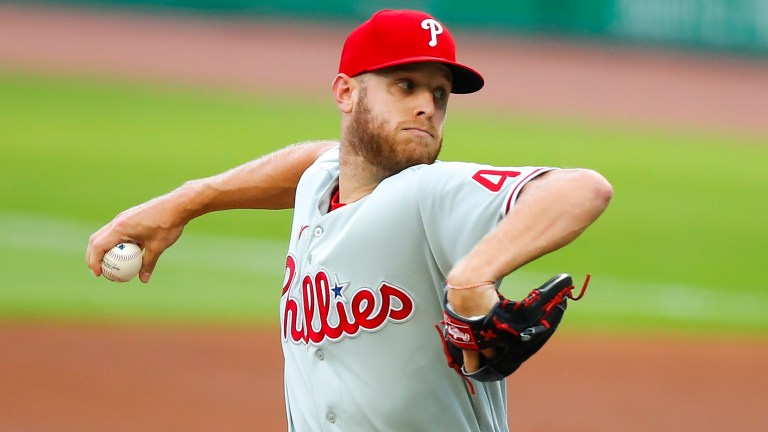 My perfect pick yesterday was not so perfect, as our king, Cal Quantrill lost control in the later innings which led to a two run home run by Anthony Rizzo to give the Yankees a 4-1 win. I was in the stadium, and I have to say, even with losing the bet, I had an absolute blast. My team won the game, and I lost one bet. It happens, and I'm here to right the wrongs of yesterday.
I have two NLDS game picks for you, as well as multiple props that you can find on the podcast.
2022 MLB Regular Season Record: 223-182 (55%) +41.49 Units
_______
Philadelphia Phillies vs. Atlanta Braves: 4:35 pm EST
Zack Wheeler (RHP, Phillies) [12-7, 2.82 ERA, 1.04 WHIP, 163 K]
Kyle Wright (RHP, Braves) [21-5, 3.19 ERA, 1.16 WHIP, 174 K]
Game 2! After a wild game one where the Phillies edged out the Braves 7-6, we have another fantastic matchup between two of the better pitchers in the National League this season. I do not want to deal with late-inning heroics, so I have a play for you through the first five innings.
Zack Wheeler will get the ball for the Phillies,, who could not have looked better in his first start against the Cardinals. He threw 6.2 innings of scoreless baseball on two hits while averaging 97-98 MPH on his fastball with his wipe-out breaking stuff.
A key for Wheeler is he is dealing with a fresh arm. Last season he was one of four pitchers to throw over 200 innings but was struck with an injury that limited him to 153 innings. I believe that is working in his favor as he is one of, if not the freshest ace that we have in the playoff at this point.
Wheeler has been otherworldly pitching at Citizens Bank Park this season, rocking a 1.85 ERA compared to a more human ERA of 3.84 in road starts. However, in his last three road starts, which includes that start against the Cardinals, he's thrown 17.1 innings and only allowed one earned run. His road ERA is inflated due to three rough outings on the road against the Mets, Blue Jays, and Rangers earlier in the season.
The Braves are one of baseball's best against right-handed pitching, but they've seen Wheeler three times this season without much success. Wheeler is 2-0 in those starts, rocking a 2.70 ERA over 20 innings with 25 strikeouts. The pressure is on the Braves to perform, and I think it will mount when they see Wheeler touching triple digits.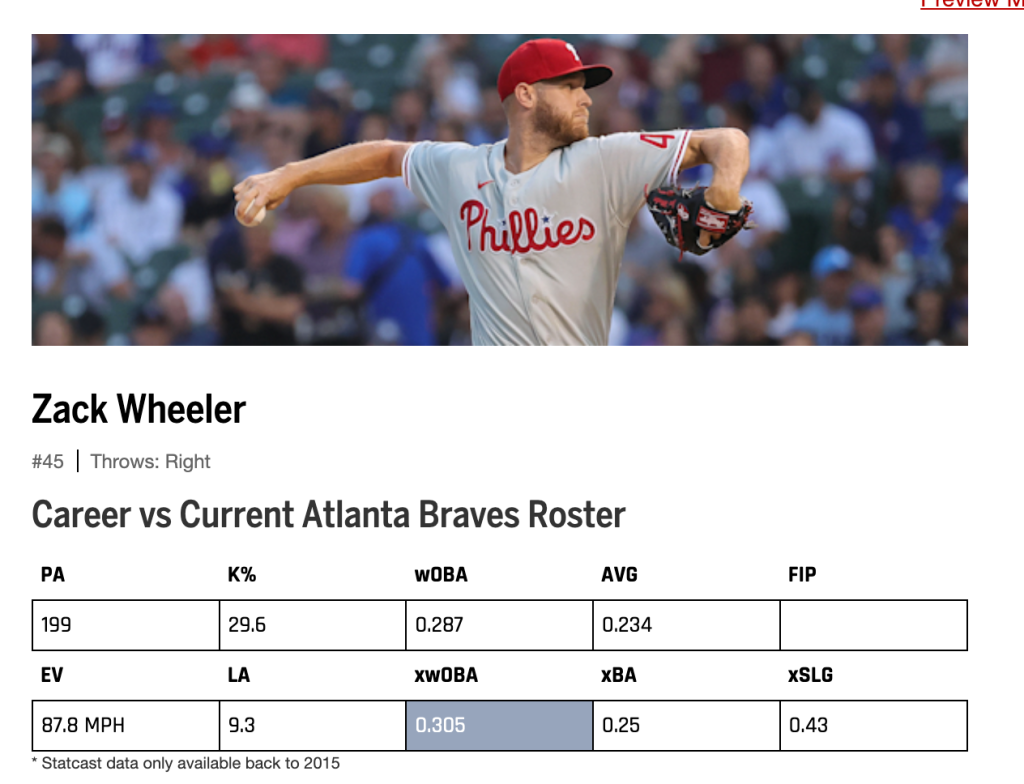 On the other side, we have Kyle Wright, baseball's lone 20-game winner. While 20 wins are fantastic, it's not truly indicative of who Kyle Wright is as a pitcher. He's been tremendous at getting outs when he needs to, but the amount of hard contact he's allowed this season is concerning. Wright's xERA at 3.89 and sitting in the 23rd percentile in hard-hit rate doesn't give me a lot of confidence that he can weather the storm against this red-hot Phillies offense that's playing with nothing to lose.
That said, Wright hasn't had issues with the Phillies this season. Wright has been better at home,, and in three starts against the Phillies, he has a 2.84 ERA. Wright went 2-1 in those starts over 19 innings, allowing six earned runs and striking out 15. He likely will turn in a solid start, but I don't believe it will be better than the start we see from Wheeler.
The Braves got most of their offense from a three-run home run from Olsen in the later innings against an occasionally suspect Phillies bullpen. I believe the Phillies will win this game, but the Braves have a knack for always keeping themselves in it. I think the most significant edge is in this starting pitching matchup, so I'll be playing the Phillies through the first five innings.
The Pick: Philadelphia Phillies First 5 Innings ML (+105)
1 Unit to Win 1.05 Units
________
San Diego Padres vs. Los Angeles Dodgers: 8:37 pm EST
Yu Darvish (RHP, Padres) [16-8, 3.10 ERA, 0.95 WHIP, 197 K]
Clayton Kershaw (LHP, Dodgers) [12-3, 2.28 ERA, 0.94 WHIP, 137 K]
Game 2 between the division rivals in Los Angeles could be one of the best games of the post-season, as we have two pitchers who have dominated their opposing offenses with bullpens that are firing on all cylinders at the moment. This should be a pitchers dual, but someone has to win here.
Yu Darvish will take the bump for San Diego who turned in an excellent performance on the road in Game 1 against the Mets during the wild card series. He threw seven innings of one-run ball against an opponent he's had a ton of success against.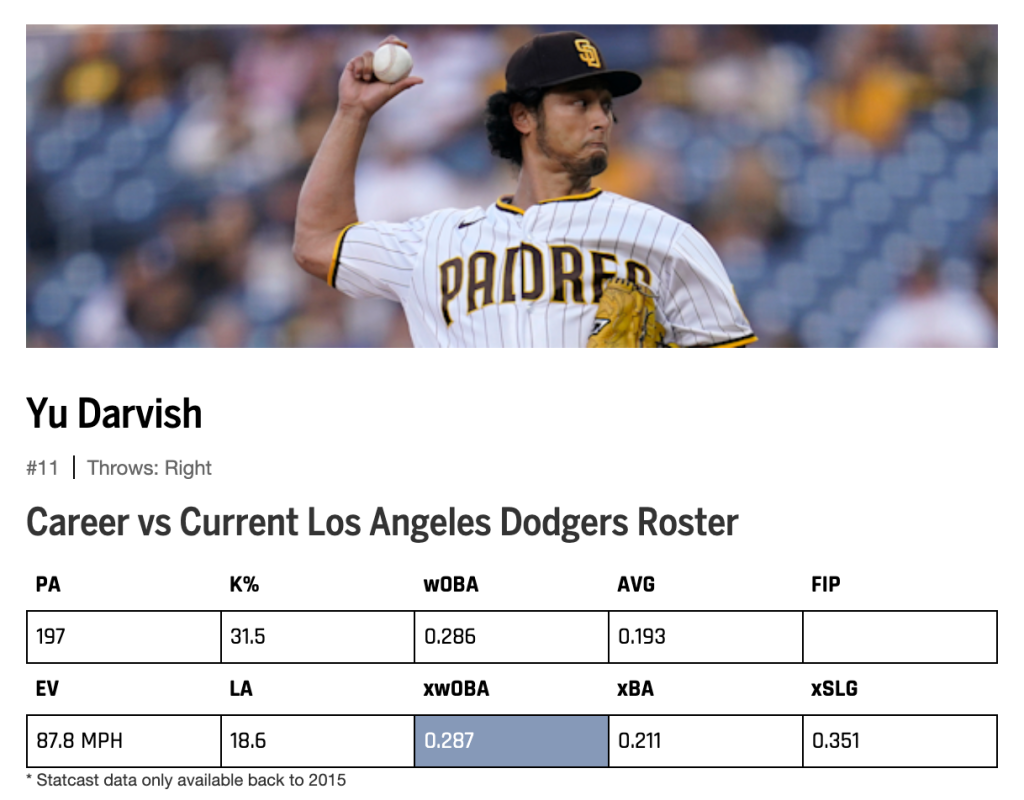 Darvish has been fantastic against the Dodgers, both this season and throughout his career. This is a new Dodgers lineup, so checking out his stats in previous years isn't important here. What is important about his success is the confidence he'll bring into this start. He isn't afraid of this Dodgers offense.
He's seen the Dodgers on four separate occasions this season, putting up a 2.52 ERA through 25 innings while striking out 31. In his most recent start against the Dodgers in Los Angeles on September 2, he threw seven shutout innings and the Padres won 7-1.
Opposing Darvish will be the legend, Clayton Kershaw. He's established himself as one of the best left-handed pitchers of all-time in the regular season and finally got the mockey off his back in the post-season after some excellent starts. He should pitch well today, but it wouldn't be a shocker to see him struggle.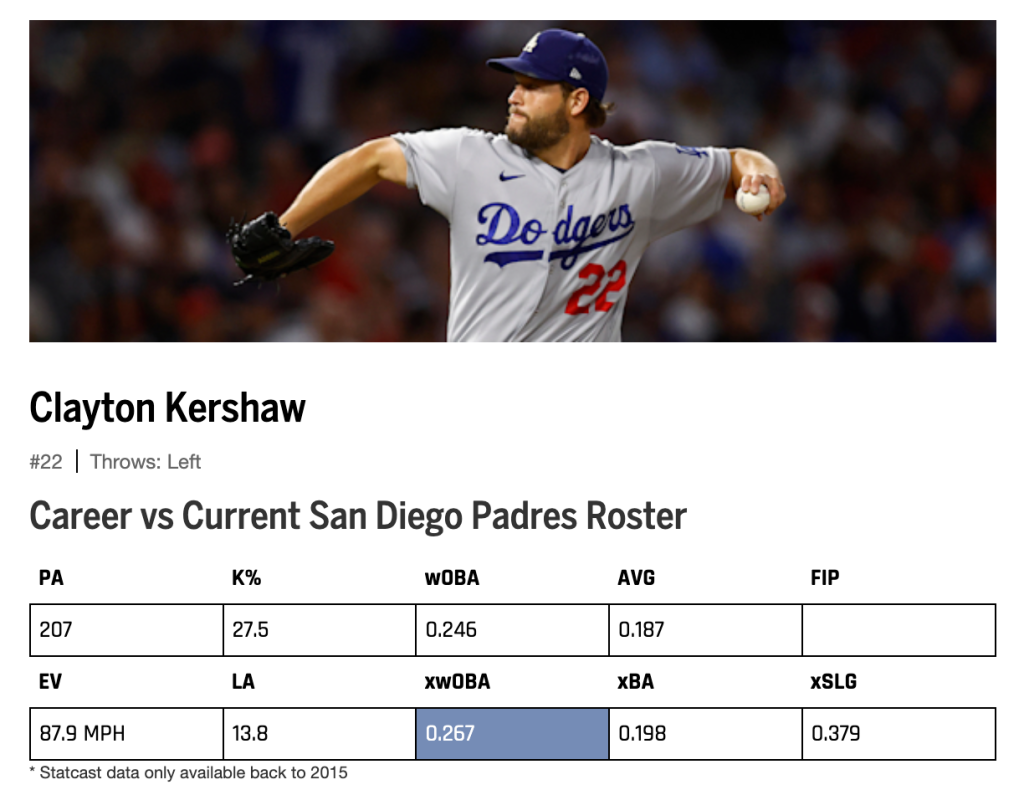 Kershaw has dominated the Padres this season in two starts, throwing 12 innings while only allowing one earned run. However, Kershaw hasn't faced this new and improved Padres lineup. Both of these starts were before the All-Star break, and now the Padres have Juan Soto, Josh Bell, and Brandon Drury.
The issue for the Padres is that Soto, Bell, and Drury have almost no success against Kershaw in their past. What I will say is this Brandon Drury is completely different from prior years as is Josh Bell. Also, Juan Soto is Juan Soto, he can hit anybody at any time.
While the Dodgers bullpen is superior to the Padres, the Dodgers used up a lot of their better arms yesterday. It's playoff baseball, so everyone should be available, but Phillips and Vessia combined for 47 pitches yesterday. The Padres didn't use Suarez or Hader, so they should be at their very best after Darvish. The Dodgers still have Almonte and Treinen, so they won't be bare either.
This is the Dodgers at the end of the day. They are the best team in baseball, so it's hard to really make an argument to why they could lose this game. They have an elite offense, Clayton Kershaw on the bump, and a fantastic bullpen. I believe that in this spot, the Padres are undervalued. The money line is just too high for me to stay away.
I have a gut feeling the Padres make this series 1-1 as we head to San Diego. I still have the Dodgers winning this series, but this feels like a game the Padres can steal. The value is too juicy for me to not back San Diego in this spot.
The Pick: San Diego Padres ML (+160)
1 Unit to Win 1.6 Units